Dear Members of the Sarah Lawrence Community,

As we enter the final four weeks of the semester, we begin what is normally one of the busiest times of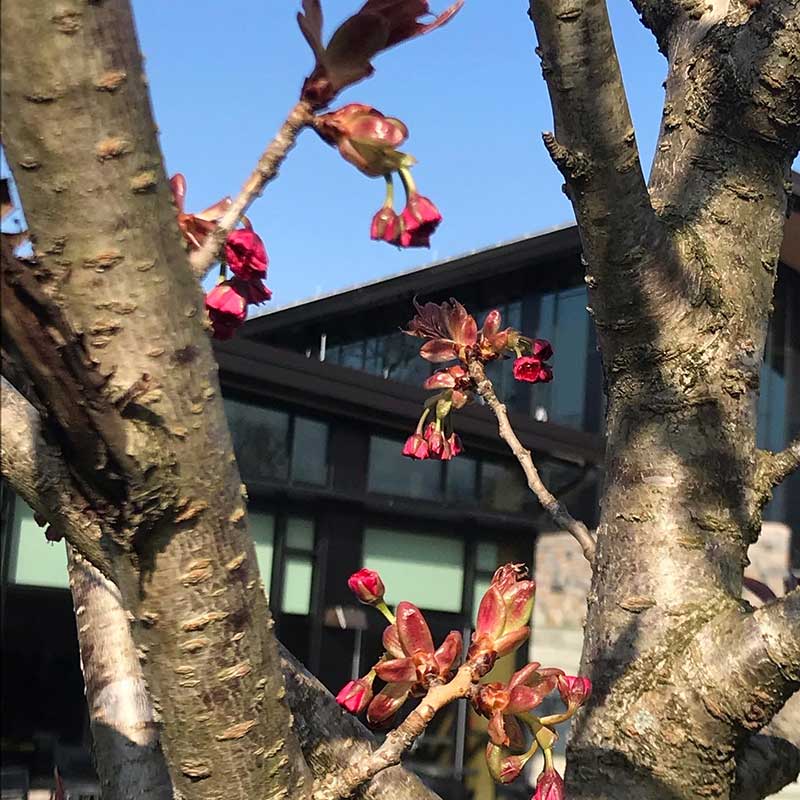 the academic year, as well as one of the most beautiful on campus. (And with that in mind, I share with you a photo of the first blooms on the cherry tree planted in front of the Barbara Walters Campus Center last fall.) This year, of course, we enter this time differently, with the campus uncharacteristically quiet in this our fourth week of remote learning as we collectively continue to adjust to an ever-changing situation. But we are also now regaining—virtually—the rhythms and gatherings that had initially been put aside as our faculty and staff focused single-mindedly on supporting our students in the first weeks apart.

This week, for example, I am looking forward to the second in a series of virtual faculty/staff meetings. At our first, some 300 colleagues gathered, and the heartening and encouraging nature of "seeing" one another "together" again was a common sentiment afterward.

And last week I enjoyed a Zoom meeting with our senior class, and I look forward to more gatherings like this with students. It was so good to see those familiar faces together again, from every US time zone and many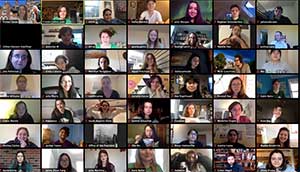 corners of the world, and to laugh with them and hear how their work is going. Our meeting focused primarily on what sorts of activities we want to create virtually in these last weeks of the semester, how we can best shape a virtual commencement, and what plans we can make to bring the class together in person on campus when it is once again safe to do so. Similarly, our Associate Dean for Graduate Studies, Kim Ferguson, is hosting virtual brunches with our graduate students, and working with program directors to collaboratively shape an appropriate graduate commencement. While we can't host the in-person ceremonies in May that we planned, we are working hard with input from our students to create experiences that will appropriately share and honor their achievements, and I look forward to sharing details with you soon.

We as a College have much work ahead of us as we respond to the demands of this pandemic and understand the depth of challenges it presents. We must plan for a range of scenarios regarding a return to on-campus and residential operations, the timing of which remains uncertain; we must meet the immediate financial challenges faced by the College while ensuring the strongest possible position for our near- and long-term future; and we must respond to extraordinary challenges and economic hardship that are a new reality for many of our current and prospective students and their families. To support this work, I formed a campus Task Force for Post-Pandemic Planning. Comprised of faculty and staff, the task force will provide advice and counsel to me, generate ideas and strategies, and help to engage and inform faculty and staff as we move forward.

I am also in regular contact and working closely with the Board of Trustees and its various committees. The road ahead of us will require the best thinking of our entire community, and I am fortunate to be able to call on these strong collaborative resources. I look forward in coming weeks to continuing to update all of our constituents on key decisions in our ongoing response to this pandemic.

I am grateful to the alumni and families who have reached out to ask how they can help. As we work to support our students, who may be facing new hardships, and the ongoing work of our faculty, you can help with a gift to The Fund for Sarah Lawrence. As you know, the Fund provides much-needed, immediate, and unrestricted support that is more important now than ever. Your support, if you are able to give it at this time, will help see students, faculty, staff, and the College through this unprecedented time.

Alumni can support each other, and our students (both undergraduate and graduate), by joining SLC Connect, a "Sarah Lawrence only" community for networking and giving and seeking professional advice. Similarly, if you have an internship, entry-level job, or a position for more seasoned professionals to offer, our Career Services team wants to hear from you! Learn about the ways you can get involved with Career Services at their website.

In this time of physical distancing, I hope you'll stay connected with each other and with the College. You'll see a number of virtual events popping up on our calendar in the coming weeks, and I hope you will "attend." In addition, our Alumni Relations office has been working to create virtual spaces for alumni to connect, and I encourage you to visit their website to see upcoming events.

Finally, as I share with you here these ways in which we're coming together to move forward, and my gratitude for all that members of our community are doing, I want to acknowledge the present and the very real uncertainty and sorrow many in our community are experiencing. My thoughts remain with each of you, and I look forward to being in touch again soon.
Yours,
Cristle Collins Judd
President
president@sarahlawrence.edu
Instagram: @slcprez
Recent Announcements
Task Force for Post-Pandemic Planning
In response to my request for nominations, 39 faculty and 23 staff members were nominated by their peers to serve on the Task Force for Post-Pandemic Planning. I extend my deep appreciation to the members for their willingness to take on this important work on behalf of the College. The task force members are:
Danielle Coscia, Associate VP for Human Resources
Drew Cressman, Faculty in Biology
Margarita Fajardo, Faculty in History & Latin American Studies
Angela Ferraiolo, Faculty in Visual & Studio Arts
Joshua Luce, Assistant Dean of Engagement, Director of Student Involvement at the BWCC
Jennifer Melendez,

 

Director of Campus Operations
Patricia Pasquale,

 

Assistant VP for Marketing & Communications
Steve Schafer,

 

VP for Finance & Operations
Kanwal Singh,

 

Provost & Dean of Faculty
Lyde Sizer,

 

Faculty in History
Bobbie Smolow,

 

Library Director
Congratulations Are in Order!
Last week, visual and studio arts faculty member Clifford Owens was awarded a prestigious Guggenheim Fellowship. He joins 174 other Fellows chosen through a rigorous peer-review process from almost 3,000 applicants. Congratulations, Clifford!
Support

 

The Fund for Sarah Lawrence
The Fund for Sarah Lawrence provides for the most pressing needs of students, faculty, and the College. Today, your support is more critical than ever. Please Give Today
SLC Connect
Alumni and students are invited to join SLC Connect to forge new relationships, strengthen existing ones, provide guidance to a current student who is thinking about the future, or share wisdom and challenges with fellow alumni.
Virtual Visits with Admission
As I mentioned last week, our undergraduate admission staff—including our terrific students on Team SLC—have been working hard to bring Sarah Lawrence to prospective and admitted students while campus visits are suspended. They've got a new website full of great content; I've especially enjoyed the Zoom panels on a variety of topics, and think you might, as well.
Fancy Footwork
For a little entertainment, check out this video our men's soccer team put together to show off their footwork and teamwork.
---