Dear Members of the Sarah Lawrence Community,

When we made the decision to move to remote learning for the remainder of the year, I decided to leave the many scheduled events for the spring semester on my calendar. It seemed somehow a small way to honor and keep before me "what was to have been" while simultaneously focusing on the transformation of "what needs to be" in these ever-changing times.

My calendar for today had long been filled with events related to Admitted Students Day, one of two such days we hold annually in April. For many students, visiting campus serves as one of the decisive elements in the anxiety-inducing process of determining which college to attend. For others, I like to joke that it is more akin to a "victory tour": they have long known Sarah Lawrence was their school, and they are eager to affirm their choice.

I love Admitted Students Day. It's a day normally filled with excitement and promise, and our first chance to see together many students and families who will become part of the Sarah Lawrence community.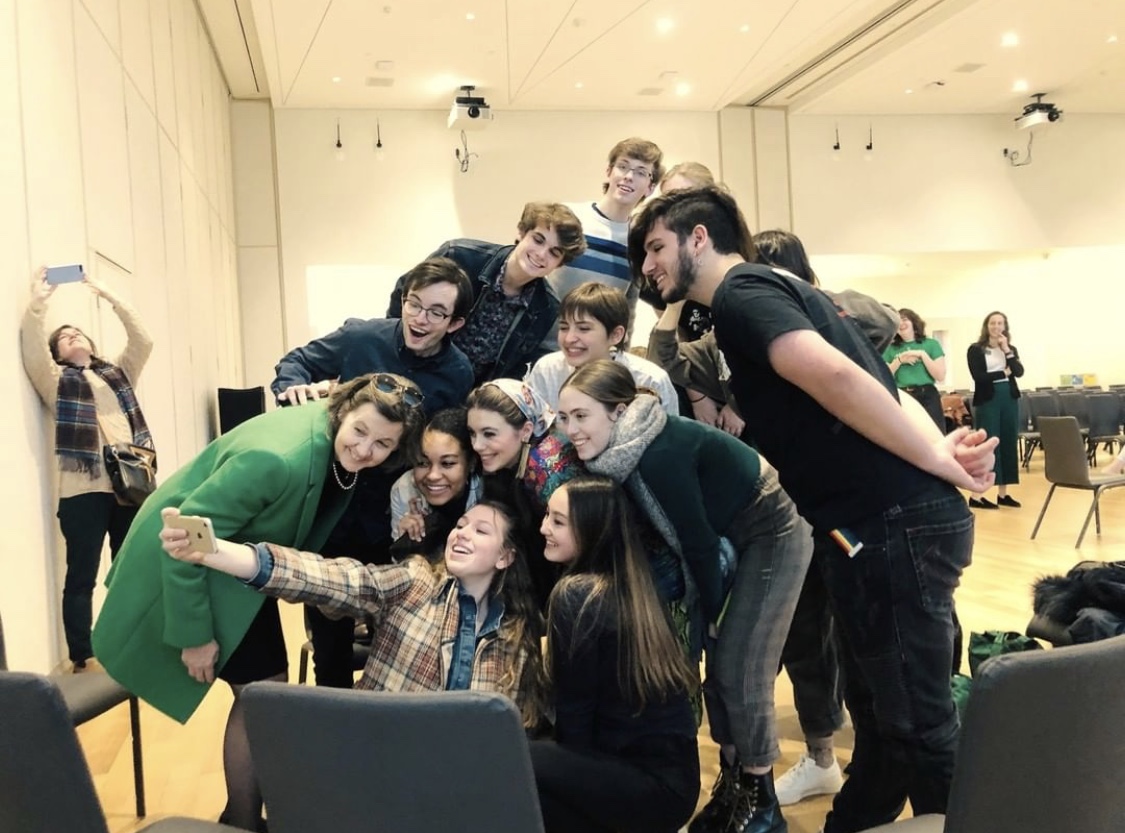 In February, when we hosted an Admitted Students Day for our early applicant pool, we did so for the first time in the Barbara Walters Campus Center (which had great lighting for a selfie with early admits!), and it was terrific to watch those students and families connect to Sarah Lawrence and to each other. In lieu of this in-person experience, our admission office is working hard to create as much of that experience remotely for those in the Class of 2024 who received their acceptance to SLC less than a month ago, as the impact of this global pandemic was coming into focus for those of us in the US.

Admitted Students Day always begins with a "Welcome from the President," at which I am joined by our Dean for Admissions, Kevin McKenna. For today, Kevin and I offered a remote and asynchronous welcome via Zoom (watch here). In that welcome, Kevin shared a few details about the admitted class, which I would like to share with you: 
This class was drawn from the second-largest applicant pool in the history of Sarah Lawrence: roughly 3,700 applicants for 395 spots in the class
Admitted students hail from 46 states, 37 countries, and every continent except Antarctica
Our admitted students shared with the admissions office their talents, skills, and potential for success here and beyond in every way imaginable. And they demonstrated those characteristics that are so Sarah Lawrence: they're smart, creative, passionate, empathetic outside-the-box thinkers who will connect their passions at Sarah Lawrence to create their futures. Over the coming days, we look forward to virtual admitted student events, including chats with current students, a live Q&A with Provost Kanwal Singh on academics, the opportunity to engage with faculty, and a virtual Instagram "tour" of some of our student tour guides' favorite campus spots. We've held a few such events already, and it's been remarkable to watch our current and future students interact easily and enthusiastically, completely undaunted by the remote nature of their time together.
More than ever, in this time of uncertainty, it is important that we all find ways to continue to celebrate the accomplishments of our accepted students, and welcome them to SLC. On my Instagram story today you'll see a place where you can share your thoughts with the Class of 2024. I invite all of you—current students, alumni, faculty, staff, and families—to share your advice and words of encouragement for these students as they select their college. As we hope that SLC will become their school, tell them why it is yours!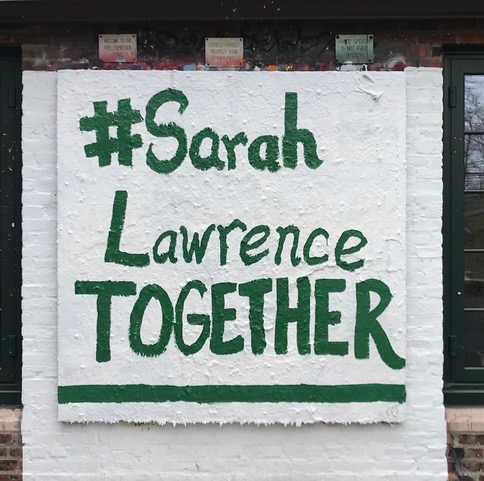 While I often comment on the park-like beauty of our campus and how much I like watching its ever-changing bloom, what I love and appreciate above all are the people of Sarah Lawrence. Never has that beenclearer to me than in this period when we must be apart. So I'm also sending you this message from the Bates board (perhaps the first time in Sarah Lawrence history that it was painted by a president!): #SarahLawrenceTogether. I look forward to connecting our newest students with our current students, alumni, faculty, and staff as we move forward together over the next few months.
Yours,
Cristle Collins Judd
President
president@sarahlawrence.edu
Instagram: @slcprez
Recent Announcements
Thank You, Admissions & Financial Aid Team!
I am extraordinarily proud of and grateful for the hard work of our admissions and financial aid staff in getting our regular admission decisions out by March 15, even as they were simultaneously undertaking the challenge of transitioning to remote work, and for the way they continue to adjust to support our admitted and prospective students.
Senior Class Meeting
Seniors, be sure to check your e-mail for details on a virtual class meeting with me on Tuesday, April 7, at 7 p.m. to catch up and to share thoughts about your virtual commencement and other senior activities.
Virtual Events for Alumni
On Friday, dozens of alumni gathered for the first of a series of SLC Online Socials. These events kicked off a new online event series to help alumni remain connected to each other and to the College. Upcoming events include "Ask a Chef" with Seth Goldman '82 and yoga with Anna Bellard '90. Alumni are invited to register for these events, and keep an eye on the website for more to come!
Support SLC
The College and its community of students, faculty, and staff are resilient, creative, and nimble enough to tackle anything that comes our way. As we continue the spring semester remotely, students and faculty are proving daily that distance is no match for the connections they have and the work they create together. But still, these are challenging times. Your gifts to The Fund for Sarah Lawrence are more critical than ever, and will help see students, faculty, staff, and the College itself through these unprecedented times. Make a gift
The Writing Institute Goes Remote
The Writing Institute, just like the rest of SLC, has taken its course offerings online. Four new one-day intensives are scheduled for later this month—learn more on The Writing Institute's website.
---