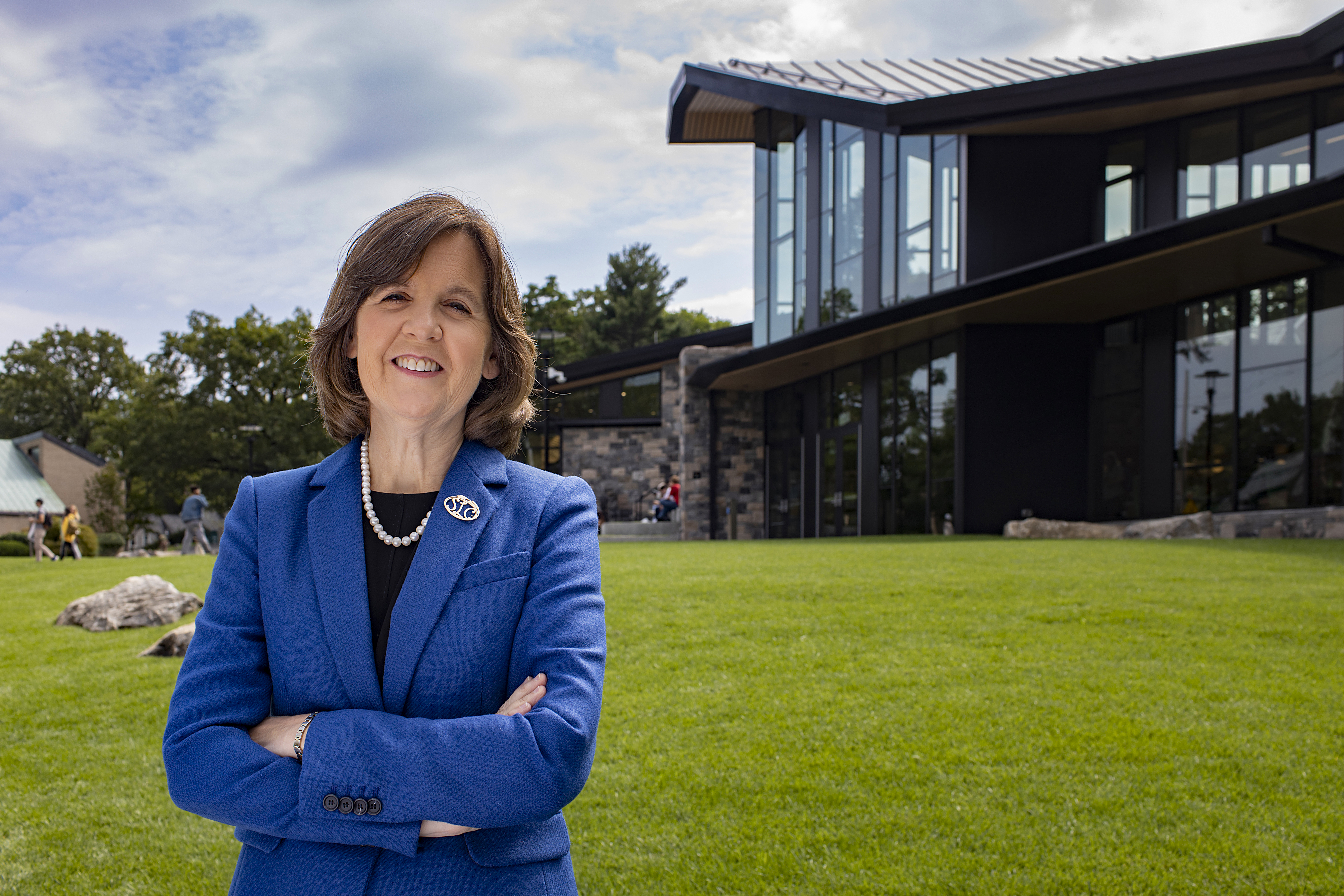 To the Sarah Lawrence Community,
As we approach Thanksgiving, I hope the holiday provides a moment to reflect on this past year and offers time for a deep breath before the final stretch of 2019. For many, this is a rare moment to bring families and loved ones together and appreciate the communities we have created in our lives (even if it might involve awkward conversation from time to time!). For some it involves an annual listen to Arlo Guthrie's "Alice's Restaurant," with its SLC connection to the real Alice, Alice Pelkey Brock '62. And on campus, we start the week of Thanksgiving with a dinner I host for our international students at the President's House, for which students joined me this weekend to bake a plethora of pies.

The College has had the good fortune of welcoming many of our Sarah Lawrence family – our exceptional alumni – back to campus this November. Earlier this month, the Office of Career Services hosted its annual symposium, Your Liberal Arts Connections, which brings together alumni and current students for a discussion about the multitude of professional options a liberal arts degree makes possible. The morning's keynote was delivered by film, television, and music video director Sanaa Hamri '96, who is currently an executive producer on the hit TV show Empire. The College also hosted homecoming this month, which brought families, students, and alumni to the Campbell Sports Center to cheer on the Gryphons.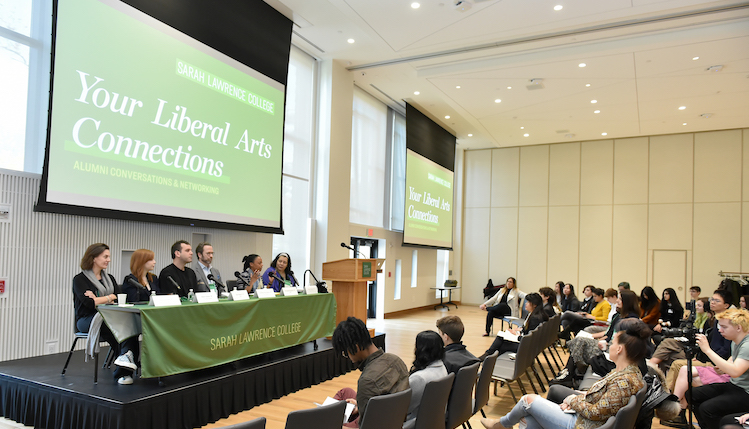 We were delighted to welcome best-selling author, New York Times columnist, philosopher, former Sarah Lawrence commencement speaker, and NYU professor Kwame Anthony Appiah back to campus for an insightful discussion as part of the College's yearlong theme E Pluribus Unum. The full room of students, faculty, staff, and neighbors of the College engaged in a vibrant dialogue focused on Appiah's recent book The Lies that Bind: Rethinking Identity, as we explored the complex interactions between the individual, cultural-societal, and collective identities we inhabit and embrace as well as those that are placed upon us. A full video is available here.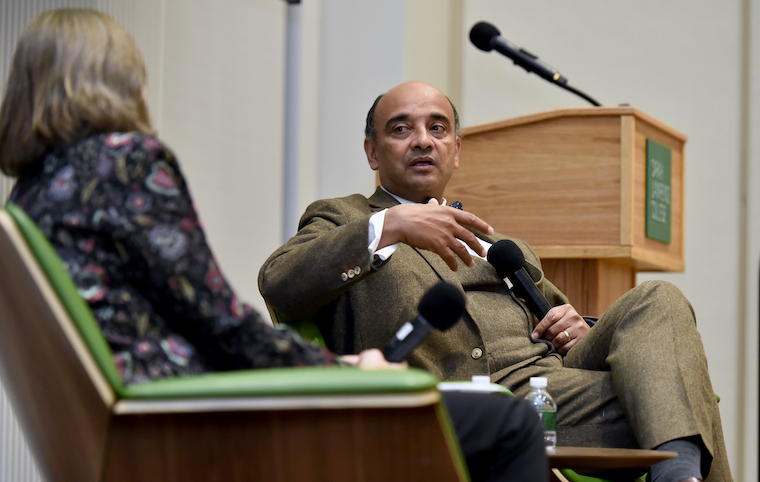 Throughout the year, programming for E Pluribus Unum will continue to explore the breadth and depth of the human experience, what this motto means to the United States in 2019, and what it means for our college community as we approach our second century of existence. Forthcoming events include a visit from historian, best-selling author, and staff writer for The New Yorker Jill Lepore in March.

November also brought an opportunity to participate in one of the purest forms of civic engagement: the right to vote. While we can all recognize the considerable work still to be done to advance America's democracy to the inclusive and representative model it strives to be, I am heartened every year to see robust civic engagement on Sarah Lawrence's campus. On Election Day, SLC ran shuttles to the local polling station for students and partnered with TurboVote to ensure our community had tools available to register to vote and educate themselves about elections near and far. You won't be surprised to learn that there is robust interest on campus in the upcoming primary elections in June and next November's presidential race. We also regularly host non-partisan events where campus and community intersect such as debates in local elections sponsored by organizations like the League of Women Voters.

On a final note, I'd like to provide an update regarding two of Sarah Lawrence's public advocacy endeavors. As I've mentioned before, the College is proud to stand alongside more than 160 institutions of higher education across the country in support of the Deferred Action for Childhood Arrivals (DACA) program. Dreamers have been members of the SLC community – in most ways indistinguishable from their peers in their passion to be part of a scholarly community and make substantive contributions to the campus that is their home. Their embrace of the freedoms defining our democracy is as strong as any other's. As a selective liberal arts college uniquely situated in a metropolitan area that is a gateway to the world and home to one of the most diverse cities in our nation, we embrace the opportunity to actively realize the meaning of E Pluribus Unum. The Supreme Court of the United States heard arguments about the program's rescission on November 12 and we await its ruling.

And as a College that welcomes international students on educational visas from more than 30 nations and that values the cultural diversity and global engagement they bring, Sarah Lawrence and our peer colleges have taken note of the growing hesitancy of students overseas to consider the United States as the place to engage in higher learning. Efforts underway in the courts to eliminate these students' opportunity to engage in practical training in conjunction with their studies risks doing further damage. This is an issue that potentially could directly affect our entire learning community. In the face of this challenge, the College has also signed an amicus brief in support of these students and the opportunity that SLC and thousands of colleges and universities have enjoyed for decades to create diverse, cross-border learning experiences that benefit the United States and the world community.

As has been observed frequently in recent years, the firmament of higher education has entered a period of unprecedented and remarkable change. The developments noted in the preceding paragraphs represent but two examples. The overarching challenge for Sarah Lawrence is pursuing a way forward that ensures that our students continue to have access to a faculty whose commitment to close student-faculty interaction is unmatched, and to a curriculum that allows for in-depth and creative exploration and synthesis of knowledge that prepares our graduates to embrace opportunities beyond college and engage in endeavors that contribute to individual and societal well-being. I look forward to sharing in upcoming letters how we have and will continue to ensure the transformative power of a Sarah Lawrence education as we look toward the second century of this extraordinary college.

Yours,
Cristle Collins Judd
President
Instagram: @slcprez
---
About Sarah Lawrence College
Founded in 1926, Sarah Lawrence is a prestigious, coeducational liberal arts college that consistently ranks among the leading liberal arts colleges in the country. Sarah Lawrence is known for its pioneering approach to education, rich history of impassioned intellectual and civic engagement, and vibrant, successful alumni. In close proximity to the unparalleled offerings of New York City, the historic campus is home to an intellectually curious and diverse community.