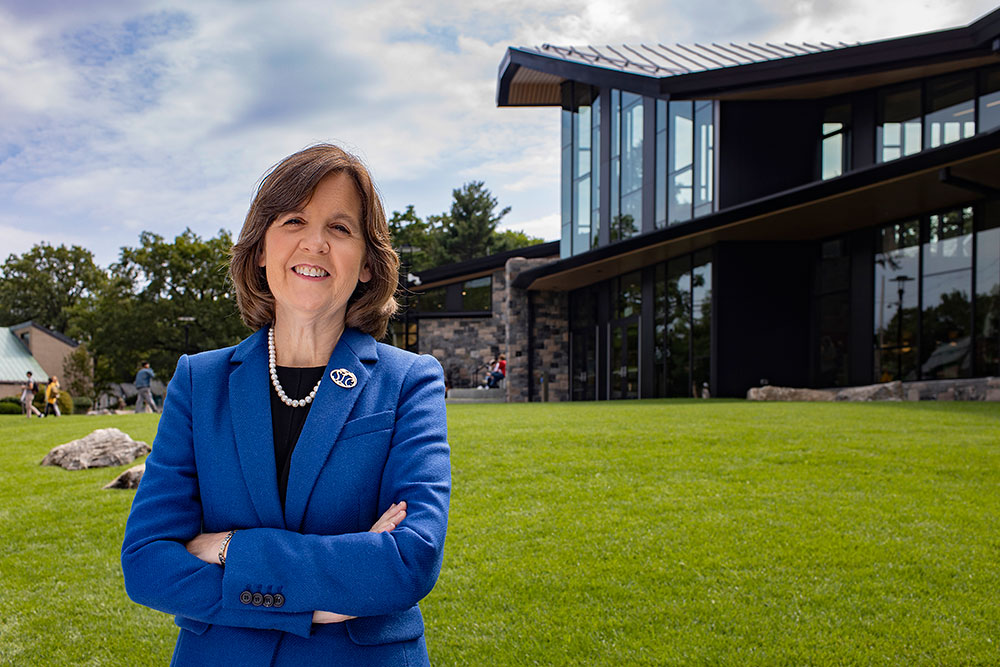 Dear Members of the Sarah Lawrence Community,
It's hard to believe we are already in the third week of classes! On August 31, a perfect late-summer day, we welcomed the class of 2023 and their families to campus. Many thanks to all who prepared in advance and worked throughout the day to ensure one of our smoothest-ever move-ins. For a sense of the weekend, see the great recap video that film student Harrison O'Clair '20 created for us. The following days, which saw returning students arrive on campus, were filled with meetings with dons and faculty members to craft trajectories for the year ahead. Of course, this serious work was punctuated with plenty of orientation week fun, such as the annual screening of The Princess Bride.
 
I was delighted to welcome new and returning students in the now-open Barbara Walters Campus Center. Kudos to all involved for helping us open this donor-funded project on-time, and on-budget. I have to admit that I have had a lot of fun repeating that phrase—donor-funded, on-time, and on-budget—to many audiences. We will celebrate the opening of the center officially in the last week of October with events coinciding with the fall meetings of the Board and Alumni Council and family weekend. This is a wonderful milestone for Sarah Lawrence and a centerpiece of the historic capital campaign that is nearing its conclusion. Already, the 35,000 square foot Campus Center has proven to be a place to gather formally and informally, to connect and create, and—whether in the living room or on the steps or stretched out in the sun on the green roof—to enjoy campus and the company of the Sarah Lawrence community. More than 50 student events are scheduled for the building already, with more added daily. Trivia, open mic, and game nights, dances, ice cream socials, and career fairs will be commonplace student activities in the building this semester and into the future, along with talks, symposia, panels, and other academic events that enhance and continue classroom discussions. In addition to being a space first and foremost for our students, the BWCC will also debut this fall as a place for neighborhood engagements like the Yonkers Partners in Education Gala in October.
 
An integral component of the promise of the Barbara Walters Campus Center is its ability to bring people together, to provide opportunities for engagement that can serve as a catalyst for growth and exposure to new ideas, people, and events, and in so doing facilitate the experiential and place-based work at the heart of a Sarah Lawrence education. When students work together, when faculty collaborate, and when community partners are focused on a common goal, we all benefit. We have been thinking hard about the role that we play in our community and the potential for the Barbara Walters Campus Center to serve as a new civic space, as a cultural and intellectual hub not only for our students and alumni but for the surrounding community. I'm thrilled to share that the Andrew W. Mellon Foundation has also recognized that potential, awarding the College a $1.2 million grant, our largest ever programmatic grant, to support and advance civic engagement through the arts in Yonkers, Bronxville, and Westchester County. Through this grant Sarah Lawrence will work with existing and new partners that include the Yonkers and Bronxville school districts and libraries, ArtsWestchester, the Hudson River Museum, Wartburg, and Young at Arts, to deepen and strengthen a culture of collaboration and reciprocity across these public and private institutions. The grant will support regular convenings with community leaders and partner institutions, allow us to establish a network of public humanities and arts fellows, build a new capacity in visual and digital story-telling, and support professional development for staff and faculty through related curricular and pedagogical initiatives. We look forward to serving as a co-convener and builder of networks among these civic organizations and across communities.
 
A pillar of a Sarah Lawrence education is the value of engagement—of growth through dialogue, questioning, and deep discussion. As students complete their first weeks of classes and begin their conferences, the College itself will undertake its own invigorating conference project of a sort through this grant, examining issues and ideas from every angle and bringing people together in order to serve and advance the community that has made Sarah Lawrence the excellent institution it is today.
With Thanks
In a more personal vein, I would like to take a brief moment to offer thanks to all in the Sarah Lawrence community for your many words and gestures of condolence and support for me and for my family as we have dealt with the entirely unexpected and unimaginable loss of my husband and life partner, Bob Judd, at the start of this academic year. Bob was a loyal friend of Sarah Lawrence and an unreserved supporter of my work here (as those who saw our partner act in the Faculty Show witnessed!); he would be deeply gratified, as am I, by the warmth with which you have surrounded us in this difficult time.

Yours,
Cristle Collins Judd, President
president@sarahlawrence.edu 
Instagram: @slcprez
---