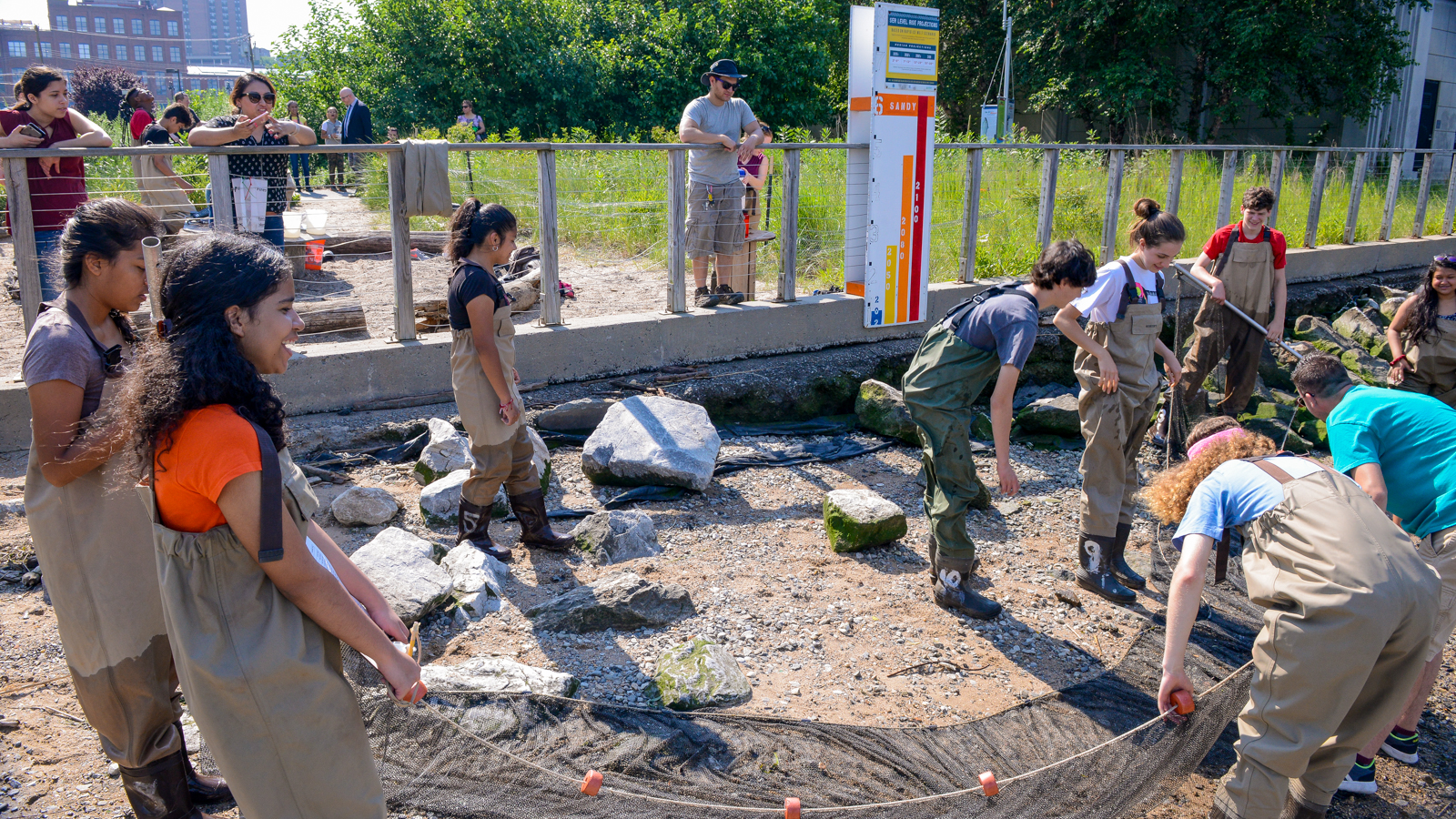 The Sarah Lawrence Center for the Urban River at Beczak (CURB), a regional hub for research and education focused on the Hudson River estuary and urban watersheds, has launched a new community partnership program to help bring science to life for Yonkers Public School students.
The Hudson River Heroes program will facilitate sponsorship partnerships with businesses and members of the community to support and enhance CURB's operations and fund field trips for Yonkers Public School students. Last year, more than 4,000 K-12 students participated in programs like eel count surveys, marsh exploration, and studying how animals have adapted to live in the Hudson River environment.
Every $5,000 pledged by the "Hudson River Heroes" will support CURB's mission as well as sponsor field trips for more than 140 local students to the facility who otherwise might not experience CURB's hands-on education programs. Sponsors can choose to "adopt a school" or CURB staff can suggest one of the many local schools in need.
ASR Group's Domino Sugar Yonkers Refinery, a longtime supporter of the Center, has pledged to be the first "Hudson River Hero" and selected to sponsor Eugenio María de Hostos MicroSociety School.
"We are delighted to partner with CURB and provide this opportunity for Hostos MicroSociety students," said Refinery Manager Matt Shue. "We hope that students will have their curiosity sparked by the natural world around them and continue to be stewards for the earth as well as their communities."
Dr. Edwin M. Quezada, Superintendent of Schools, highlighted the importance of partnership.  "Sarah Lawrence College's longstanding robust partnerships with the Yonkers Public Schools are an invaluable resource for our students. To provide an enriched learning experience, public schools require meaningful partnerships with higher education and businesses. It is about equity and access to a broad-spectrum of quality experiences that makes a significant difference for urban students' education. Sarah Lawrence understands this responsibility and acts on it; our students are the beneficiaries."
Hostos Principal Mrs. Elda Perez-Mejia reflected on the real-world implications of this sponsorship. "Empowering students to be life-long learners and productive members of our multicultural society is a pillar of our school's philosophy. We are so grateful for this opportunity, which will provide an additional lens into the natural world for students and spur them to see we are all connected by nature. And, our students and teachers are so appreciative to Domino Sugar for their two-year commitment to our school, last year providing a 3D printer that invigorated students' learning."
CURB hopes to recruit up to five Heroes for this coming academic year, which would provide opportunities for up to 750 Yonkers students.
"A true community collaboration, the campaign will foster integration between CURB and its partners, including a sponsor logo on our website, articles in our newsletter and social media, and even the opportunity to host a corporate event at our site," said Ryan Palmer, director at CURB. "Although we created the program with businesses in mind, individuals are encouraged to participate as well!"
Photos of YPS field trips to CURB can be found here. 
---