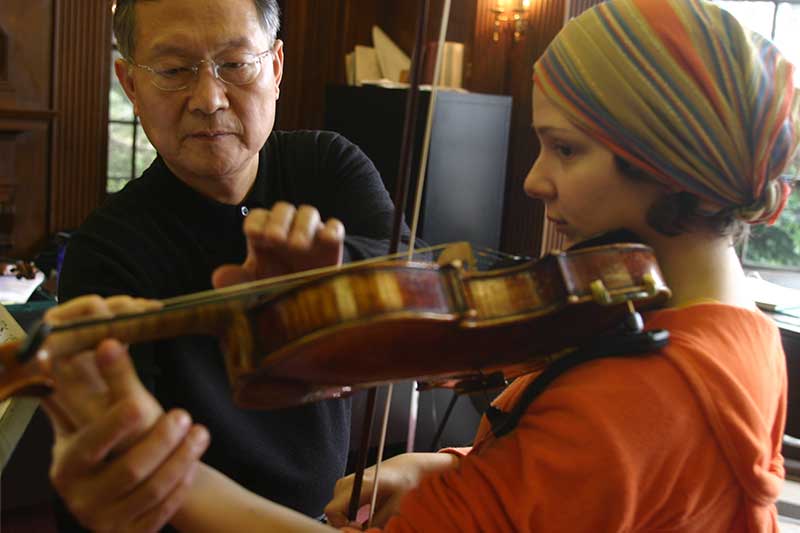 This is a place I would like to be.
That was Sungrai Sohn's initial assessment of Sarah Lawrence when he visited the school in the 70s as a prospective Master's of Fine Arts candidate in violin.
At the time, famed violin teacher Dorothy Delay—who taught many of the 20th century's notable violinists, including Ihtzak Perlman—taught at the College. For Sohn, Delay was a major draw, as was the vibrancy of the campus community. After completing his graduate degree, Sohn joined the music faculty in 1980, and nearly 40 years later, he reflects, "I'm so happy I made that choice. It's still so beautiful here."
As a distinguished concert violinist, dedicated educator, and beloved colleague, Sohn's presence on campus has made Sarah Lawrence an infinitely kinder, more beautiful place.
Soon after he graduated from the MFA program, Sohn founded the Laurentian String Quartet, which was in residence at the College for nearly 30 years and performed annually in major concert halls throughout the United States, Canada, Europe, and the Far East; the quartet also toured in North Africa on a U.S. Department of State visit.
As the head of the College's String Program, Sohn taught vioin and viola, sight reading for instrumentalists, and led a weekly master class for strings, in which all the violin students play for each other and comment on one another's performance. "They learn to play in front of peers and how to critique," Sohn says. "It's been good for students."
He also served as the Director of the Chamber Music Program and launched the Wall-to-Wall chamber music concert series. Sohn was one of the Conductors of the Orchestra Projects Program, in which he organized student concerto evenings and readings of student orchestral compositions. For many summers, he led the summer string program and helped to recruit talented string players from high schools across the country.
Of Sohn's strong presence throughout the years, Chet Biscardi (music), who directed the College's music program from 1987-2017, says, "It is inconceivable for me to think of Sarah Lawrence and music and Marshall Field and Reisinger Concert Hall without Sungrai being there."
As a teacher, Sohn has been remarkably committed to his students, even taking on private students at no cost if they wanted to participate in chamber music but were not music thirds. He has displayed tireless generosity with his students.
"He is kind, gentle, understanding, and has extreme knowledge, talent, and skills, and yet is demanding," says music faculty member Glenn Alexander. "He was a devoted teacher that could take any student as far as they wanted to go."
Sohn's colleague Martin Goldray echoes these sentiments: "He has a commitment to getting the very best out of everyone, but at the same time he is quite patient and always able to lighten the mood."
As a performer, Sohn, who has appeared in the International Who's Who in Music and Music Dictionary since 1994, has graced international stages and festivals; appeared as a soloist and chamber musician with numerous orchestras and ensembles, including the New York Pro Arte Chamber Orchestra; and collaborated with luminaries, including Kurt Masur, Richard Stolzman, and Lilian Kallir. An extraordinary musician, Sohn has won numerous awards, including the Artist International Award and the grand prize of the Korean National competition in violin and chamber music.
His masterful level of talent and skill impressed his colleagues. "In the last couple of faculty concerts he played so brilliantly that I remember thinking, I am so glad I don't have to follow that," Alexander says. "He made me want to be better and it was humbling, very humbling."
For the last 20 years, Sohn inspired his colleagues and students for reasons beyond his qualities as a musician and educator: A two-time liver transplant recipient, Sohn continued to show up with grace and dedication at the College, despite his health challenges, which were, at times, dire. Since his most recent transplant in 2014, Sohn has been performing concerts in the New York area, to tell his story and raise awareness about the vital importance of organ donation, which saved his life.
In April, Sohn brought his awareness efforts to the College, presenting "Every Day a Gift," a concert and film screening. As part of the program, "To Have and to Give," a film by Sohn's brother-in-law and organ donor, David Esposito, which documents their organ transplant experience, was screened.
With the help of staff member Joan Rudd and two students, Elise LeBihan '19 and Glenna Adkins '20, Sohn's efforts have resulted in hundreds of people signing up to become organ donors.
Biscardi says, "His courage to move forward after years of struggle is remarkable and inspiring."
In retirement, Sohn is eager to continue his advocacy work around organ donation. He collaborates regularly on legislative visits with LiveOnNY and DonateLife, organizations aiming to expand New York State's law for organ donation. Last year, even though a record number of people—more than 600,000—signed up to become organ donors in New York State, it still remains the state with the lowest enrollment for this cause in the United States.
Sohn had planned on retiring earlier to focus on his advocacy work, but waited because he didn't want to let his students down. "I hate to leave them," he says.
For his students and colleagues, Sohn' retirement leaves a great void. Alexander, who had a teaching room next to Sohn's in Marshall Field, recalls Sohn's constant support as a colleague and friend. Sohn would often bring in paintings and furniture to make the space feel inviting for their students. Over the years, he gifted Alexander with a microwave, refrigerator, coffee mugs, and other items. Most importantly, Sohn was there to listen.
"He is beaming with love, compassion, and understanding. We would talk and he would always listen and often provide direction for me," says Alexander. "He taught me through his actions, how he carried himself, gave of himself, and lived his life, with the utmost honesty and integrity."
Sohn's legacy will undoubtedly endure at the College. Every year going forward, the Sungrai Sohn Chamber Music Award will be granted to an outstanding chamber music student, selected by music faculty.
Sohn is enthusiastic about his next chapter. Sohn says, "It's kind of exciting to be able to work on organ donor advocacy full time. I am very much looking forward to it."
Written by Suzanne Guillette MFA '05
---