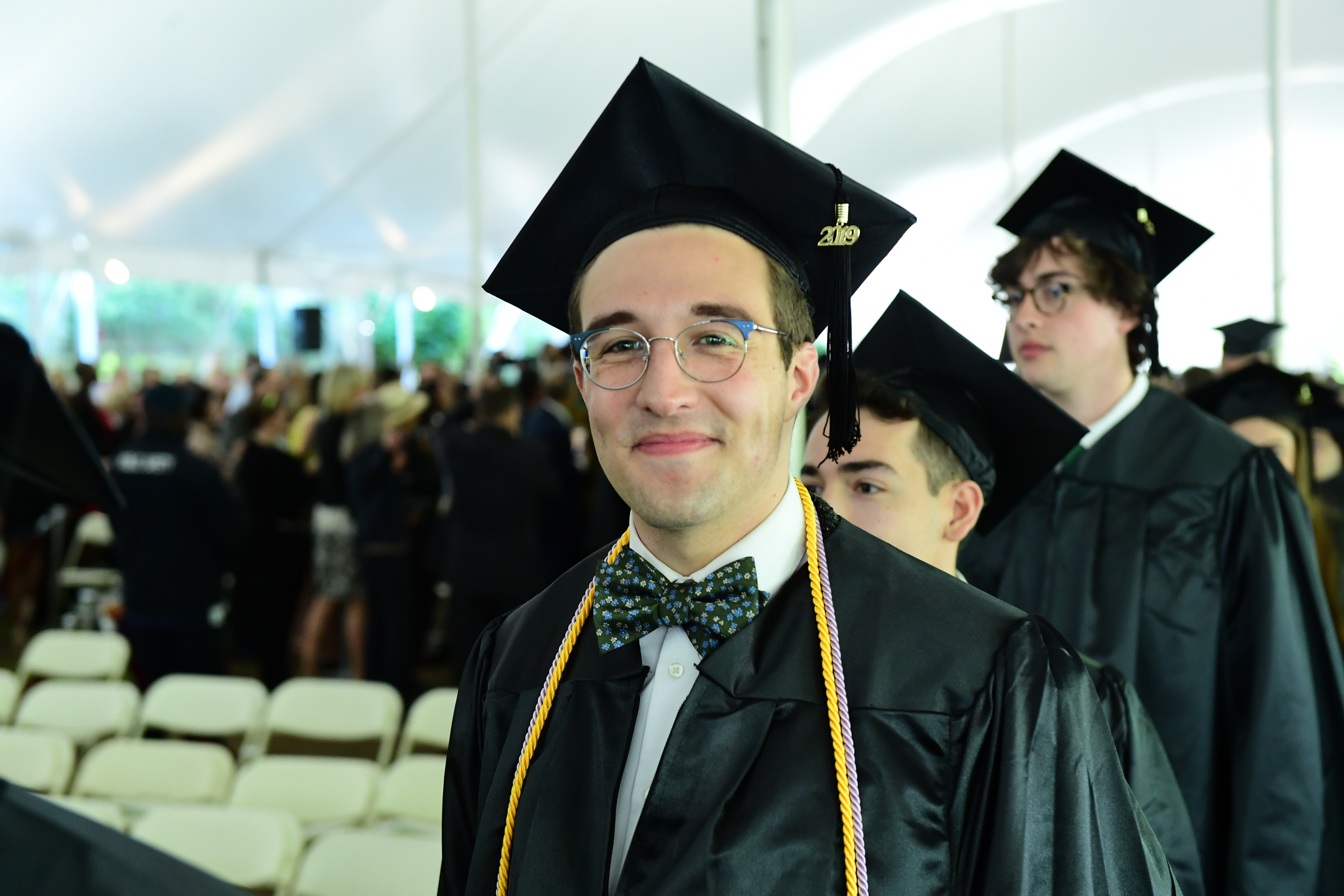 Sarah Lawrence College and the class of 2019, along with families and loved ones, celebrated undergraduate commencement this morning. The ceremony honored the more than 300 students who received their bachelor's degree after studying across a curriculum that spans disciplines from the Creative and Performing Arts, History and the Social Sciences, the Humanities, and Natural Sciences and Mathematics.
New York Times White House Correspondent Maggie Haberman '96 delivered the day's commencement speech, advising the new graduates that careers are not always linear, the truth is powerful, and yes, it's likely deadlines and due dates won't go away anytime soon.
"The truth is not always pretty, or easy," Haberman told the almost 2,000 people in attendance. "But it is there. And it is vitally important not to blur it with emotion or hyperbole, because it can lose its power... I hope in your next steps, you will not be rigid in your thinking. That you will be open to hearing other people's arguments and where they are coming from, no matter how repellent that may feel at times. It may not change your own thinking, and it shouldn't always, but it might help you see the landscape more fully. My time at Sarah Lawrence helped me understand the importance of patience, of assuming good faith in others, and of finding the truth."
In her remarks, Sarah Lawrence President Cristle Collins Judd reflected on the journey the College's newest alumni had just concluded. "Your Sarah Lawrence education allowed you to connect your passions and create your path over these last four years," said President Judd. "That ability to make a path, to connect your passions to create your future, while really hard, is an extraordinary opportunity, experience, and accomplishment that very few college students are privileged to have… You're now prepared to go out over your lifetimes and re-invent yourselves in ways you haven't yet imagined."
Kendal Flowerdew, a pre-med student who will attend medical school in the fall, was among the many high-achieving 2019 graduates. She was co-director of both the Sarah Lawrence Activities Committee and the Pre-Health Community, and was one of four students who, at the ceremony, presented the Senior Class Gift: a contribution of $62,442 to The Fund for Sarah Lawrence, raised through student fundraising events, to support of scholarships, faculty, initiatives, and infrastructure.
"I am so excited to graduate today," said Flowerdew. "The last four years at Sarah Lawrence College have been amazing and I am so grateful for the many experiences and opportunities I have had. This is a bittersweet moment, as I am saying goodbye to a huge part of my life, but stepping into a new adventure in medical school. I will always have the many great memories I made as a student at Sarah Lawrence."​
A full video and photos of the event are available here.
---