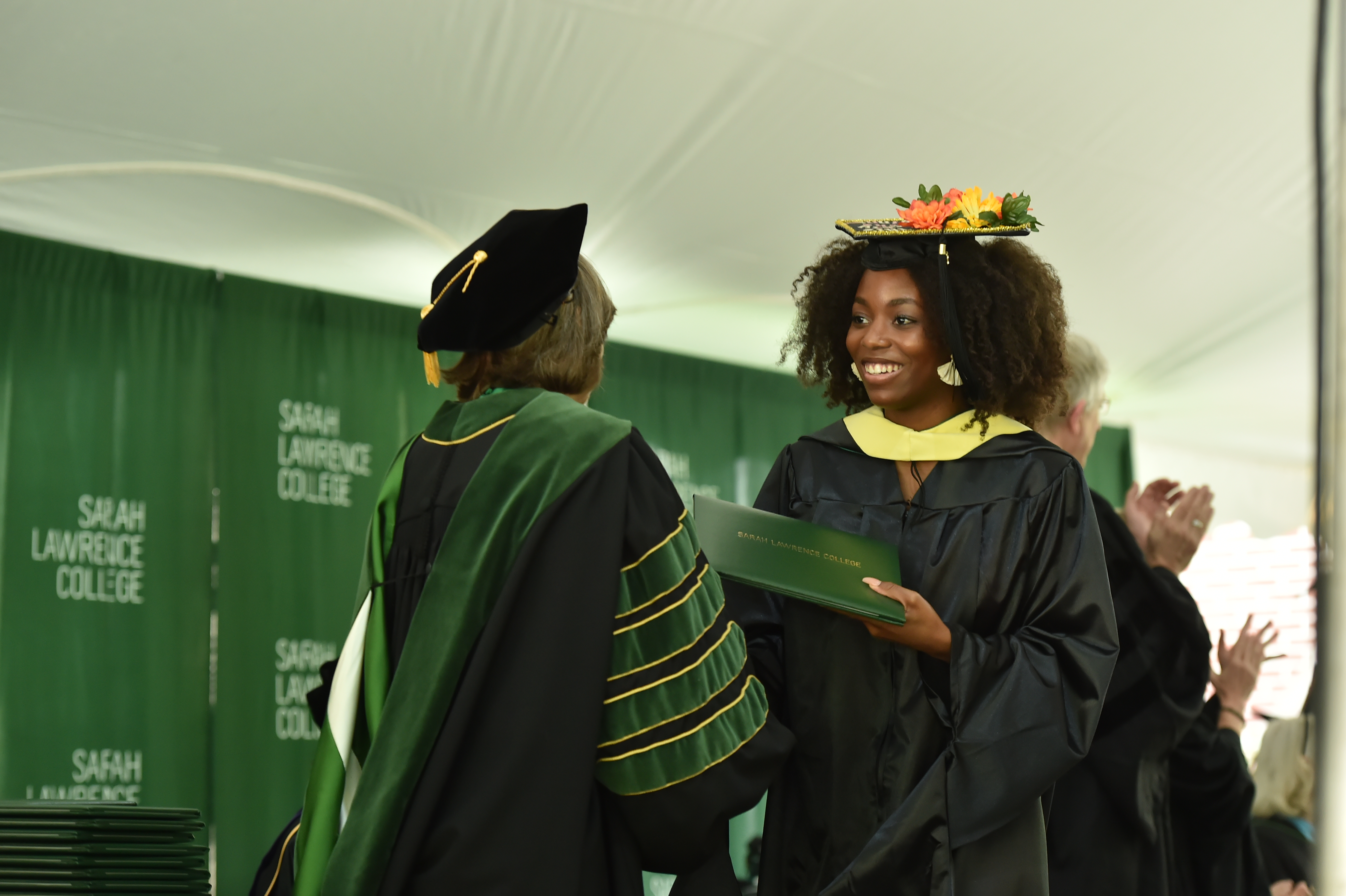 Sarah Lawrence College welcomed excited families and loved ones to celebrate graduate student commencement this morning to honor the nearly 150 students who received master's degrees in one of the College's nine programs in the Arts, Humanities, and Sciences.   
Reflecting on the memorable occasion, Sarah Lawrence President Cristle Collins Judd told the 500 people in attendance, "We are a small college, but we have a long history of innovation and an outsized influence on the Arts, Education, and Health professions... Today you join a distinguished group of alumni who in their lives and in their work make a difference in the world daily. You are now part of a group that has shared a very special experience, place, and model of education."
Diane Baker MS '79, a pioneer in the field of genetic counseling, and her husband, National Institutes of Health Director Dr. Francis Collins, delivered a joint commencement address, in which they discussed the importance of "taking leaps, and the growth that comes from those leaps."
Baker and Collins humorously related a number of major leaps they took, together as a couple and independently in their careers. They concluded by telling the graduates to not be afraid of leaps, but to prepare for them with a running start: "You have been in a place that has given you the gift of a major start in that long run. So go out there … and change the world."
Corinne Santiago MFA '19 is one of those now-graduates who will go out and change the world. The morning's graduate student speaker, chosen by classmates and faculty, she highlighted the transformative role of Sarah Lawrence in her life. "Sarah Lawrence has inspired me to question things I never had the nerve to question, to ask for and seek out the things I never knew I needed, and to become the kind of writer and person that I never even realized I wanted or needed to be." ​
In addition to the graduates, today's ceremony also recognized Joan H. Marks '51, a pioneer in the field of genetic counseling, with an honorary Doctor of Science degree. Joan served for 26 years as the director of the now-named Joan H. Marks Graduate Program in Human Genetics. Under her leadership, the program - the first of its kind in the nation - became, and remains, the largest in the country.
Photos and a full video of the morning's events can be found here.
The College's undergraduate commencement ceremony will take place tomorrow, May 24, at 10 a.m. on the Westlands south lawn. New York Times White House correspondent Maggie Haberman '96 will deliver the commencement address.
---