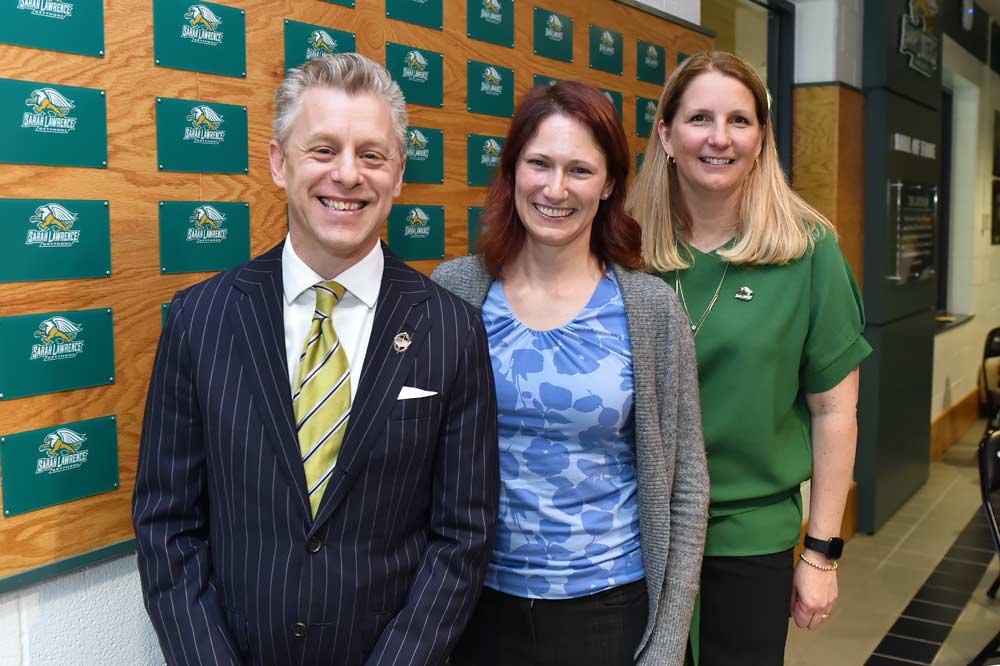 Sarah Lawrence College held an event at the school's Campbell Sports Center on May 10 to celebrate a trio of milestones: the 20th anniversary of the Sports Center; the first-ever induction of alumni into the Sarah Lawrence College Athletics Hall of Fame; and the retirement of Al Green, dean of equity & inclusion, who played a vital role in facilitating SLC's entry in the National Collegiate Athletic Association (NCAA) Division III.
The inaugural inductees into the Hall of Fame are Leigh Heyman '98, former coxswain on the United States National Rowing Team, and Liz Stitzel '09, a National Champion equestrian rider.
The event highlighted the growth of athletics at Sarah Lawrence College since the opening of the Campbell Sports Center in the fall of 1998, when the primary school sports were crew, tennis, volleyball, and equestrian. Those sports continue to thrive today and have been joined by men's and women's basketball, soccer, cross country, and swimming, as well as women's softball. Student athletes are excelling in all fields.
...
According to Kristin Maile, SLC's director of athletics and physical education, this year the College's softball, women's soccer, and men's basketball teams qualified for the Skyline Conference playoffs for the first time; two students were voted Skyline Rookie of the Year (women's soccer and women's swimming); 17 students took All Conference honors; and three coaches earned Skyline Coach of the Year (women's basketball, soccer, and men's and women's swimming), among other honors.
"Athletes are here, they have been here, and we will continue to attract them," said Maile. She added that student athletes celebrated the 20th anniversary of the Sports Center by volunteering in 20 community service projects over the course of the academic year, ranging from after-school programs to soup kitchens to equine rescue missions.
The celebration was attended by SLC alumni, donors, staff, faculty, and students, including Sophia Spralja '19, captain of the women's soccer team and the 2019 female Athlete of the Year. Spralja, who studies art history, anthropology, and literature, is eager to dispel the notion that there are no sports at Sarah Lawrence. "Having a physical presence and taking up space is important, and celebrating 20 years is huge," said Spralja.
In accepting her Hall of Fame award, Liz Stitzel noted the growth of team sports in the 10 years since she graduated, as well as the glossy brochures for each that are now on display in the Campbell lobby. "This is how we take SLC into the future," she said. "This is how we keep growing and how we keep our student body balanced and supported and healthy."
Designed by Stanmar, Inc. the 48,000 square foot Campbell Sports Center, at its opening, provided students, faculty, staff, and alumni—for the first time in the school's history—expansive state-of-the-art fitness and athletic facilities. It also benefited the local community by offering swimming and fitness classes.
The project's lead donor was Margot Bogert '75, then the chair of SLC's board of trustees; the facility is named for her parents, William D. Campbell and Beatrice Hawn Campbell. The building opened during the tenure of Mary LeVine, former director of physical education and athletics, who was integral to its development.
Before and after the opening, SLC was part of the Hudson Valley Intercollegiate Athletic Conference (HVIAC), which included other four-year colleges drawn from the New York metropolitan area. But in 2011, the College applied to become a member of NCAA Division III, a national organization designed for small liberal arts colleges in which academics remain the focus, but where a competitive athletic environment is fostered.
Al Green shepherded this effort as dean of studies and student life, with oversight of athletics and physical education among his many duties. At the time, Green said, "Division III is about making sure athletics is folded into the rigor of the academics."
"My feeling was, if we were going to do athletics, why not have the gold standard?" said Green about the decision to join the NCAA. "I'm glad that we've been able to move to where we are. This is what a well-rounded liberal arts education can be."
Soccer player Mohamed Camara '19—who studies economics, philosophy, and history—attended the event and was happy to celebrate Dean Green for all that he has done for Sarah Lawrence.
"Dean Green has always been in the forefront, trying to see [the student] perspective," said Camara. "He has a calm energy, he's someone you can just talk to, and is so positive and welcoming. He really understands the students, and engages them to find out what they want out of the school."
In 2015, SLC became a full member of the NCAA D3, and that same year Green moved into his current role as dean of equity & inclusion, retaining oversight of athletics.
As an NCAA member school, SLC is eligible for grant funding that can support a wide range of initiatives from post-graduate scholarships for student athletes, to diversity and inclusion initiatives, to professional development and training for staff, all of which help enhance the student-athlete experience.
Sarah Lawrence now continues to recognize the role of athletics on campus with the Athletics Hall of Fame. The program honors former student athletes or those who have gained national recognition in athletics following graduation, and may also recognize coaches, administration, and community members who have contributed significantly to the development of the SLC athletics program.
The inaugural Hall of Famers excelled both during their enrollment at Sarah Lawrence and after.
Liz Stitzel was a four-year regional and zone qualifier and a three-year equestrian team captain at SLC. In her first year, she was named Sarah Lawrence Athletics Newcomer of the Year; as a sophomore, she was Athlete of the Year; and as a senior she received the Alice Stone Ilchman Scholar-Athlete Award. While a student, she made two trips to the National Championships, where she was recognized as one of the top 20 collegiate riders in the nation. After graduating, she joined the Intercollegiate Horse Show Association (IHSA) Alumni Division and in 2013 won her regional and zone competitions, returning to the IHSA National Championships, where she was crowned National Champion in alumni flat and Reserve National Champion in alumni fences. Stizel is now a licensed co-responder with the Crisis Intervention and Response Unit of the Denver Police Department.
"When I was here 10 years ago, the athletic department was still a fairly small part of the College, so it's amazing to see how much athletics has become a part of the school and to see that grow," said Stitzel. "I've always felt that athletics complement academics so much—it's that same discipline, that's same focus, that same drive."
At SLC, Leigh Heyman steered a Women's Novice 4+ boat (co-ed team) to first-place finishes at the Dowling Invitational, Manhattan Invitational, and Fall Metropolitan Championships in 1995 and led a Men's Novice 4+ team to a third-place effort at the La Salle Invitational in 1996. After graduating, he was the coxswain for the U.S. National Rowing Team from 2002-07 and was the champion in the lightweight 8+ in the 2002 U.S. Rowing Elite National Championships. Other victories included being a seven-time champion at the prestigious Head of the Charles Regatta in the Men's Lightweight 8+. Heyman served as director of new media technologies for President Barack Obama, leading the team that managed and developed technology for all of the President's online engagement. Today, he consults with senior leaders in business and government on digital transformation strategies.
"The impact that the academic experience has on the way that you perceive yourself, and the crossover, in terms of athletic performance, is really understated," said Heyman. "The similarities between what I feel when I'm racing and of being in one of those really intense [SLC] seminars, are really strong. It's exciting to see that the school has, over time, become more and more interested in finding that balance between what is essentially an elite academic institution and what is also the necessary outlet for everyone's physical and emotional health. It's great to see that the school is doing this, and I'm looking forward to seeing where it goes from here."
---