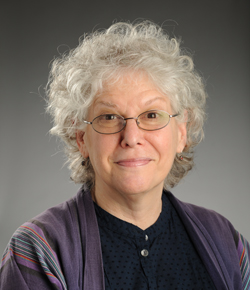 Greta Minsky, beloved member of the Theatre faculty, passed away on Sunday, January 6.
Greta worked at Sarah Lawrence since 1998, both as a stage and production manager as well as a teacher, regularly offering courses in stage management. She is described by her colleagues in Theatre as "unflappable," consistently bringing both professionalism and warmth to all of her work with faculty and students. Greta worked extensively in New York City before and during her time at the College; she knew many members of the faculty through their productions before she even came to Sarah Lawrence. Greta's professional career served as a foundation for her work here, as she brought a pragmatism and sense of realism into her stage management courses.
While Greta kept up a very busy schedule working in productions both on and off campus, she also completed her master's degree in Women's History here at Sarah Lawrence in 2013. Her thesis centered on the censorship of popular plays about prostitution that ran in New York City during the 1910s and 1920s. Faculty member Priscilla Murolo writes of Greta's thesis, "'Censoring the Prostitute Play' was thickly researched, astutely reasoned, wonderfully concise, and written with unfailing wit and grace—in short, a great joy to read."
Theatre faculty member Kevin Confoy remembers, "Greta had a unique talent to juggle a tremendous number of responsibilities all the while finding time to answer every question and help each student who came through her always-open office door … In one extraordinary year, Greta worked full time at her job as associate producer of the Theatre Program, taught a course in stage management, earned her master's degree in Women's History and, with her partner Barbara, threw the wedding party of the year. And she never missed a chance to laugh at the joy of it all."
Greta Minsky was an astute and funny observer of life and art; her wisdom and love of theatre will be sorely missed on campus.
We do not yet have information on a memorial service, but will let you know if and when that becomes available.
Kanwal Singh
Provost and Dean of Faculty
---