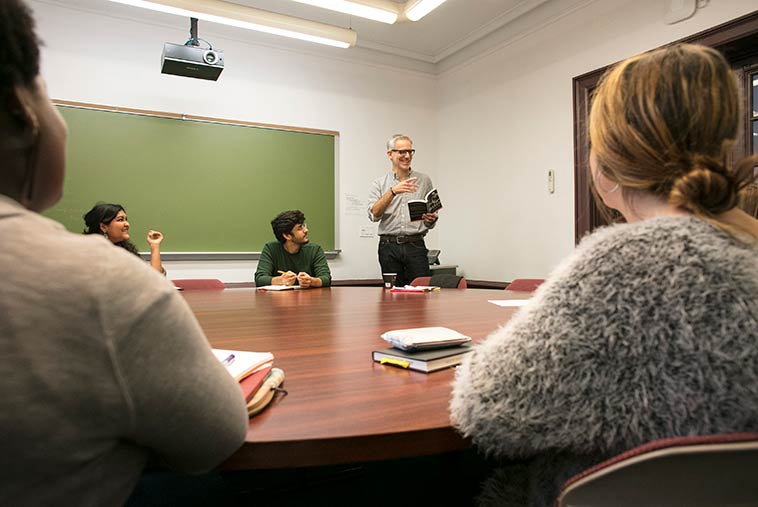 Sarah Lawrence College is pleased to announce that it has been named #1 for having the "Best Classroom Experience" among the 384 colleges listed in The Princeton Review's just released The 384 Best Colleges.
The College has received this #1 rating two out of the last three years, and came in #4 among all colleges for "Professors Get High Marks," a category that recognizes the high regard the College's students hold for their professors.  Sarah Lawrence students also received high marks for political activism and being LGBTQIA-friendly.
"The fact that these ratings come from students, who are after all living the experience, makes them all the more telling, demonstrating that we are keeping the best of the Liberal Arts tradition alive by offering an interdisciplinary education that focuses on in-depth study and critical thinking," said Cristle Collins Judd, President of Sarah Lawrence College.  With a 9:1 student-to-teacher ratio, Sarah Lawrence's approach is centered on close interaction with faculty, pairing seminar classes with rigorous, individualized undergraduate research conducted directly with faculty.
In the reviews students described Sarah Lawrence as a "stalwart liberal arts jewel" with beloved professors who are "extremely accessible and intelligent," "talk to us almost like colleagues" with an administration that is "incredibly receptive to ideas." The student body was described as "creative, talented and hardworking," with students who are "passionate" and "devote themselves to matters of social justice."
Finally, Sarah Lawrence "essentially offers a build-your-own education, and for those who are dedicated and passionate, it's perfect."
The Best 384 Colleges (Penguin Random House / Princeton Review) will be available today at bookstores and online.
About The Best 384 Colleges
One of The Princeton Review's most popular guides, The Best 384 Colleges rankings are based on surveys of 138,000 students at 384 top colleges that includes a wide representation by region, size, selectivity and character. Published annually since 1992, the book has detailed profiles of the colleges with rating scores in eight categories as well as ranking lists of top 20 schools in 62 categories. For more information on the rankings and methodology visit www.princetonreview.com/college-rankings/how-it-works.
---