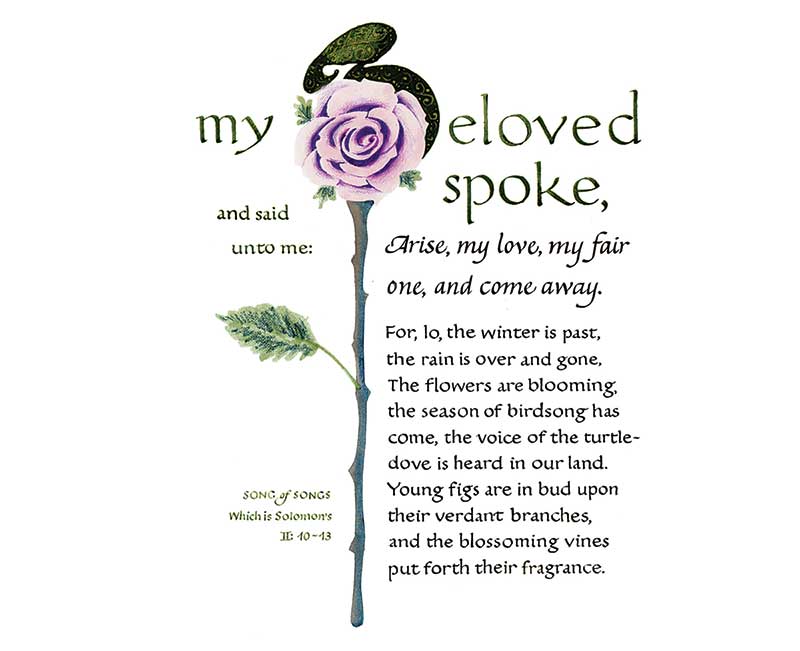 The Barbara Walters Gallery is delighted to present Song of Songs: The Bible's Great Love Poems in Calligraphy, by artist and calligrapher, Margaret Shepherd, Class of '69.
The exhibit is Open to the Public daily from March 29 – June 12, 2022 at the gallery's location in the Barbara Walters Campus Center at Sarah Lawrence College.
About Song of Songs
I have used calligraphy to create art at all levels, from diplomas to memorials, during my 55 years of exploring the world of letters. I like to rely on the alphabet itself to form my designs, with scarcely any added ornament or illustration. I shape the letters and arrange them on the page to highlight the meaning of the text. As Arabic scribes say, "Calligraphy gives greater clarity to truth."
The poetic imagery in Song of Songs often comes from the timeless objects of everyday village life. In writing out this 2600-year-old scripture, so unlike any other book of the Bible, I looked for ways to emphasize the natural tendency of letters to suggest flowers, grain, horses, flames, apricots, doves, flowers, smoke, and banners.
About the Artist
Margaret Shepherd was born in Ames, Iowa, taught high school English and studied brush painting in pre-war Saigon, graduated from Sarah Lawrence College in 1969, and now lives in Boston with her husband David Friend. Her engagement with calligraphy has included teaching, exhibitions, talks, commissions, and public installations. She has authored 19 books about calligraphy and communication; three of them have translated into Romanian, Russian, and Spanish. She is proud to have been introduced to the basics of calligraphy at Sarah Lawrence College, in a class of 2 students.  Norberto Chiesa taught this specially requested course just once, in 1968.
Just published: Song of Songs: The Bible's Great Love Poems in Calligraphy
New series for 2021
:
ABCs of the USA; The stories behind America's most distinctive calligraphy
Pins are at:
http://pinterest.com/shepherdscribe/
Website:
margaretshepherd.com
Instagram
@shepherdscribe
Learn Calligraphy
has recently been published in Spanish