Welcome! Welcome to the graduating class of 2018, to their parents, friends, relatives, and honored guests who have joined with us on this happy spring day to celebrate one of life's great milestones.
On behalf of the Sarah Lawrence College Board of Trustees, it is my honor to congratulate each member of the class being awarded their degree today.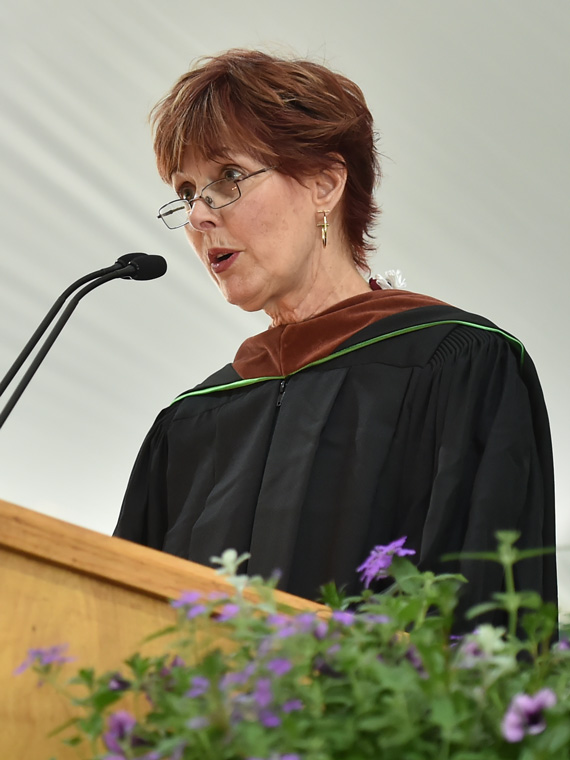 We wish you a long, productive, and gratifying life that builds on your experience of learning at one of the most distinctive and intellectually robust colleges in the country. Your tenure at Sarah Lawrence, in many ways, has been unique. You have helped to select and transition a new President of the College, Cristle Collins Judd; you've been a part of the detailed planning for the Barbara Walters Campus Center, the College's first new building in over 10 years; and you have actively engaged in difficult but essential discussions around issues of diversity, social justice, politics, and the importance of civil discourse, particularly as we embraced the theme of Democracy and Education over the past year. We hope that your commitment to and openness in thoughtfully addressing these challenging issues become a model for civic engagement throughout your lifetimes.
The Board would like to extend a special thanks to our distinguished speaker, Darren Walker. As President of the Ford Foundation, he leads an international social justice philanthropy that has been a thought leader for eight decades in its mission "to reduce poverty, strengthen democratic values, promote international cooperation, and advance human achievement." We thank you for your example and for your presence here today.
Congratulations, graduates!
Remarks as prepared for delivery