Introduction by President Karen R. Lawrence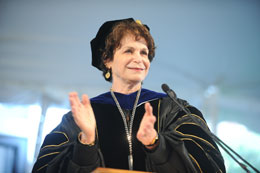 It is an honor and delight for me to introduce Sarah Lawrence alumna Vera Wang, class of 1971. If, for some reason, you did not know Vera Wang graduated from Sarah Lawrence, let me begin with two of her quotations that I think would give you a clue. First:
"I see myself as a true modernist. Even when I do a traditional gown, I give it a modern twist. I go to the past for research. I need to know what comes before so I can break rules."
And, the second, in which she discussed the creation of her extraordinary book, Vera Wang on Weddings:
"I wanted to define the vocabulary of a wedding both visually and intellectually. The book… [is] a metaphor for women's lives, their creativity."
Now, although I'm sure that both her parents and her own formidable talent and drive have contributed to her remarkable achievements, I wouldn't be doing my job if I did not point out that her own comments reveal Vera Wang as a Sarah Lawrence alumna—a true original. Not content merely to establish a wildly successful business, Vera Wang has done nothing less than alter the language of fashion and ritual—their syntax, their diction, their metaphors. Like other modern artists, she "made it new" by studying the past and then breaking the rules.  And in true Sarah Lawrence style, she has created a body of work in which the creative and the intellectual are deeply intertwined. "Design," she has said, is "a point of view." An exemplar of the entrepreneurial spirit of a Sarah Lawrence education, she realized how to create something in a space where it didn't exist before, to meet an unmet need. Vera's own "point of view" has made her a design legend. With her entrance into the fashion world, the bridal industry, ready-to-wear—even the color white—have been transformed.
Graduates, family and friends, members of the Sarah Lawrence community, it gives me great pleasure to present Vera Wang.
---
Vera Wang '71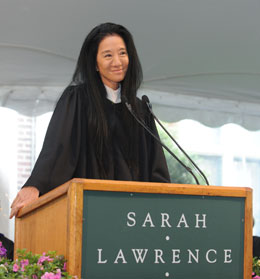 What an honor, privilege, and joy it is for me to be able to address the Sarah Lawrence class of 2013. Congratulations to the graduating students, their devoted families and friends, the faculty and board, and of course last and not least, President Karen Lawrence.
This is indeed a watershed moment for each of you, cause for great celebration, great optimism, and extraordinary reflection.
For me, this is also a time of genuine nostalgia and profound humility—given the caliber and accomplishments of prior commencement speakers. Thank you for inviting me into your lives on this most significant of days!
As a proud graduate of Sarah Lawrence, I am particularly astonished by just how much time has passed since I too roamed these beautiful grounds in search of knowledge and adventure. The intervening years have changed not just how we live, but more significantly, how we perceive the world. But in this unique and rarefied environment, Sarah Lawrence has remained an exclusive haven for self-exploration, individualism, and creativity. That inherent respect for what defines each of us and our common diversity is as relevant today, if not more so, than it was when I studied here.
In fact, with my own unconventional nature, Sarah Lawrence was, quite possibly, then even now the only academic institution that afforded me the freedom, flexibility, and safety to explore my own singular need for self-discovery. And, like you, Sarah Lawrence not only nourished and encouraged me, but perhaps unlike you, it also made allowances for my many idiosyncrasies. 
My unconventional past began in high school. I grew up as a figure skater, and the grueling nature of this sport, so deceivingly effortless, belied the sacrifice of time, energy, and mental discipline also required to be a committed academic. Juggling a serious college preparatory school with Olympic dreams required me to forfeit my senior year at Chapin in order to up my already rigorous training schedule. Ultimately, I attended PCS, which made special allowances for young artists: actors, dancers, musicians, even skaters and other athletes, to pursue their extracurricular careers. This was then an extremely progressive attitude for educators. Attending Sarah Lawrence, too, provided a genuine opportunity for me to pursue my Olympic dream while attempting to get a serious liberal arts education. In the end, I neither qualified for the US Olympic Team nor excelled at college and ultimately Sarah Lawrence asked me to take an indefinite leave of absence.
I was now at an all time low. More than my family and faculty, I had let myself down morally, spiritually, and intellectually. As I slowly and painfully began to reevaluate my decisions, I found great solace in Paris, where I fell in love with fashion. It was the first time in my life I had not lived the overscheduled existence of a professional child. In addition to immersing myself in French culture, I also reaffirmed my own desire to return to school. Skating, for me, had not ended with Olympic Gold, but it had provided me with a powerful metaphor that would forever define my life: "No matter how many times you fall, get up and try again."
Getting back into Sarah Lawrence now became my overriding goal. Metaphorically, at 20, I was starting out all over again, although my second attempt at college was very different: this time, I was fully committed to learning but also determined to explore life from a very different perspective! I had also learned yet another significant life lesson about the importance of timing and priorities, but most of all, REINVENTION!
As Junior Year approached, I again returned to Paris to enroll in the Sarah Lawrence international program. What a magical time that was and as I fell further in love with all things French, a life in fashion began to intrigue me. I had found something else that had seduced my heart and captured my imagination as much as skating had! Determined upon returning to New York, I took a summer temp job as a salesperson at the iconic French designer Yves Saint Laurent's boutique on Madison Avenue.
There, serendipitously, I happened to wait on the then fashion director of Vogue, Frances Patiky Stein, who, for some illusive reason, took a serious interest in me and went so far as to offer me a job when I graduated from college.
My parents were, of course, skeptical, and to be perfectly honest—in all my youthful ignorance, I was not even sure what a fashion editor did, but it sounded like an auspicious beginning and I was young enough to believe in miracles…and unbeknownst to me then, I had experienced one.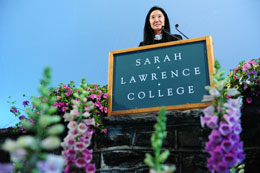 Suffice it to say—this was a budding fashionista's dream come true. So Sarah Lawrence diploma barely in hand, I suddenly found myself thrust into the epicenter of the Fashion World. But, like figure skating and college before that, there was great opportunity, but also, enormous sacrifice, hard work, and dedication involved.
If you love fashion, Vogue is a magical place to work. Everything related to film, music, art, and fashion all intersect at one of the most powerful and influential cultural crossroads in the world. The level of excellence, from its editors and writers to the photographers, hair and make up artists, and models, has always been extraordinarily relevant, yet rarefied. It was an education and level of exposure few ever experience and most, if not all of my skill sets, creative vision, and the language of fashion came from my 15 years there.
My career at Vogue was primarily behind the camera. I was a sittings editor which means I created the fashion pages in the magazine. After 15 extraordinary years, however, I felt a distinct need to create more than images. I desired to create product, so a change of direction was yet another compelling yet necessary transition for me.
With much sadness, trepidation, and excitement, I went to work on the other side of the fashion world, becoming a design director for Ralph Lauren.
To have the privilege of working for a true icon, not simply the designer, but the man, is yet another one of the fortuitous opportunities I experienced in my long fashion career.
Ralph's quiet dignity, creative certainty, and ability to sell an emotional vision of America uniquely his own provided yet another strong influence on my life and a lesson on how to build a true legacy.
Had it not been for my engagement to my husband, Arthur Becker, designing bridal fashion as a career choice probably would have never occurred to me, as it was once primarily a "commodity-driven" business. But my father, C.C., had identified a commercial fashion opportunity and one he would underwrite. He was the main impetus in persuading me to start my own company, but with one caveat: he would only support a bridal business.
Again, serendipitously, living my life creatively, but also listening to my heart, had led to an unexpected outcome and yet another REINVENTION; one that would challenge me more than anything I could ever have foreseen.
I think what I brought to wedding gown design was the fact I came from the world of fashion with a whole new approach, or a way of looking at weddings unencumbered by social dictates or preconceived notions of design. I have always viewed myself as a fashion designer who brought fashion to weddings, rather than a wedding gown designer specifically. I also brought a creative freedom mixed with a hipper attitude to an essentially traditional business. As the company grew, we were careful to make brand extensions that were both logical yet organic, measured yet timely. Couture evening followed, with ready-to-wear, and along the way came fragrance, bridal registry china and glassware, stationary, flowers, gifting, jewelry, men's formal wear, contemporary shoes, eyewear, and the Simply Vera lifestyle line all across America at Kohl's. None of this was anything my father or I could have ever foreseen.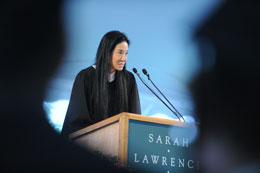 The history of my life has always been both dictated and defined by my passions but also characterized by change, curiosity, and perhaps a certain measure of courage I never dreamt I possessed. Building  both a career and a business has been inextricably bound with that life. It takes great flexibility, care, caution, and love to grow a business, particularly fashion companies, and that sense of responsibility grows exponentially every year. Businesses are organic entities and people are a major part of that equation. Learning to balance being an owner/designer is a daily struggle. An owner is concerned with the bottom line, the value and consistency of the brand, and the myriad of decisions, small and big, that will impact a company's future, short term and long. An owner must also always consider the lives and livelihoods of the people that devote their lives to you with their talent, hard work, and loyalty.
The creative side requires total artistic freedom and prolific output, tempered with distinct parameters of budget, time, scheduling, and merchandising. These two distinctly different sides of a fashion company are frequently hard to reconcile. For me, learning and balancing the creative/commercial ratio has not been an easy task.
But it is my fashion life that has led me full-circle back here to address all of you. Although my own creative journey was not without hardship or self-doubt, today, if I can impart any of my life experience to you, a generation of young people that will greatly impact our world, I will have attained a relevance way beyond my own dreams and aspirations.
So, for you graduates, a few "Vera"isms!
My hope for each of you, as you approach your future and pursue your destiny, is that you honor your past. It is what has and will continue to define who you are and who you become. Your past is your foundation and strength. Always draw upon it.
Also, behind every perceived success, is always some very significant failure. The importance of failure, however, is to learn from it. To quote Winston Churchill: Success is not final, failure is not fatal. It is the courage to continue that counts.
Compassion: It is also important to both embrace and respect others for whom they are: their individuality, courage, creativity, and choices. That kind of generosity and respect for diversity will always serve you well. In other words, avoid being judgmental.
Dare to confront yourself. That is the first and most instinctual dialogue you can have with another person. If you are honest with yourself as to what motivates you, what makes you happy and who you are, you can't stray too far from your dreams.
True passion is also a huge component of happiness and success and sometimes far more important than mere talent. Passion will carry you through impossible situations and overwhelming obstacles. Passion will help you celebrate the good, but help you survive the bad.
Success should be defined on your own terms. Each person's definition of achievement is, and should be, different. In the end, only you can evaluate what truly means something to you.
The significance of reinvention is crucial to survival and relevant now more than ever. Reinvention, however, requires immense flexibility, an open mind, and a creative spirit. Reinvention is also about freedom, and allowing yourself that privilege.
And finally, I never met anyone who attained success, no matter how big or small, that didn't derive dignity, happiness, and self worth from their own efforts. That kind of achievement cannot be bought, it can only be earned.
As you embark on your journey, treasure the support, integrity, and personal investment of your dons and professors. Together you have all engaged in a dialogue of trust and confidence. Honor that, and rest assured that Sarah Lawrence has not only provided you with a unique learning experience, but also a singular philosophy about self exploration and life. I so treasure my education here and will forever remain grateful to Sarah Lawrence for their belief in me. The sophistication and significance of Sarah Lawrence's academic tenets continue to provide a timeless and unique formula for the future success of their graduates.
You have the world before you: the benefits of an extraordinary and singular education, but also a road map for the rest of your lives.
I am honored to be here today, at this particular moment to witness the beginning of yet another new generation that can both pose questions and create solutions we could only dream of. You now own the world we inhabit. Don't squander it, and rest assured Sarah Lawrence has equipped you for that voyage.
Embrace your past, embrace your journey, and embrace your future.
I am humbled by this honor.
Thank you for having me, and congratulations!