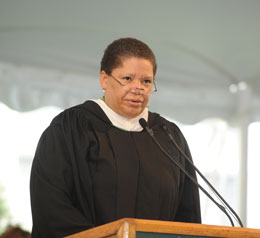 Welcome to our Sarah Lawrence College alumni community! I'm Rona Carr, Class of '74.
As a member, our community offers a number of useful resources. Regional gatherings, professional groups, individuals who will lend an ear to your ideas (sometimes your miseries), and offer advice, share their wisdom and experience, sometimes offer work for pay, engage you in volunteer efforts, provide opportunities to support the College, engineer a bit of matchmaking, and host annual events that will, at the very least, widen your social networks and sometimes include free drinks.
When you reach out, the support and perspective you receive will be helpful as you continue to build your personal and professional portfolios. And there will not be many places in the world where you will not find at least one SLC alum to chat with.
In my work as an executive coach, my advice this year:
Regardless of the industry, your most difficult challenge will be to realize and accept that, to quote Bryant McGill, "the world is not fair, and sometimes, you will find fools, cowards, liars and the selfish hiding in high places and in positions of influence." When this happens, the situation must always be appreciated as a valuable learning experience. Developing and applying your skills in diplomacy and tact, the ability to negotiate and work with compromise, and develop your stamina, will be critical to successfully managing and surviving these situations. And if you're being paid while learning this lesson, consider it a nice benefit.
Acknowledge and manage those aspects of your personal character that you are not proud of. And accept that maintaining your good character is something that, on occasion, will be hard work.
Learning to love what you have been given the opportunity to do is how you will learn more about yourself, develop strong discipline, a greater sense of responsibility, your capacity for friendships, and a sensitive skill in recognizing when it's time to change jobs and/or geographies.
Be sure that your achievements will make you proud of your efforts.
Every day will NOT be magical. But start each day with a positive expectation, no matter how small.
Learn to be self-sufficient and thrifty as you live and manage your life and your time, with grace and style. It will not be so hard if you use your imagination and are creative.
Listen carefully, observe closely, learn from others' mistakes, breathe deeply, and often. The ones who say "you can't" or "you won't" will always be the ones who are most afraid that "you will."
Mark Twain said that "clothes make the man" (and I'm adding the woman), and that "naked people have little or no influence in society." The message being: first impressions are important, and very difficult to change. Do your homework, be prepared as much as you possibly can be, and never lose your sense of humor.
As always, it's a pleasure to wish you well. Travel safely while you're out and about, and do be in touch.