Cody J. Gray '13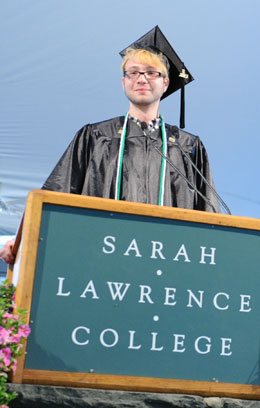 Good morning seniors, faculty, staff, administration, trustees, and esteemed guests. We've come a long way in a short time. In just a few moments we will step onto this stage for the last time as students, and will reach the other side as alumni.
I'm not going to talk about how brilliant our futures will be, because we already know that is a fact. I am going to talk about the importance of giving back to a community that has given all of us so very much.
I want you all to take a moment and look back, dig down, deep inside of yourselves and think, what are you most proud of about SLC? Whether you're proud of the work you've done or the faculty you've spent endless hours working with, the friends you've made, the clubs you've created or joined, the e-mails from Larry Hoffman you've secretly wanted to frame, or having the Sarah Lawrence Fox in your backyard, or on your newsfeed, you will all find something you know only Sarah Lawrence could have given you.
The financial situation of the College is no secret. Sarah Lawrence depends on tuition and gifts to keep offering what it does. Yes, you will get phone calls in just a few months from now asking you to give.
I am asking you to take those calls, and remember all that this school has done for you, and what you can do for it. Even if you can only give a dollar or two, that dollar keeps lights on, keeps faculty paid, and most importantly, it gives students a means to be here. The 2013 Gift is being earmarked for Student Scholarships. Your dollar will give students an opportunity to experience what we are about to complete. The opportunity for the greatest education the world has to offer.
We don't ask for much, but for all you can stand to give, remember the good things about SLC. Remember the things you wanted to improve, and put your dollar toward changing that.
The journey of a thousand miles begins with a single step, so let's take that step together and stand in solidarity with our Sarah Lawrence.
---
Kelsey R. Monson '13
I've always been a very logical person. Which is, of course, why I came to Sarah Lawrence to study pre-med. But when I was little, my logical young brain had a hard time figuring out why a graduation was called a "commencement." A graduation marks the end of something, doesn't it? The end of late nights—and early mornings—in the library. The end of living with all of your friends. The end of conferences and seminars and Midnight Breakfasts and Sleaze Balls and anthropomorphic gryphons. The end of an era.
But as I stand here on the morning of our commencement, I understand now that it is the beginning of something even more profound. As we go out into the world, we take these memories and experiences with us. We have been forever shaped by our time on this campus. I can't tell you how your future will look, and I can't tell you that you will never stumble or encounter difficulties because you will. But I can tell you that Sarah Lawrence has given you everything you need to face the challenges to come. We are a collection of talented, brilliant, erudite, and creative people. And we have an obligation to ensure that the place we called home for so many years is able to produce the next generation of world-changers and idea-makers like us. This year, 61% of the Senior Class has donated a total of $145,851.72 to The Fund for Sarah Lawrence. This represents our gratitude for the opportunities we have been given, and our commitment to the survival of this singular institution. Please join me and the other members of the Senior Gift Committee as we present this check to President Lawrence. Let this be the first of many ways we, the Class of 2013, honor what Sarah Lawrence has given to us.