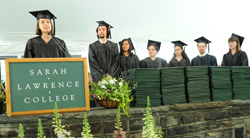 Each year, the ceremony of Commencement allows for members of the Sarah Lawrence College community—seniors and graduate students, faculty, staff, families, and friends—to come together and reflect on the reasons why we chose SLC as a place to work, grow, and learn. To ask the members of this audience what drew them to this institution would yield answers as numerous as the members of today's graduating class: the intensity of don-donnee relationships; the ability to participate in innovative and groundbreaking seminars; and the potential to make lifelong friends, are just a few of the responses we'd surely hear.
The Senior Class Gift is an opportunity for the graduating class to give a monetary contribution back to Sarah Lawrence, ensuring that current and future members of the SLC community will have access to the unique education that has become so transformative for each of us. Contributions to the Senior Class Gift go directly to The Fund for Sarah Lawrence, which supports SLC's most immediate needs. Throughout the past year, members of the Senior Gift Committee have sponsored various events to engage seniors in the act of giving back to their alma mater—including a mimosa brunch, as well as a fiesta at a local restaurant, coupled with letters, phone calls, and face-to-face conversations.
Not surprisingly, my peers in the senior class responded to our call for donations with enthusiasm and generosity—a testament to the same joy and interest that they brought to the seminar roundtable, the playing field, and the clubs to which they dedicated their time for the past four years. This year, the Senior Gift Committee's goal was to increase overall participation from our class, and we are proud to report that 39% of graduating seniors donated to the Class of 2010 Gift, a record-breaking achievement!  
On behalf of the Senior Gift Committee and the Sarah Lawrence graduating class of 2010, I am so pleased to present you, President Lawrence, with this check for $53,841.07. Our total includes the contributions of 133 seniors and 82 senior parents. We are overjoyed to give back to the school that has given us so much.