Director Rachel Feldman '76 has used her success in the television industry to address longstanding gaps in pay and opportunity for women, fighting to help women directors gain entry into the male-dominated world of Hollywood. Making her own film about activist Lilly Ledbetter seems like the logical next step.
Jamie Reagan and his wife, Eddie, have been having the same conversation for 90 minutes now, endlessly repeating themselves, so that a bystander could be forgiven for no longer caring that Jamie still owes $100,000 on his student loans, that Eddie thinks they should use her inheritance to pay them off, that Jamie won't touch the money because it's "dirty." But it's clear that Rachel Feldman '76 cares. You can tell by the way she leans into the pair of TV monitors on which Jamie and Eddie are rehashing their marital disagreements, by the way she bounds onto the set to confer with the actors who play the couple (Will Estes and Vanessa Ray), and by the way, no matter how many times the lines have been spoken, she seems to have something positive to say about them.
"Good, good, good."
"Beautiful."
"Lovely."
On a late-November afternoon, on a sound stage in Greenpoint, Brooklyn, Feldman is directing an episode of CBS's long-running cop drama Blue Bloods. On set, she comes across as the diametric opposite of the stereotypical Hollywood director: a man (always a man), hoisting himself in frustration from his director's chair and bellowing "Cut! Cut!" to a cowed cast and crew. "There are still a lot of yellers and screamers," Feldman acknowledges, "but we women, we know how to behave."
She means that in the most positive sense: "Who am I to yell at somebody on a set, when everybody's trying to do their best?" Feldman is fair, yes, but she's tough. "She's a steel magnolia from the Bronx," says fellow filmmaker and Sarah Lawrence alumna Lynne Littman '62. "She's got the cool of an executive and the creativity of an artist."
There are still a lot of yellers and screamers, but we women, we know how to behave. Who am I to yell at somebody on a set, when everybody's trying to do their best?
Growing up in the Bronx, Feldman was taken with storytelling, inventing dramas for her dolls and watching old movies, spellbound, with her mother, who brought her up to be an activist. She was a successful child actor, appearing in scores of commercials; studied writing at Sarah Lawrence; and got an MFA in film from NYU's Tisch School of the Arts. For more than 35 years, she's honed her directorial skills, with close to 75 television episodes to her credit, including Blue Bloods, Criminal Minds, and The Rookie (created by Alexi Hawley '89). She's also directed feature-length films for Lifetime and the SYFY Channel and written dozens of screenplays and pilots. It's an enviable résumé, but it took her years to convince a skeptical industry that, as a woman, she had the chops to direct. She's still working to convince that industry that she—and hundreds of other talented and experienced women—is capable of directing feature films, and for nearly two decades she's been an outspoken advocate for gender equality in Hollywood.
Maybe that's why she was drawn to the story of Lilly Ledbetter, the Goodyear factory worker who fought against sexual harassment and unequal treatment in the workplace and was the force behind the Lilly Ledbetter Fair Pay Restoration Act of 2009, the first piece of legislation signed by President Barack Obama. For the past seven years, Feldman has struggled to get Lilly, her screenplay about Ledbetter, made into a film. "Sometimes," she says, "I feel that I'm fighting the same kind of institutional fight that Lilly faced in Congress, trying to convince Hollywood that this movie is worth making and that I'm the filmmaker to make it."
Given that the industry has been slow to warm to films with feminist themes, Feldman is raising the funds for Lilly independently. She recently won the headline- grabbing support of Academy Award-winner Meryl Streep, herself a longtime advocate for equal pay.
Creating her own opportunities is one way Feldman has dealt with Hollywood's prejudice against women directors. The short film she wrote as her master's thesis garnered her many prestigious awards, airings on HBO and PBS, and an agent at William Morris. But meetings with producers and network executives, she says, made it clear— "very quickly"—that she wasn't going to be hired to direct. Unbowed, Feldman proceeded to write and direct several short films, one of which grabbed the attention of producer Steven Bochco, who hired her to direct an episode of the ABC series Doogie Howser, MD. That job got her into the Directors Guild of America (DGA). When the offers still were not forthcoming, Feldman had a revelation about the industry's rampant sexism. "I wasn't allowed to be the filmmaker that I'd worked so hard to become," she says, "just because I was a woman."
That epiphany changed her from scrappy striver to gender activist. Feldman began wielding her words in the fight for gender parity, turning out articles describing the sorry status quo for women directors. She wrote about being turned down because "Our cast [or crew] doesn't like women" or "We hired a woman last season, and it didn't work out."
She also wrote about solutions. In a post on womenandhollywood.com in 2016 she suggested that if each of the major talent agencies "committed to sign or hip-pocket 20 unheralded female directors for one year, with agents vetting and vouching for these 160 talented women, many would soon have thriving careers, be earning great incomes, and be changing the stats."
In 2018, after the actress Reese Witherspoon, in an interview on NPR, claimed that there weren't enough women directors in Hollywood, Feldman responded in an opinion piece in Variety. "I have the highest respect for you," she wrote, "but you are misinformed!"
She concluded: "It's wonderful that you produce films and television featuring female protagonists and have sought to hire female directors such as Anne Fletcher and Mimi Leder, but I urge you to dig much deeper than these supernovas. Mimi herself is a great example of a brilliant talent whose career was derailed by the exigencies of our culture, out of the limelight for too long. There are so many stories like hers, and we need producers like you, women who support women, to revolutionize the status quo."
Feldman credits Sarah Lawrence with giving her the confidence to write, fight, and persevere, as encapsulated in an experience in a course titled "Religious Themes in American Literature." Asked to write a paper on a book she'd read, Feldman panicked. She admitted to her professor and don, Hyman Kleinman (literature, emeritus), that she didn't know how to write a paper, so he asked her to tell him what she liked about the book. When she did, he said, "Go back to your room, and put that in a letter to me." After reading the letter, Kleinman crossed out the greeting and signature and said, "If I were giving this a grade, I'd give it an A."
Confidence helped Feldman hang in through professional drought years, many preceded by periods of caring for children and an ailing parent. After each hiatus, Feldman would go to meetings and be told, "I see you have a lot of experience, but there's a gap where you haven't done anything"—the implication being, she says, "that there was something wrong with me." For a decade, from 2007 to 2017, aside from making her own films, she had no directorial work for hire.
Sometimes, I feel that I'm fighting the same kind of institutional fight that Lilly faced in Congress, trying to convince Hollywood that this movie is worth making and that I'm the filmmaker to make it.
Still, her activism helped drive the recognition that women in Hollywood were spectacularly under- represented. And then came #MeToo. The movement against sexual assault and harassment had been gaining momentum since 2006, joined in 2017 by #TimesUp, which focused on sexual harassment and gender parity. Both were instrumental in bringing down producer Harvey Weinstein, who was convicted of felony sex crime and rape. On the day of his arrest, Feldman says: "My phone started ringing. There's a clear link between sexual harassment and abuse and employment exclusion."
Since then, her career as a television director has skyrocketed. In the past two years she's directed a pilot and 10 episodes of network television, thrilled and grateful to experience this social and professional shift. Yet on the day the Blue Bloods episode wrapped, The New York Times published the results of a DGA report, which found great progress for women and people of color directing television episodes, but little progress in feature films. Like Ledbetter, though, Feldman is fueled by hope and a sense of justice. "It's not just a question of employment equity," she says. "The American media has a global impact, and there must be an imperative to illuminate women's voices and vision if we have any chance of making this world a better place. They've got to let us in."
Written by Leslie Garisto Pfaff
Photos from Blue Bloods by Patrick Harbron, Courtesy of CBS; Photos from The Rookie Courtesy of ABC
---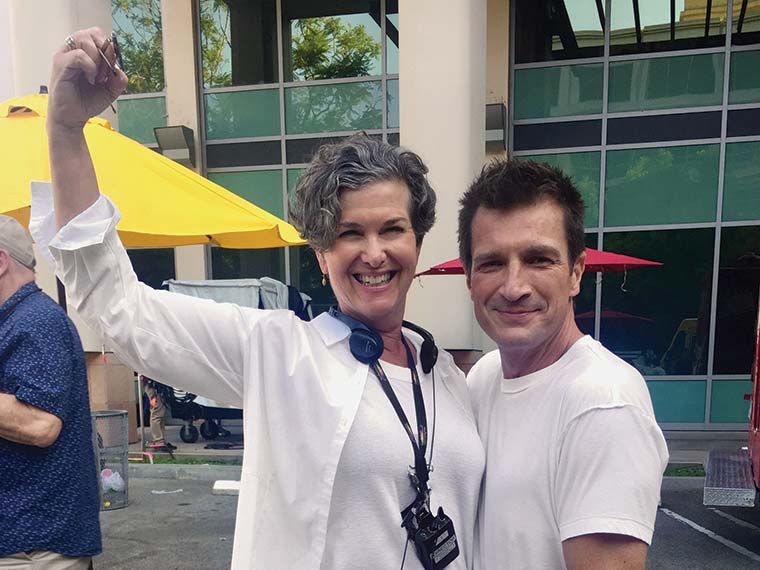 Director Rachel Feldman takes a quick break with Nathan Fillion, who plays The Rookie, John Nolan
---