Employing the latest in video technology, NBC producer Stephen Anderson '96 delivers cross-disciplinary lessons to millions of young students.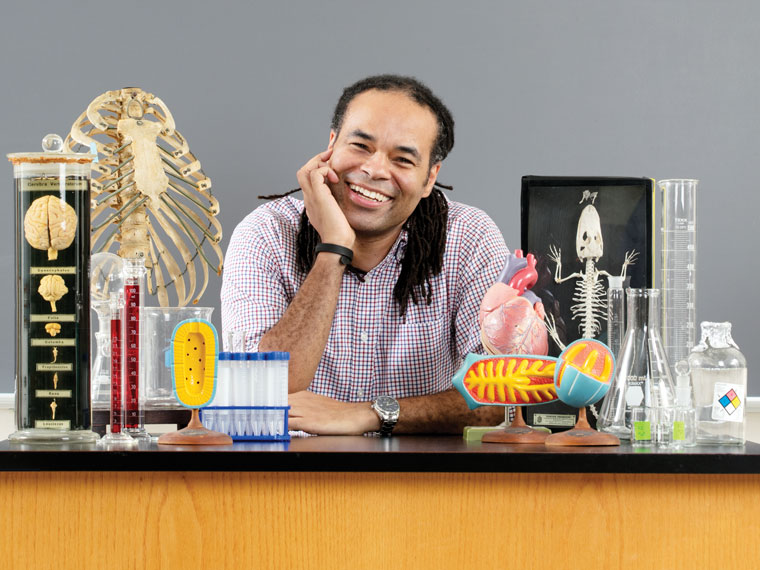 Good morning, boys and girls! Today we're going to learn about what happens to the 100 or so gallons of wastewater each of us generates every day. Please fire up your tablets so we can stream a video about scientists turning fecal matter into biodiesel fuel.
If you don't recall your fourth-grade teacher beginning class like that, well, the age of educational filmstrips is long past. In science, history, literature, and other subjects, kids are learning lessons in the form of high-production-value video streamed to classroom monitors, Chromebooks, and even cell phones. And some of the materials bear a striking resemblance to network television news reports keyed to a grown-up audience, because in the case of one supplier, that's where they originate.
Stephen Anderson '96 has been at the forefront of this transformation in pedagogy. Working from a desk high above Rockefeller Center when he's not out in the field, Anderson has spent the past decade as a producer at NBC Learn, a unit of the TV network's news division. There, he weaves together contemporary and archival news coverage, fresh reporting, and slick graphics to create five-minute videos watched by some four million students in subscriber schools across America and around the world. Some are available to the rest of us on the operation's website (nbclearn.com).
It's a job that frequently thrusts Anderson, who concentrated in political science and history at Sarah Lawrence, deep into topics far from his own world. Almost invariably, he says, he comes away with his wide-ranging appetite for learning—and his desire to share it—stoked.
Before tackling the subject of wastewater muck, part of a series on the hydrologic cycle, Anderson says he "never knew that was actually a science." But he was fascinated by watching scientists try to figure out how to separate safe and useful products from human waste in the developing world.
Video, it's no surprise, is hard to beat when it comes to commanding the attention of a populace with ever-shortening attention spans.
"If you read the Lincoln-Douglas debates [of 1858], they're actually kind of dull" by today's standards of entertainment, Anderson says, yet dutiful citizens came from miles around to watch the US Senate candidates argue issues of the time. In the early days of television, viewers would tune in to interviews filmed from a fixed camera position and "just accept the fact that it's going to be two people talking." No more. Nowadays, viewers—including young learners raised on data torrents—are drawn to the visual and aural stimulation that video delivers.
A collection of segments called "The Science of the Winter Olympic Games" earned Anderson and his colleagues a 2010 Sports Emmy Award.
Similar to network entertainment, the NBC Learn approach puts a premium on impeccable production values to hook children and teens. To engage kids just being introduced to physics, for example, Anderson and his half-dozen production colleagues tapped into the news division's deep archive of Olympics coverage. One video featured Julie Chu, a member of the United States women's hockey team, demonstrating the kinetics of the slap shot as seen through super-slow-motion cameras. A collection of segments called "The Science of the Winter Olympic Games" earned Anderson and his colleagues a 2010 Sports Emmy Award for New Approaches in Sports Programming.
Experts in pedagogy say video instruction enhances memory and recall and provides a potent alternative for children who don't learn well via books. At NBC Learn, even a dry-as-dust topic such as drought gets the full treatment. A video on the Ogallala Aquifer, the vast underground water supply that helps sustain farming in eight Midwestern states, delivered a taut message: There's a crisis brewing here, and in the absence of sufficient rain and snow, farmers across the High Plains must find ways to irrigate their crops with less water or risk depleting the aquifer altogether.
In this "really disheartening" era glutted with both fake news and false claims of news fakery, Anderson says he strives to create material that young citizens can watch "and know it's the truth."
The video is enlivened by quick-cut handheld camera shots, animations illustrating rainwater percolating into the soil, and punchy bursts of music. It's the same approach, Anderson says, whether his work takes him into laboratories for videos on the science of the brain or to Harvard Forest in Massachusetts to interview a scientist about allergies.
Because the videos also serve as windows into careers in science, the arts, and other fields, Anderson carefully selects the talking heads who appear in them. He'll often pre-interview experts to determine how well they explain technical information and to ensure they'll engage children (and might even excite them) about the work they're doing.
It's a vocation Anderson appears perfectly suited to, given his own voracious curiosity about the world and his connection to TV. He grew up in Barrington, New Hampshire, a small town not far from the Air Force base where his father was stationed. As one of only two African Americans in grade school—the other was his older brother—Anderson remembers spending hours connecting to the wider world via Sesame Street and Electric Company.
Television would turn out to provide a continuous thread in Anderson's life. His first job out of college was as a receptionist at KIRO-TV in Seattle. It may have been the lowest rung, he says, but he didn't mind. The real value of the two-year gig, he says, turned out to be the overview it offered on the hivelike activity behind every piece of the station's programming. "It enabled me to look at every department," he says, "and I was able to understand what everybody was doing."
When NBC launched the Learn unit in 2007, Anderson was hired as a temp, thanks in part to Cecily Tyler '97, who worked at the network. Now, as a staffer at 30 Rock, Anderson has access to television news and sports archives dating to the late 1940s and Universal newsreels reaching back two decades further. Rather than sitting unseen, this visual gold is put to work telling kids the stories of history, such as those of the Vietnam War and the civil rights movement.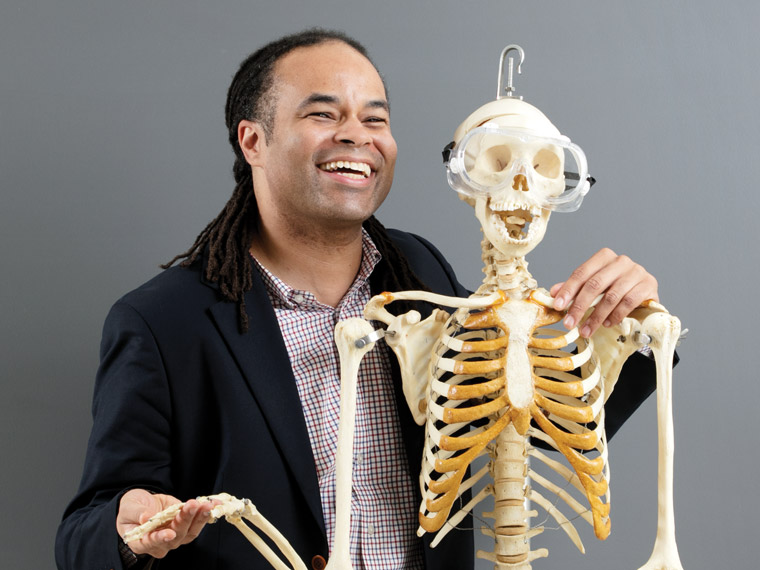 The perspective added by the archival news material is hard to overstate. A retrospective on the Little Rock Nine, who integrated Central High School in 1957, enables contemporary students to see young people like themselves both in the midst of tumultuous events and today, looking back on the progress that's been made in civil rights. "That kind of continuity is incredibly valuable," Anderson says. "It gives students a seat to view history as it unfolds." It's a world in which the technology changes relentlessly. These days more and more students access the videos via cell phones, and cash-strapped districts can access some NBC Learn material for free on the web.
For Anderson, who considers himself a journalist, the job goes far beyond delivering eye candy to children by helping to inform the adults of tomorrow with fact-based reportage. In this "really disheartening" era glutted with both fake news and false claims of news fakery, Anderson says he strives to create material that young citizens can watch "and know it's the truth."
He's encouraged, too, that videos on the First Continental Congress and one titled "John Locke, Natural Rights" are among NBC Learn's most popular. "Teachers are using the material to prompt debate," he says, "and give students practice forming arguments and supporting claims with evidence, a key aspect of democracy."