Dean of Studies and Student Life, 1999–2015; Chief Diversity Officer and Title IX Coordinator, 2012–2015; Dean of Equity and Inclusion, 2015–2019
Annie Novak's first encounter with Dean Allen "Al" Green was the day he serenaded her entire first-year class.
Novak '05 can't recall what Green sang—this was nearly 18 years ago, during orientation—but she'll never forget how he sang it: his eyes closed, his head tilted back. This was no gimmick; it was a performance.
"He was really throwing his voice into it," she remembers. "He was so brave and welcoming and dear."
That's Dean Green for you. During the 20 years he's spent as a senior administrator at Sarah Lawrence, he's put his heart and soul into everything he's done.
"Al Green is Al Green is Al Green. He's just a very genuine and authentic person."—Natalie Gross, Director of Diversity and Campus Engagement (2005–2019)
As Green prepares to retire in May, his many admirers are singing the praises of a man who will be remembered as much for how he did his job—fairly, collegially, compassionately, and with a quirky sense of humor—as for his many accomplishments. The latter includes his firm but equanimous handling of campus incidents related to equity and inclusion, the crafting of a more robust policy on sexual assault, the development of the College's Division III athletics program, and a concentrated effort to boost student support services and minority recruitment.
Talk to his colleagues and they'll also tell you about his way of popping in to ask about their families and vacations, his weakness for free T-shirts, and his steadying presence at committee meetings.
In Green's line of work, there are lots and lots of committee meetings. If he had a dollar for each one—Curriculum, Student Work, Student Life, Diversity, to name but a few—well, he might have retired years ago. "He was trusted by all parties," says Registrar Daniel Licht. Fellow committee members recall how he made sure every voice was heard, kept everyone focused on the bigger picture, and never stifled anyone from saying what needed to be said.
Natalie Gross, whom Green tabbed to be director of diversity and campus engagement in 2005, says Green is someone everybody can relate to—"from the new student to the president." As Gross observes: "Al Green is Al Green is Al Green. He's just a very genuine and authentic person."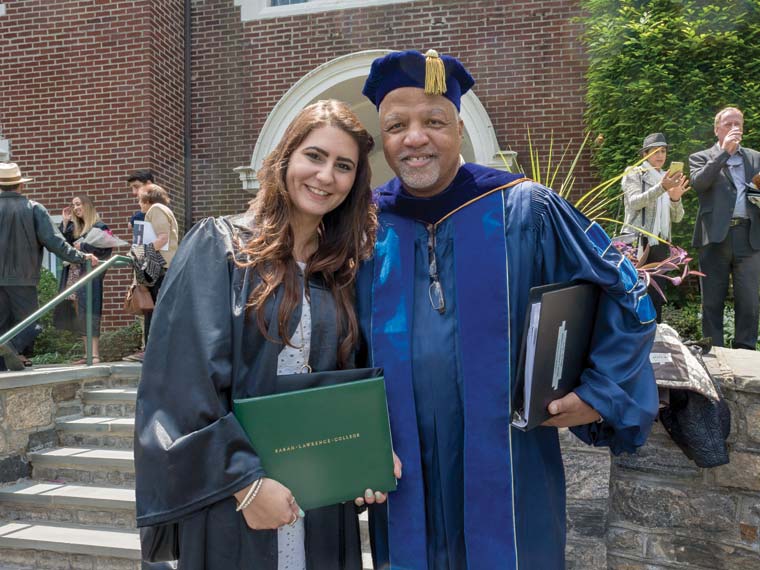 Corey Walker '06 says Green's insistence that he attend a conference for minority students enrolled at small liberal arts colleges made an enormous difference in his academic life. As a fellow black male on a predominantly white campus, Green understood the importance of having the support network of peers and mentors, Walker notes. "He's done that kind of thing for me over and over and over again."
As with Walker and so many other students and colleagues Green has befriended over the years, Annie Novak feels like she's part of his family now. While still a student, she babysat for his then-young children, Naima and Salim, and when Novak's father died shortly before her graduation, she briefly moved in with Green and his wife, Zenola Harper, an accomplished corporate attorney. It was at their dining room table that Novak decided to pursue a career in urban rooftop gardening. Friendships like theirs will endure long after Green's retirement.
"Al is an active part of my life," Novak says, speaking for many, "so I don't have a sense of him leaving."