Finding E-Books
E-Books can be found in the library catalog
To narrow your search just to e-books, simply select the e-books tab in the catalog search box before performing your search.

You can also leave the search as the default Everything and narrow your results later by locating the search filters on the left-hand side of the page and selecting 'e-books'.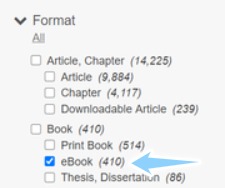 If you need help finding e-books, please contact us. We're here to help!