Gryphon Storytime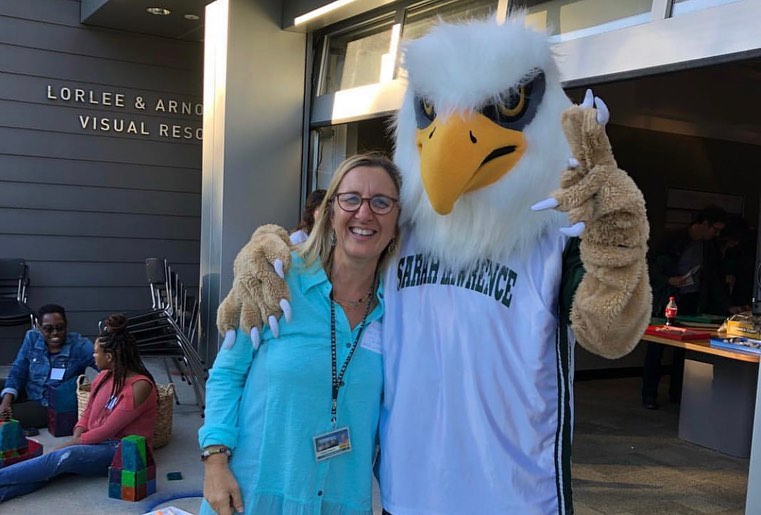 Godric Gryphon loves all things Sarah Lawrence and he also loves to read! Join us as Sarah Lawrence community members—ECC teachers, faculty, staff, SLC alumni, ECC alumni and friends of the College—read their favorite children's books. You never know who you're going to see ...
Cassandra Santos, Lead ECC Teacher
Cassandra reads The King of Kindergarten by Derrick Barnes & Vanessa Brantley-Newton. Cassandra says, "I like this book because it highlights how feeling good about yourself can help you do difficult things, like making it through your first day of school. And I love the illustrations. They're so joyful!"
Sarah Mathews, Lead ECC Teacher
Sarah reads Before We Eat From Farm to Table by Pat Brisson. "I've always loved this book by Pat Brisson with beautiful illustrations by Mary Azarian. The message, always a positive one, is especially powerful now."
Sarah Curtis, Guest ECC Teacher
Sam Who Never Forgets by Eve Rice, is read by Sarah, an ECC and SLC Alum.  "I love this book for two reasons: Suzy Schwimmer from the ECC introduced me to it (Sarah was Suzy's assistant teacher) and it's a story about how someone might be thinking of you even when it doesn't feel like it."
Kanwal Singh, Provost and Dean of Faculty
Kanwal reads The Gruffalo, by Julia Donaldson. "I love how clever that little mouse is! The smallest creature in the book but so powerful!" 
Robbin Hawkins, ECC Lead Teacher
Robbin reads Pet Show, by Ezra Jack Keats. Robbin says, "I like the cleverness of Archie! A germ? Bacteria is a living thing!"
Ann Patchett '85
International best-selling author, co-owner of Parnassus Books and SLC Alumna, Ann Patchett '85 reads her book, Lambslide.
Debi Riessen, ECC lead teacher
Debi reads, Pip and Posy, The Bedtime Frog by Axel Scheffler. The Pip and Posy series is a perennial favorite of the 2 and 3-year-olds, and the teachers who love reading to them!
President Cristle Collins Judd
President Judd joined the fun as part of the Child Development Institute's ongoing social media series, Gryphon Storytime. Here, she reads one of her daughters' favorite books from childhood: Chicka Chicka Boom Boom.
Tonya Lewis Lee '88
Producer, writer, entrepreneur, and women's health advocate—and our undergraduate commencement speaker for the class of 2020—Tonya Lewis Lee '88 reads her book co-authored with husband Spike Lee, Please Puppy Please for the Gryphon Storytime series.
Barbara Bowman '50
Early childhood education pioneer, co-founder of the Erikson Institute—and our graduate commencement speaker for the class of 2020—Barbara Bowman '50 reads The Snowy Day for the Gryphon Storytime series.