In the early days of the pandemic, Brinda Raval '18, a medical student at New York Medical College, found herself navigating COVID-19 from the patient side, after everyone in her family became sick and two relatives died from the virus. To problem solve, she was on group chats with doctors and other medical professionals, sharing information based on what was known at the time.
"[This experience] made what I was studying very real and also showed me what doctors can do when they don't know the answer," Raval said.
For Raval, going through "the wild west of COVID" will have a lasting impact. "The humility that comes with that is going to shape me and my fellow students… the public and medical professionals are going through [the pandemic] together."
Raval shared her experience during an April 1 panel, The New Normal: The Evolution of Healthcare in the Era of COVID-19, the third in the College's New Normal series of virtual events exploring the disruptive effects of COVID-19 on every aspect of life.
The April 1 event was moderated by Sarah Noble, D.O. '97, attending psychiatrist at the Albert Einstein Medical Center, and also featured Mary Harnett, Director of Medical Services at SLC's Health & Wellness Center; Clarion Johnson, M.D. '72, a cardiologist, former Global Medical Director at ExxonMobil Corporation, and volunteer physician at the Mercy Clinic; and David Olem '89, a psychotherapist and clinical social worker.
Panelists discussed the evolving landscape of healthcare and how that has shifted the way that healthcare professionals approach their work as providers. Johnson noted that one of the biggest challenges that he has encountered is "making people aware that science is not biased… science is science for science's sake."
Hartnett agreed. "Sometimes, it's the simple things, like wearing masks and washing hands. If we listen to the science and use facts, we can battle this," she said.
Panelists discussed strategies for discussing vaccinations with those who don't want to get vaccinated. Harnett suggested trying to understand the factors that have gone into their decision, providing education about memory RNA vaccines, and opening up a dialogue about how we are all responsible for community health. She added, "You have to respect people's opinions."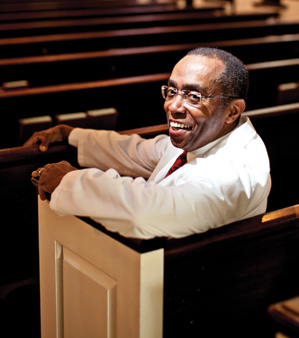 Johnson, who recently published an op-ed about how the vaccine benefits outweigh the risks, decided to volunteer for the Moderna study early on. He said, "[When talking to people about the vaccine] I said that I thought it out and put myself on the line. That gave me credibility, especially in the minority community."
Being a healthcare provider in this climate has required flexibility. Olem noted that one of his challenges was learning how to do everything he does in a different medium, as his work shifted to telehealth. "Part of what kept me going was the honor of being able to be a part of so many people's lives and keyed into the zeitgeist of the week," he explained. "It was a year of feeling incredibly exhausted but incredibly energized all at once."
After the event, Johnson said the dialogue underscored the importance of both communication across all levels of health care, as well as learning in times of crisis: "People in health care need to talk to each other and look at all the different components. Everybody needs to be heard."
***
On April 27, the College's series continued with The New Normal: The Evolution of Arts & Cultural Institutions in the Era of COVID-19, exploring the impact of the pandemic on arts and cultural institutions. Moderated by SLC's dance program director John Jasperse '85, the panel featured: Kelsey Campbell-Dollaghan '07, Director of Content Strategy at the Museum of Contemporary Art Chicago; Tiffany-LaTrice Williams MFA '14, visual artist, founder, and Executive Director of TILA Studios; Samantha Stark '05, director of Framing Britney Spears and director/producer for "The New York Times Presents" documentary series on FX and Hulu; Jay Arthur Sterrenberg '05, filmmaker and co-founder of Meerkat Media Collective; and Desi Shelton MFA '04, founder and Artistic Director of Camden Rep.
Jasperse asked panelists to talk about how they met challenges, where they discovered resiliency, and also about any serendipitous opportunities that emerged during "the incredible year we've been through."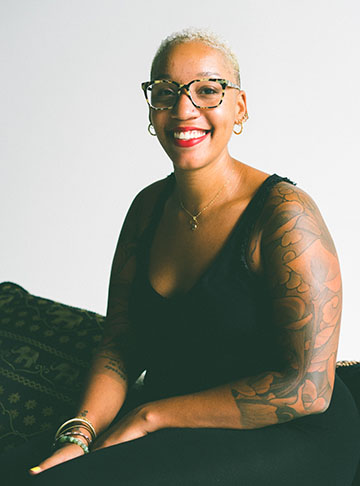 For Williams, whose arts organization serves Black women artists, funding opportunities opened up after the killing of George Floyd, with TILA securing its first seed investment from a venture capitalist fund—the first for a for-profit arts organization in Georgia. She recalled that in her first four years running TILA, investors would question the viability and scope of TILA. "When you see there's a social and racial reckoning… people understand that there's a system of erasure and inequity that is real," she said.
Though she felt a responsibility to lead and "capitalize on this moment, there was no space or time for me to rest and grieve," she said. "The hardest part is standing in your truth and understanding how you can advance your business in this moment, but also, what is the health and wellness of the leader?" She said that taking her time and pacing herself has been key.
Sterrenberg shared, "This year has been about giving ourselves permission to slow down and reprioritize. What might come next? We're not sure… it's going to be a little different for all of us."
For Campbell-Dollaghan, the challenge of translating the experience of in-person art online has been exciting. "Our fluency in digital programming has grown by a decade and opened us up to totally new ways to interact with artists on Instagram Live and Zoom," she said. "I don't think we're going to see digital programming go away anytime soon."
Shelton, whose passion is live theater, used the downtime to write more and plan for in-person performances, including a recent performance at an open-air amphitheater, Islamic Snow White, which Shelton adapted for the stage and directed.
Reflecting on how the College has prepared its students and alumni for this unprecedented time, Shelton says, "That's the Sarah Lawrence way. We create our New Normal… and I will define it for myself as usual, like we do."
---