Over the last year, as inequalities have come into sharp relief against the backdrop of a pandemic and racial reckoning, Sarah Lawrence chose Justice as the theme for its annual academic year series of events, which began in 2017 with the arrival of President Cristle Collins Judd. Comprised of seven events, the Justice series sought to examine the concept of justice in its many forms, including racial, social, economic, and environmental. Reflecting on the series, President Judd said, "At this moment in our world, 'justice' was not merely an obvious choice for our theme. It was an imperative as the lens through which we could bring together thought leaders and our community at large in conversation, in engagement, and in action around inequalities that are pervasive in our world."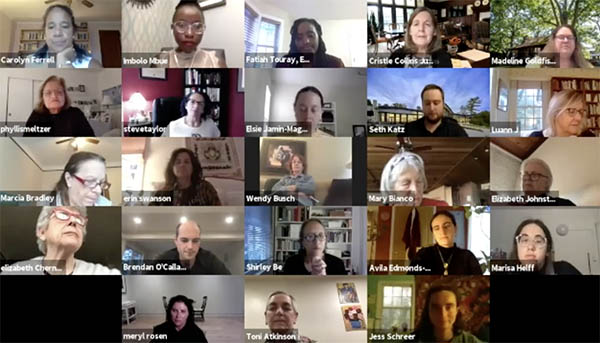 Justice kicked off on September 16, 2020, with faculty member Carolyn Ferrell '84 moderating a conversation with Imbolu Mbue, author of the award-winning Behold the Dreamers, a captivating and deeply felt novel about a young Cameroonian couple making a life New York City in 2008, just as the Great Recession hits. Behold the Dreamers deals with themes of race, class, immigration, marriage, and also the myth of the American dream, and was the book read by all incoming first year students as part of the College's inaugural SLC Reads program.
Over the course of this discussion, Mbue described how the book was informed by her experiences as a Cameroonian immigrant, and how writing it required her to find empathy for characters whose life experiences are vastly different from her own. Sometimes, that was a struggle. "This book allowed me to empathize with people who don't empathize with me," she said. "I can see why they don't empathize with me and how their blindness is hurting them."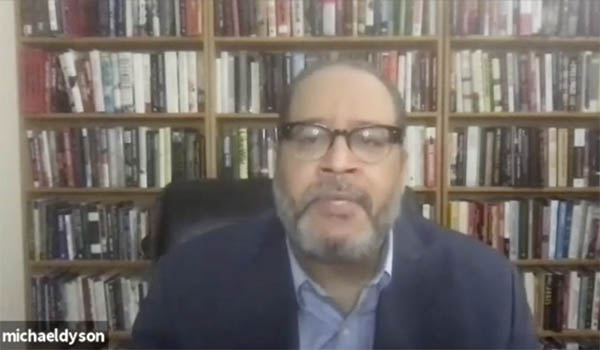 On October 21, President Judd hosted sociologist and New York Times contributing opinion writer Dr. Michael Eric Dyson, the author of Tears We Cannot Stop, a "sermon to white brothers and sisters" about the traumatic nature of race in America. Dyson began writing Tears We Cannot Stop following the killings of Alton Sterling and Philando Castile in July 2016, both at the hands of police. Four years later, and particularly after the events of the past year, Dyson says, "We are confronting the recognition that we finally and fatefully must grapple with the issue of race again, but this moment seems to be different. Only time will tell."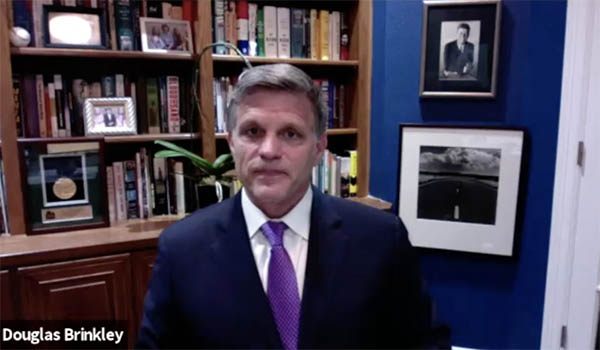 Just after Election Day, President Judd welcomed presidential historian Douglas Brinkley, the Katherine Tsanoff Brown Chair in Humanities at Rice University, to look at the 2020 election through a historical lens. While watching results of the election still come in, Brinkley discussed the record voter turnout, abolishing the Electoral College, and prior occasions when Georgia went blue (JFK in '60, Carter in '76, and Clinton in '92).
On this particularly divisive moment in the country, the "core question of our time," according to Brinkley, is how to sway people who wouldn't believe that votes were legally cast, thanks to the proliferation of conspiracy theories and distorted information. "People are selecting their own set of facts, which is costing our country a lot…and I don't know that we've thought a lot about the consequences of this on American life."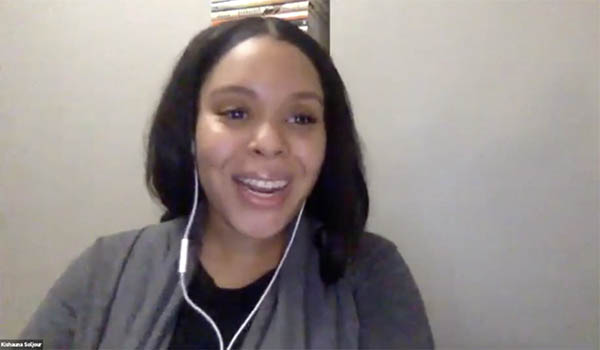 On November 12, Justice and Education: A Panel on Equity & Access in Education addressed topics of race, equity, and access in K-12 public schools, and featured panelists with expertise in early childhood programs, education policy, and educational history. Introducing the event, President Judd offered some general context: There are approximately 15,000 school districts in the United States that work independently; since school funding comes from local property taxes, the opportunities and resources available to students varies widely from district to district.
Panelists discussed the importance of supporting pregnant women and babies in the infancy stage; the lack of investment in Harlem and Black children, especially compared to wealthier areas of New York City; and educating the community about budgets and funding so individuals feel more empowered to make decisions and hold people accountable.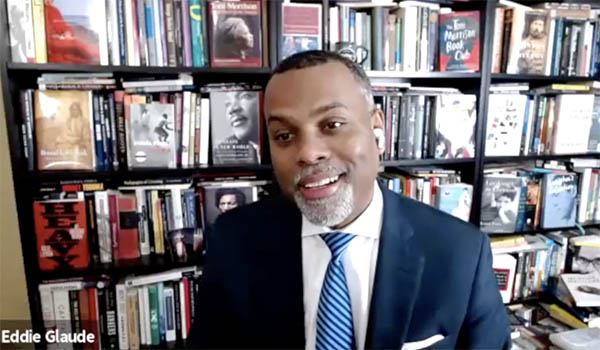 On February 18, 2021, President Judd spoke with Dr. Eddie S. Glaude, Jr., Department Chair and James S. McDonnell Distinguished University Professor of African American Studies at Princeton University, about his New York Times best seller, Begin Again: James Baldwin's America and Its Urgent Lessons for Our Own. In Begin Again, Glaude interrogates James Baldwin's disillusionment with the civil rights movement's failure to force America to confront its lies about race and also asks what can be learned today from Baldwin's struggle. The "lie" at the heart of America, as James Baldwin called it in his essay "The White Problem," is that white people matter more than others, dating back to when this country was built and slaves were counted as 3/5 the value of a free person. That lie, according to Glaude, is the basis of our present trouble.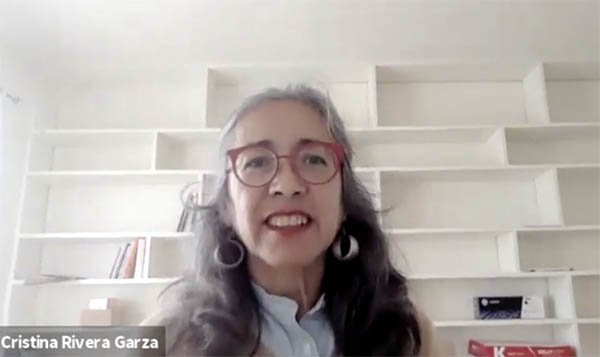 Grieving as an Act of Resistance with Dr. Cristina Rivera Garza took place on March 25. Dr. Garza discussed her recent collection, Grieving: Dispatches from a Wounded Country, which explores Mexico's epidemic of disappearances and femicide. Garza, who is a MacArthur Fellow and the head of the creative writing program at the University of Houston, met in dialogue with faculty members Una Chung (Literature), Heather Cleary (Spanish), and Kate Zambreno (Writing).
At the heart of this discussion was the concept of grief as a collective act of resistance. "I…see grieving as a process that brings us together," Garza said. "Grieving uses a range of language to express the inexpressible." Once those who grieve "start to think about the other side, the work side, of grieving, there is a responsibility here."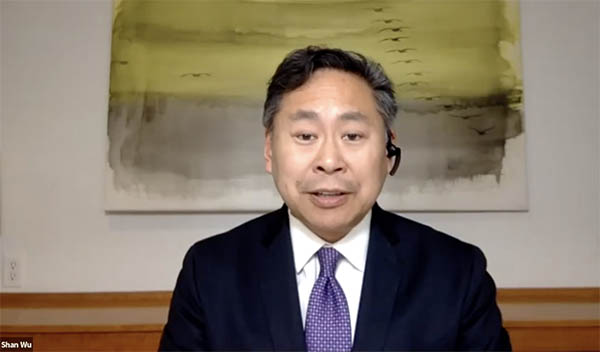 On May 4, the final event, Anti-Asian Racism & Violence: Are Hate Crime Prosecutions the Answer? featured Trustee Shan Wu MFA '84, discussing the history of Asian-American violence in the U.S., as well as the role of the criminal justice system in prosecuting hate crimes. A practicing attorney, legal analyst, and former federal prosecutor, Wu underscored the uptick in anti-Asian violence, harassment, and even murder, citing the New York Police Department's finding that in the last year, there has been a 1,009% increase in hate crime instance driven by anti-Asian sentiment.
Wu contextualized the recent spate of anti-Asian violence with an overview of the history of anti-Asian hate and violence, and looked at how historically the criminal justice system remedied these instances of hate crimes.
Learn more about the Justice series at slc.edu/justice. Also explore our previous academic year event series: E Pluribus Unum (2019-20), Difference in Dialogue (2018-19), and Democracy and Education (2017-18).
---