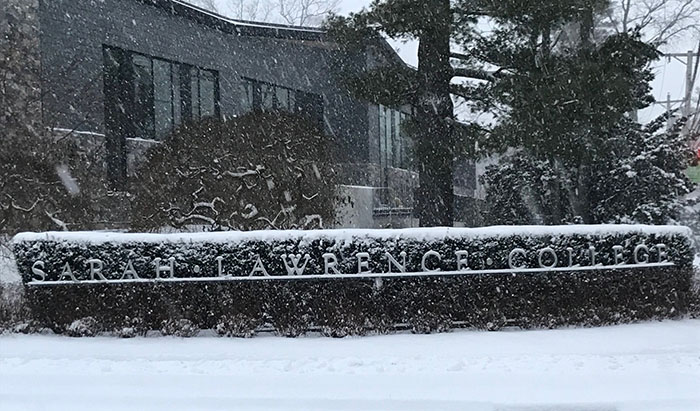 Dear Members of the Sarah Lawrence Community,
Today, February 1, marks the first day of classes of the spring 2021 semester—though as you can see the snowy scene above from this morning on campus is really making "spring" feel like a misnomer! During a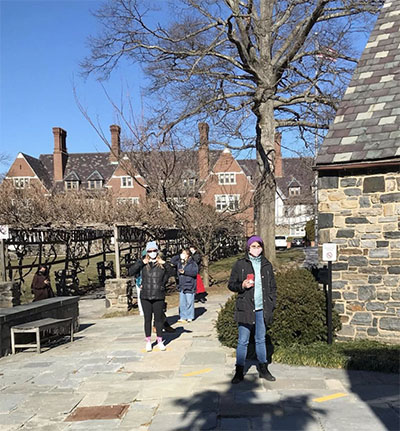 chilly weekend of socially distanced move-ins, I was thrilled to welcome back undergraduate students residing on campus. In addition to students who lived on campus in the fall (mainly first years, but also transfer and international students), we were able to invite seniors to live on campus for their final semester. With some seniors opting to commute to campus or remain at home or in off-campus pods with friends, we were ultimately able to offer on-campus housing to any student who requested it this semester, while still maintaining an appropriately de-densified campus. Welcome to all of our students, on campus, near campus, and around the globe!
We come together, in person and virtually, to begin a semester that holds great challenges and uncertainties. But as I look ahead to all this semester promises—the scholarship and performances and events and celebrations, along with the much-hoped for access for our broader community to vaccines—I cannot help but be inspired with great optimism. And yet, I would be remiss if I did not pause before sharing that inspiration with you to acknowledge the staggering impact of this pandemic. As we plan and anticipate, as we hope and aspire, we remain keenly aware that so many in our community have been deeply affected and forever changed by COVID-19. This awareness impacts and informs all we do. As we look forward to increased brightness in our future, we will not forget those who have been touched by this darkness.
***
As we turn the calendar page to February, we mark the start of Black History Month. As we do so, we must acknowledge the events of January, a month filled with more than its share of disruption and devastation here in the U.S. that was deeply intertwined with the long overdue racial reckoning that began convulsing the nation last summer, along with the historic inauguration of the first woman, first African American, firstSouth Asian American vice president. Black History Month has long provided opportunities for meaningful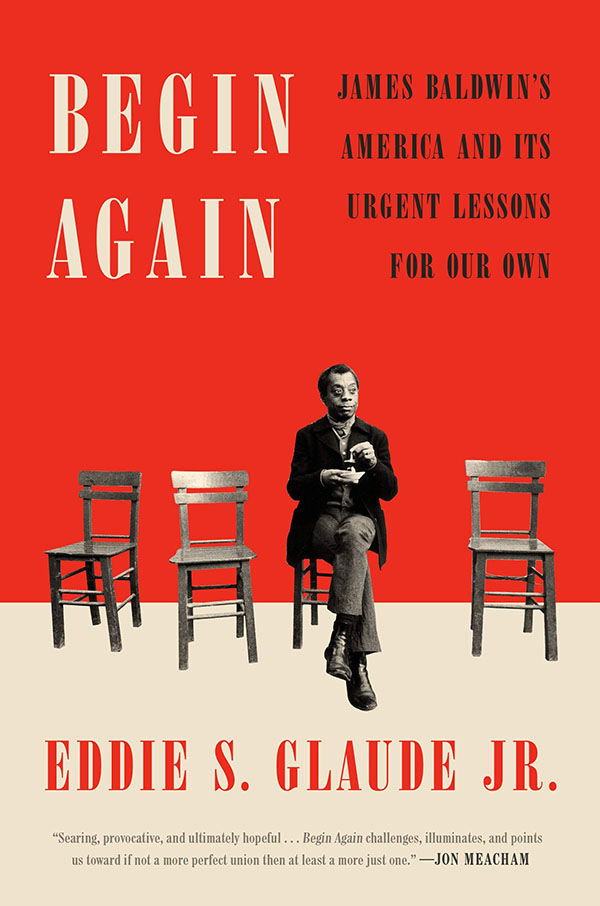 discussion, reflection, and action, and this year it provides an especially timely moment to connect and reflect. To that end, I'm very much looking forward to the next event in our Justice series, which will be held on February 18. We will virtually welcome Dr. Eddie S. Glaude, Jr., the James S. McDonnell Distinguished University Professor and chair of the Department of African American Studies at Princeton University, to Sarah Lawrence. Eddie and I will be discussing his latest book, Begin Again: James Baldwin's America and Its Urgent Lessons for Our Own. I hope you will join us in what promises to be a deeply thoughtful and urgent conversation.
Our Justice series highlights a calendar that is rapidly filling with events as the semester comes to life. As we saw over the past year, though separated by distance, our virtual events provided opportunities to bring our community even closer together. Not only did students, faculty, and staff meet and engage with each other through various technology platforms, but alumni, families, and our neighbors joined us in record numbers for events. I hope this engagement among our community will continue to grow, and I encourage you to visit our website throughout the semester to see the latest events.
***
As I look to the semester ahead, I also see so much evidence of faculty innovation, which is at the heart of the work we do at SLC. One example is an interdisciplinary cluster of courses and events on "Climate Justice" created and coordinated by faculty members Sarah Hamill (Art History), Michelle Hersh (Biology), Eric Leveau (French, Literature), An Li (Economics), Bernice Rosenzweig (Environmental Science), and Charles Zerner (Environmental Studies). Bringing together students and faculty from across disciplines, this cluster of courses aims to understand the science of climate change and its impacts on organisms and ecosystems, analyze the social and economic forces contributing to climate injustice, and deconstruct some of the artistic and literary representations of nature that are at the core of received Western models of the environment. A series of associated events in March and April will explore the intersections between climate change and social justice, drawing on faculty members (from SLC and other institutions), alumni, and guests, including Michel Gelobter, founder of Cooler and one of the nation's foremost sustainability and climate strategists. The work of the course cluster will culminate in an end-of-semester symposium in which students share their conference projects. These virtual events will be open to all: watch for details to be posted on our events calendar.
And in just one other of many examples I could share of new work by faculty this semester, literature faculty member Una Chung, holder of the Hyman H. Kleinman Fellowship in the Humanities, is developing a Future Studies virtual event series that will bring together visionary thinkers from across the world to explore a host of questions facing our global future. She is partnering in this work with Jason Mohaghegh, associate professor and founder/director of the Future Studies Program at Babson College. These events will also be open to all, another reason to watch that events calendar!
I look forward to sharing more stories like these of the extraordinary work of our faculty in the coming weeks and months as we progress through this semester.
***
Finally, I want to again express my deep gratitude to the staff and faculty for their tireless and ongoing work, which started almost a year ago as we heard the first inklings regarding COVID. To do so, I'd like to share a note I received from the parent of an undergraduate student that so eloquently captures that appreciation—and just what the work of our faculty and staff has meant to so many:
Dear President Judd,
I am just writing to say thank you. Thank you to the faculty who have turned up the wick in our daughter's lantern. I've never seen her brain burn so brightly and with such intensity. The intellectual rigor coupled with her professors' compassion has allowed her to transcend the Zoom cage that has confined her during her exile from campus because of COVID-19.
Thank you to the Student Accounts and Financial Aid staff who have helped us through the obstacle course of financing each semester. The puzzles they are solving each day must be exhausting, so I appreciate the attention they have given us.
Thank you for keeping us informed and for being honest in your letters about the reality of this crisis and how SLC is navigating the uncertainties.
While our daughter misses her friends and her team desperately, she has not suffered in expanding her intellectual promise and passion. Thank you SLC for that!
***
We have much work ahead of us as we embark on this new semester, but we also have so much to look forward to. I am excited to be with you and share it with you: whether on campus, masked-up and socially distanced, or virtually from wherever you are in the world.

Yours,
Cristle Collins Judd
President
president@sarahlawrence.edu
Instagram: @slcprez
Recent Updates
Spring Information Site
Stay up-to-date this semester by visiting our Spring Information site. This central hub is where you'll find information on our phased opening, testing program and progress, answers to frequently asked questions, and timely updates in changing circumstances.
Looking Back on the Fall Semester
The fall semester was unlike any other in this College's history, a Herculean task tackled boldly and head on by so many in our community. In all they did throughout the semester, faculty and staff kept our students at the forefront of all we do. And not just our undergraduate and graduate students -- also our youngest scholars in the Early Childhood Center and those lifelong learners creating a virtual community of writers through The Writing Institute. For a "look back"  at the fall semester, see more here.
Liberal Arts Colleges Racial Equity Leadership Alliance
I'm proud to announce that SLC is an inaugural member of the Liberal Arts Colleges Racial Equity Leadership Alliance, hosted by the University of Southern California Race and Equity Center. This alliance of more than 60 colleges will advance important work regarding diversity, equity, inclusion, and anti-racism and serve as an opportunity for collaboration supporting institutions as they address and respond to the urgent racial matters the country currently faces, not only on their campuses, but in the communities in which they are located. Learn more
Justice Series
In addition to our event with Dr. Eddie Glaude, Jr. on February 18, our Justice series will continue on March 25 with Grieving as an Act of Resistance with Dr. Cristina Rivera Garza. Learn more about these events and register online
Spring Commencement
I know our seniors and second-year graduate students, along with their families and friends, are eager to hear what spring commencement will be like this year. We don't yet have firm enough plans to share with you, but we anticipate announcing plans no later than the beginning of March. In the meantime, I want to acknowledge that I know this is top of mind for you, and assure you that it is for us, too. I look forward to sharing with you in upcoming communications how we will celebrate our graduates in May.
---