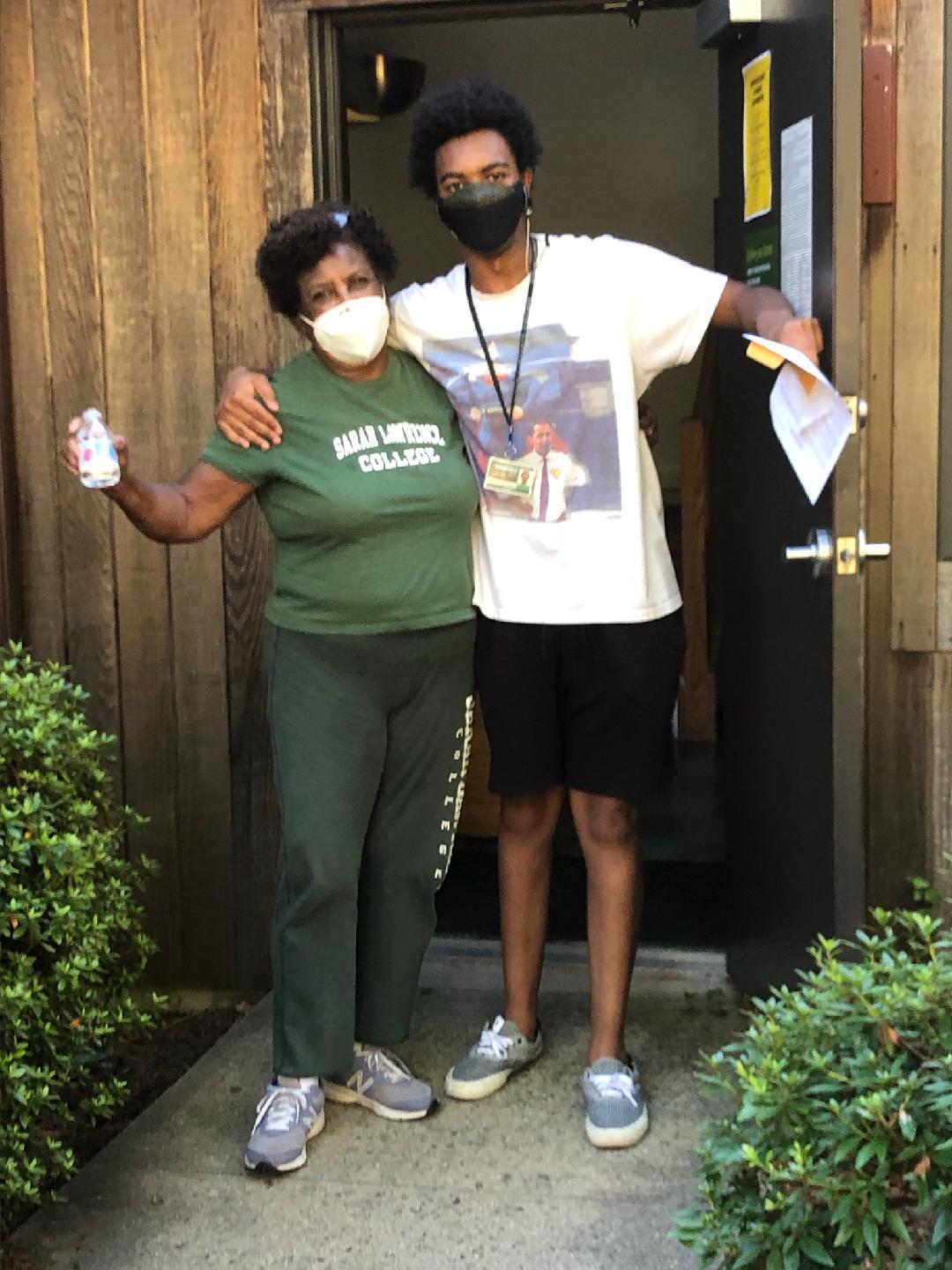 When Barbara Lamont '60 learned that her grandson Nathan Williams-Gelobter '24 was considering applying to her alma mater, she was thrilled.
"Nathan was born intellectually curious, and I thought Sarah Lawrence would be a good fit for him," she says. When Nathan, who grew up in Berkeley, California, first began looking at schools on the east coast, Barbara, who lives in Lafayette, Louisiana, casually mailed him a copy of the SLC alumni magazine. As he went through his decision-making process, she says she "laid low," only occasionally asking him, "Hey, did you put in your app yet?"
"I tried not to push it," she says, laughing.
Barbara knew from her firsthand experience how well a Sarah Lawrence education had served her. When she arrived on campus in 1956, she was 16 years old and, in her words, "terribly undereducated." Prior to coming to Bronxville, Barbara had spent most of her early schooling in conservatory, playing concert piano up to eight hours a day. That first semester at SLC, she recalls taking a history class with Hans Rogger.
"I didn't know the difference between the third century and the 10th century. I knew nothing," she says. "I was a blank slate."
After assessing Barbara's educational gaps, Rogger disappeared and came back 15 minutes later with a set of history books by H.G. Wells. "He said, 'Read this by next week,' and I did," she says.
Barbara went on to study international relations with Adda Bozeman and performing arts with Bessie Schönberg. She took music, law, French, German, psychology, and English lit courses, too. She says, "I had a fabulous education."
Her social life was a wide-open landscape. "I didn't know what college should be like, so I had no preconceived ideas," she says. She went to mixers. Sometimes, she babysat for the Wentworths and the Taylors (music faculty members Jean and Kenneth Wentworth and president Harold Taylor, respectively). She bonded with her classmates over the boys they were dating from Yale and Chicago. "It was fun," she remembers.
"Sarah Lawrence taught me to think clearly and ask questions, like, what's really going on here?... I also learned how to always be ready for change, which is one of the greatest skills you can pass onto your children." —Barbara Lamont '60
Barbara, whose mother was from Guyana and whose father was from Venezuela, says she may have been the only Black student in her class. "In those days, I can't say race didn't matter, but it wasn't a social dealbreaker," she says. "People weren't as segmented as they are today. We were intellectually very bright people with few biases in life."
Barbara credits Sarah Lawrence with preparing her for plenty of noteworthy professional experiences, or what she humbly calls "some adventures." For example, she was the first female broadcast journalist on air at WINS, the all-news radio station in New York City. In November 1978, she was working the CBS news desk on a Sunday morning, alone, when news of Jonestown broke. She called her supervisor and said, "Bill, I need some help." Barbara instantly recognized that this was going to be a huge story. "Not once in the history of Biblical times have 800 people killed themselves," she says of the mostly African American massacre victims. Thanks to her knowledge of Guyana and the Jonestown compound, CBS was able to coordinate boots on the ground and begin coverage way ahead of other networks.
Other professional highlights include taking a team of 32 African American broadcasters to Nigeria, where they ran the news division of the Nigerian television authority for two years—until a military coup prompted their dramatic escape. Then, despite never having set foot in an office building, Barbara knew that her leadership and communication skills would be well-suited to running a company, so she went back to school and received her MPA from Harvard's Kennedy School at age 45. In 1987, she founded CALLS PLUS, a still-thriving company that offers customizable communications services in the areas of adolescent behavioral health, school safety, housing, health, and more. Recently, CALLS PLUS worked with the state of Louisiana to do contract tracing for COVID-19.
In each of these endeavors, Barbara has drawn upon the enduring influence of her Sarah Lawrence education. "Sarah Lawrence taught me to think clearly and ask questions, like, what's really going on here?" she says. "There, I also learned how to always be ready for change, which is one of the greatest skills you can pass onto your children. Sarah Lawrence taught me not to be afraid of anyone, anything, or any circumstance."
Knowing how the Sarah Lawrence education positively shaped her life, Barbara was naturally elated to learn that her grandson chose to enroll at Sarah Lawrence.
"It was definitely interesting to hear her stories and see her very clearly in her element." —Nathan Williams-Gelobter '24
Nathan says that his grandmother played an important role in his decision to apply. "My grandma had a big influence on me. She talks about Sarah Lawrence a lot, and I could tell that even the fact that I applied was a big deal to her," he says. He had heard positive things about Sarah Lawrence from others, but in the end, his choice was heavily informed by his grandmother's endorsement: "I trusted her word."
As fate would have it, Barbara and her husband, Ludwig Gelobter, had existing plans to travel to New York at what ended up being the same time as the start of Nathan's first semester. Her daughter, Nathan's aunt, was visiting from California, and her son, Nathan's uncle, and his family live in New York. They quarantined together, in what Barbara calls, "the greatest family reunion. It was like a miracle."
When it came time for Nathan to move into his dorm in Andrews Court, his grandmother was over the moon to share that momentous experience with him, along with two of her four children. "It was definitely interesting to hear her stories and see her very clearly in her element," he says.
Due to safety measures, move-in day did not include a campus tour, though their family drove into Bronxville and bought Nathan some pens and comfort food.
Barbara, who wore her vintage SLC sweats for the occasion, says, "I was so excited. I couldn't believe that I would be so excited. We were dancing around the parking lot."
So far, Nathan is enjoying settling into a semi-normal college routine. "As much as I would prefer a regular year, this is a good way to transition into freshman year in college," he says. This semester, he is taking art history, economics, and biology. His don is Jamee Moudud, who also teaches his economics class. Like many students before him, Nathan is appreciative of the faculty's approach at Sarah Lawrence, especially in the time of COVID. "They know it can be hard to maintain focus looking at a computer screen all day, and so the professors are working extra hard to try and engage us in lectures and also to check-in and make sure we're surviving," he says.
What excites him the most about his Sarah Lawrence experience so far is the adventure of having a new, stimulating experience and being with intellectually curious and driven classmates. "It's different than what I'm used to. Most of my friends from home didn't go to school, for better or worse," he says. "Here, I'm finding that in most of the people I've met so far there's a real motivation."
His grandmother could not be prouder. While her grandson is in the early stages of connecting his passions and creating his future, he has expressed an interest in going into sports management. Barbara feels certain that Sarah Lawrence will serve him well. "Whatever you want to do in life, you need to learn how to communicate, which is something Sarah Lawrence teaches so well." 
Are you part of a multi-generational SLC family? Let the Office of Alumni Relations know at alum@sarahlawrence.edu! We look forward to sharing more stories like this in our new SLC Generations series.
---