As the College crosses the midpoint of the semester and we enter our eighth week of classes, the change of color in leaves across campus is just one of the myriad signs of this seasonal transition. Students, both on and off campus, are fully absorbed in their courses and extracurricular activities, observing old traditions in new ways (
Princess Bride
screening, anyone?) while creating
new ways to connect such as virtual TeaHaus,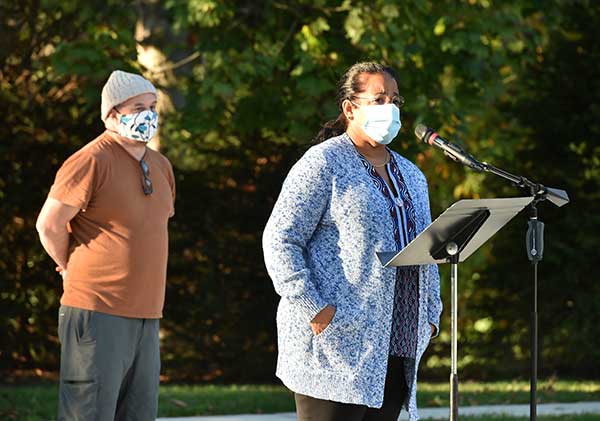 live-streamed poetry readings at the Remy Theatre, and virtual open mic nights. This weekend, we are excited to welcome current SLC families for the annual fall tradition of
Family Weekend
, taking place October 30-31, in a newly adapted virtual format. All are invited to join us for our fourth annual "Celebrate Sarah Lawrence" on Friday afternoon, a showcase of student and faculty work, and I always look forward to the Saturday morning meeting with families and the chance it offers to update them on the work of the College, to answer questions, and to help build relationships.
It is impossible not to also observe that today marks one week from Election Day in the United States, November 3. I hope and trust that the members of the Sarah Lawrence community have joined me in making a plan to vote—if you have not voted already! In New York State, early voting is open now through November 1—voters can complete their ballot in person or drop off their mail-in ballot at any
polling location
. To avoid crowds, some may prefer to send their ballot through the mail (
my chosen method
), and to avoid any possible slow downs in mail service, mailing a ballot well ahead of Election Day (i.e. now, if you haven't already!) is important. SLC has also partnered with
TurboVote
to make it easy for members of our community from across the country to register to vote and stay informed about local and national elections.
Vote.org
is an additional resource that includes easy-to-access, state-by-state deadlines and all the information necessary to make a voting plan.
Our students and alumni have a long history of not only engaging academically, but of actively participating in government and public service,
advancing critical issues, causes, and candidates
. The College's Office of Career Services also works closely with local, state, and federal elected officials who seek our students as interns. Our donor-funded Gryphon Grants provide much-needed stipends for students so they can participate in these internships, gaining valuable experience. More than a dozen SLC students are either currently working on or just wrapped up summer positions with political campaigns, internships in the offices of elected officials such as New York Senator Kirsten Gillibrand, roles supporting statewide party organizations, and advocacy work advancing causes and initiatives from green energy and climate change to electing more women to office. One of our current seniors,
Kevin Bergen '21
, who is studying online from his home in New Jersey, is even using this relocated semester as an opportunity to run for his local Board of Education. I know many others in our community are volunteering as poll workers and helping their neighbors, friends, and families vote this year. Thank you all for putting your Sarah Lawrence education into action and for your commitment to exercising your right to vote.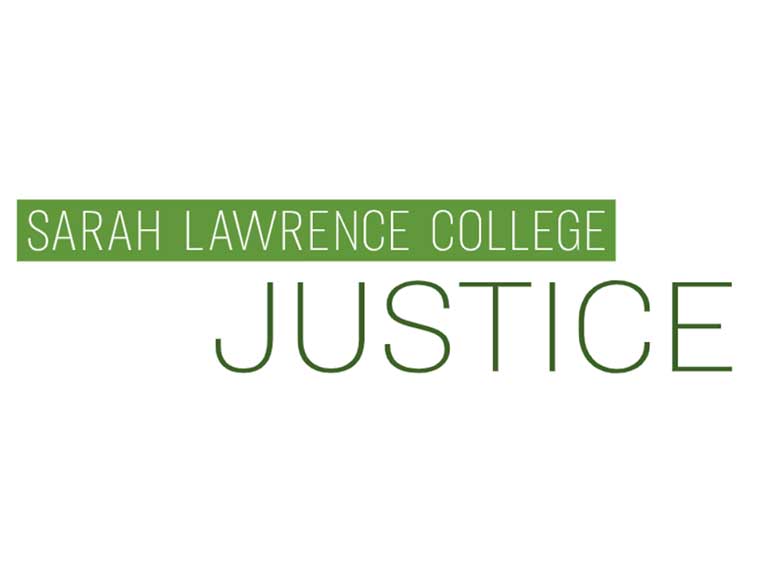 Last week, in one of the ways we advance conversation about critical issues, I was pleased as part of our year-long exploration and conversation on the topic of
Justice
to welcome public intellectual and professor of sociology Michael Eric Dyson for a virtual conversation about his work and recent book,
Tears We Cannot Stop
, America's past and present racial divisions, and its long overdue racial reckoning. In another key vein of how we put our Sarah Lawrence education into action, our offices of Diversity, Equity, and Inclusion (DEI), Disability Services, Alumni Relations, and Career Services partnered for an events and workshop series focused on
DEI in the workplace
. On Saturday, November 7, our Office of Alumni Relations will also host a panel discussion titled, "
The New Normal: The Evolution of Workplaces in the Era of COVID-19
," moderated by Esther Raushenbush Chair for Distinguished Teaching Joe Forte. All members of our community are welcome to join these events and others, so please keep an eye on our
events calendar for ways that you can be engaged.
A note about the spring semester
Our measured and thoughtful
fall semester plan
has taught us much about how to approach our campus residential capacity for the spring. After careful consideration, in addition to students who currently reside on campus,
we look forward to welcoming our seniors back to campus for their final semester as Sarah Lawrence students
. As always, we have undertaken this planning with the twin priorities of safeguarding the health and wellness of our community and our fundamental commitment to provide an excellent and equitable education. An outline of our spring plan is available
here
and more information will be shared with the community in early November.
As you know, students, faculty, and staff have been working incredibly hard to ensure the continuity of our Sarah Lawrence education across this fall semester that remains full of unforeseen challenges for all of us. To date, we are fortunate to continue to experience
extremely low rates
of COVID-19 infection in our campus community, a reflection of the 24/7 commitment of all, and especially our students, to masking up, social distancing, and caring for each other in the ways we interact. It is hard for anyone who doesn't have the privilege of the bird's eye view that I have as president to fully grasp the extraordinary lengths to which our staff has gone to reimagine the use of every square inch of a campus on which all of the buildings and structures were designed fundamentally to encourage close connection and interaction, instead to now promote physical distancing.
Likewise, our faculty continues to consider every aspect of their teaching to account for not only changed methods of delivery and new technologies, but for a student body coping with entirely new challenges—on-campus, near campus, and dispersed around the globe. Our theatre faculty has developed an exciting and innovative virtual season and our coaches are finding new ways to keep teams connected in the absence of usual competitions, to name just a couple of the many examples I could cite. And our Health and Wellness staff is not only managing testing protocols and tele-health, but facilitating critical mental health support for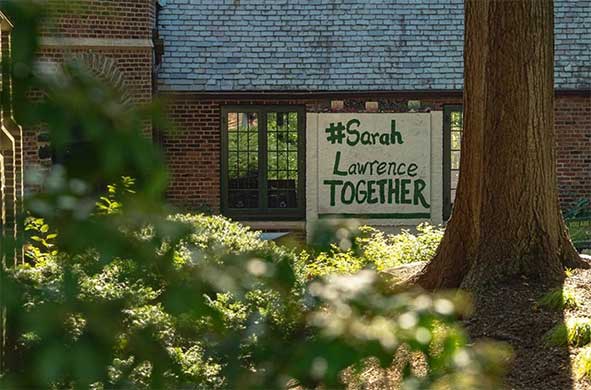 all of our students and day-to-day support for any students who have to undertake the hard task of isolation and quarantine. Meanwhile, our board of trustees is working tirelessly to support the College through the challenging planning and financial implications of this crisis, and our alums are supporting each
other and our work through
SLC Connect
. In other words, every member of our community is helping each other through this challenge; we are living up to our mantra of
Sarah Lawrence Together
. We will try to find a way to share all of this work more broadly with you, but, for now, let me record my thanks to each of you for the part you are playing.
I am profoundly moved to witness—day-in and day-out—the work that the members of our community are undertaking to make the most of what a Sarah Lawrence education provides. In these challenging times, I am especially grateful for your support and I look forward to "seeing" many of you at upcoming virtual events in the coming months.
Yours,
Cristle Collins Judd
President
president@sarahlawrence.edu
Instagram: 
@slcprez
---