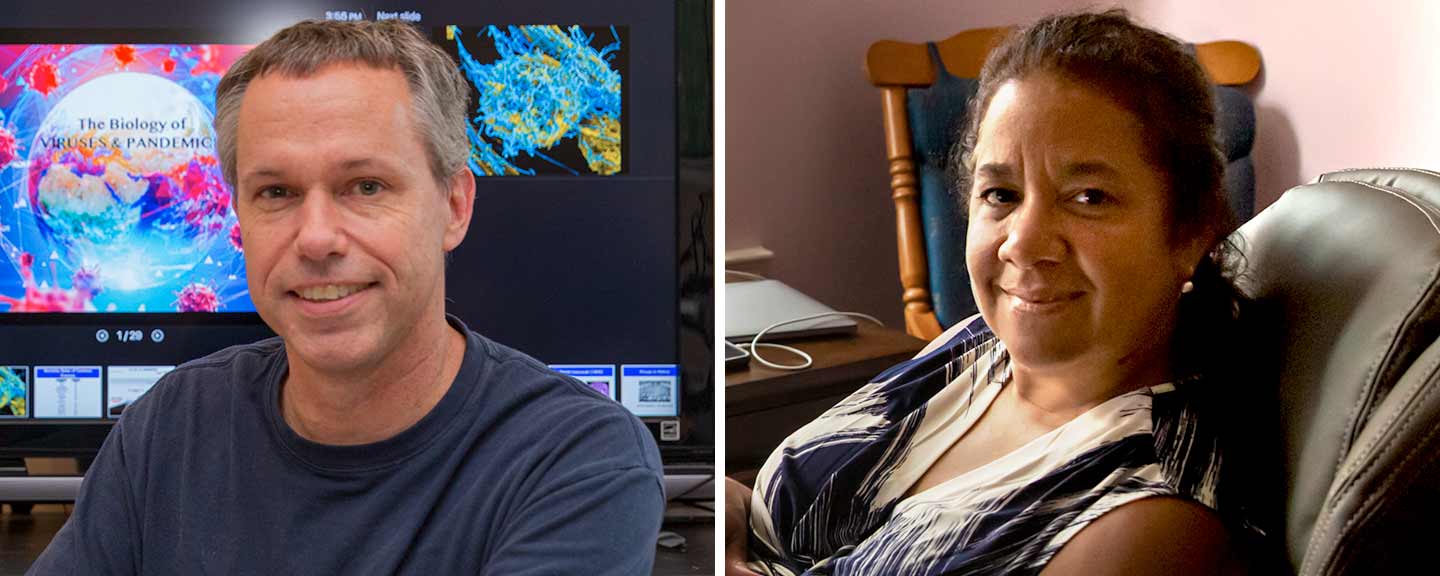 New Online Summer Courses for Incoming Students 
This summer, cognizant of the transformative power of education and the institution's potential for being a stabilizing force in a seemingly unstable world, Sarah Lawrence launched a new initiative with the dual aims of fostering incoming students' sense of community and enabling them to get a head start on their SLC education. Melissa Frazier, associate dean of the College, leveraged Sarah Lawrence's remarkable intellectual resources and nimbleness to organize a five-week mini-semester for incoming first-year students. From July 6 to August 7, incoming students had the opportunity to take one or two special courses—remotely, for academic credit, and at no additional cost—taught by SLC's outstanding faculty.
Associate Dean Frazier sent out the call to faculty members in June, asking them to propose courses they would want to teach, and within just three weeks, the faculty constructed a diverse and engaging array of 28 one- and two-credit courses. Each offering was designed to emulate the College's hallmark intimate seminar setting, including one-on-one meetings with teachers, but in an online format. Most of the classes were capped at a maximum of 15 or fewer students, and some of the courses were team-taught, allowing faculty members to experiment and collaborate in new ways.
The student response was overwhelm-ingly positive from the start, with more than two-thirds of the incoming Class of 2024 registering for the summer session. Moreover, many of the students opted to take the maximum allowed two summer courses, and almost all courses were at full capacity. This is clearly a testament to Sarah Lawrence students' enthusiasm and thirst for knowledge, as well as to the high esteem in which they hold College's renowned faculty.
One of the courses taught by a team of faculty members was "The Biology of Viruses and Pandemics," which provided a broad introduction to the biology of viruses and the causes of pandemics, as understood through the lenses of molecular and cellular biology, physiology, and ecology. Drew Cressman (biology), who helped plan and teach the course, said, "I was attracted to the idea of taking a topic that is so obviously at the forefront of life and conversation today and delving into it deeply through a team-teaching approach, integrating multiple biological perspectives in one class. This is one of the things that makes teaching fun!"
When asked about her motivation for teaching her summer class, "Telling Our Stories: A Generative Writing Workshop," Carolyn Ferrell '84 (writing) said, "I'm an SLC alum, so offering my services at this challenging time came naturally—and I love working with first-years. I wanted to help make their initial transition to college as smooth and interesting as I possibly could." As for the students, Ferrell found them to be "thoughtful, eager, generous in spirit, and interested in each other's ideas—they have truly made lemonade out of pandemic lemons." She added that she noticed "an intimacy in the online format that was reassuring; the students were connecting to one another in supportive ways."
Of the effort, Frazier said, "We're all still learning how to operate in this new environment, and faculty were really excited to have the opportunity to experiment with their online teaching. We also got to show our incoming first-years that we are Sarah Lawrence however you encounter us—as much as we look forward to welcoming our new students in person, their individual engagement in their own education has already begun with these wonderfully innovative and original online classes." Indeed, these summer courses not only helped them meet some of their peers and faculty members on a personal level, but also gave them a taste of the unique Sarah Lawrence academic experience.
To be sure, none of this would have been possible without the ingenuity and extraordinary generosity of SLC faculty members, administrators and staff, and donors alike. "The Sarah Lawrence faculty stepped up to teach these classes because they love their students and they love teaching—and if online and in the summer is how we do it, that's what we do," said Frazier. She added, "I am so impressed by the creativity and imagination that my colleagues brought to the task."
---