Dear Members of the Sarah Lawrence Community,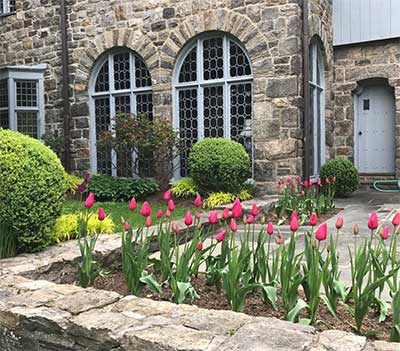 Last Friday I stepped into the backyard of the President's House to visit the tulip bed that, like clockwork, blooms each year at this time to herald the last day of classes, the start of senior week, and our impending commencement festivities. I looked across Kimball Avenue and wished that I could also see another early-May tradition: the tired but triumphant stream of students flooding from the library after their last all-nighter of the semester or, in the Class of 2020's case, of their Sarah Lawrence career. I would gladly have traded the former for the latter.
This senior week, and indeed this year's commencement ceremonies, will be unlike any this College has seen. Proud celebrations of achievement tinged with a sense of loss; sighs of relief after years of hard work tempered by thoughts of an uncertain future. And while our entire community has been affected by the COVID-19 pandemic and its vast implications—some to greater degrees than we might imagine—still I believe that we need to allow ourselves to celebrate that which merits celebration. We need to celebrate the Class of 2020. We also need to come together to support the Class of 2020.
Ten years ago, at our 82nd Commencement, alumna Julianna Margulies addressed our graduates and left us with a memorable quote: "this education is a gift that you will be unwrapping for the rest of your life." I hear this sentiment echoed time and again in my conversations with alumni, who often speak of the transformative effect Sarah Lawrence had on their lives. I take great pride in the gifts we send our graduates into the world with every year: critical thinking, intellectual curiosity, a fearless desire to connect their passions to create their futures, and the support of a generous alumni community that is 20,000+ strong around the world.
But this year, we need to give them an even greater gift. So many of our students—both graduate and undergraduate—have seen the plans they worked so hard to lay impacted by this global pandemic and the financial havoc it is wreaking. Job prospects for many have dwindled, if not disappeared, and the Class of 2020 now finds itself facing one of, if not the, most challenging job markets in recent history. We owe it to them to truly live into the spirit of Sarah Lawrence Together—to come together as alumni, parents, families, and friends to help give this class a foot in the door in this uniquely challenging time.
So how can you do that? You can partner with our Office of Career Services and fill out this form they have created to collect—from alumni, parents, families, and friends—job, fellowship, internship, project, and volunteer opportunities for Sarah Lawrence students. While our most pressing focus is the Class of 2020, and helping to pair them with immediate opportunities in the job market, we also realize that our underclass students are being deeply affected at this time. Many spring internships were canceled, and most summer internships are uncertain; the job market for the Class of 2021 is a looming unknown. For that reason, I encourage you to share any opportunities that may exist in the company or organization for which you work, or that you may otherwise know of. All positions received via this form will be reviewed by the Career Services team and shared directly with students and graduates via SLC Connect.
I realize that some of you reading this may yourselves be dealing with challenges of job insecurity, and will not be in a position to help. I remind alumni that SLC Connect is a valuable resource and networking tool, and I encourage you to avail yourself of it.
Ours is a community of connection, one that understands and is united by the privilege and pleasure of experiencing a Sarah Lawrence education. Our community—of which you are an integral part—spans many countries and many industries. If we come together, Sarah Lawrence strong, we can truly make a difference for these newest graduates, and give them solid footing as they set out on an uncharted path.
Thank you.
Yours,
Cristle Collins Judd
President
president@sarahlawrence.edu
Instagram: @slcprez
Recent Announcements
Senior Week
Many of our usual senior week activities are going strong as I write this. Seniors and grad students are showcasing their work, history faculty member Komozi Woodard is preparing to deliver the senior lecture, seniors and their dons are looking forward to Zoom happy hours, an online nod to the annual Senior-Don Dinner… there's even a virtual version of the lively tradition that is the Faculty Show (I won't be sharing a link to that one!).
Join Us for Commencement
All are welcome to join our virtual commencement ceremonies on Friday, May 15. The 92nd Undergraduate Commencement will start at 11 a.m. Eastern Time, and our Graduate Commencement will begin at 1 p.m. Both ceremonies will stream live at slc.edu/commencement. Tonya Lewis Lee '88 and Barbara Taylor Bowman '50 will be our speakers, and we will confer honorary degrees on Bowman and Sara Wilford '72 at our graduate ceremony. Come together and cheer for the Class of 2020!
Well-Wishes for the Class of 2020
Share your congratulations or advice with our undergraduate and graduate classes of 2020 via our kudoboards, and click through to see all the wonderful well-wishes that have been shared so far.
Double Your Impact
Thanks to a generous commitment from the estate of Florence Hart '44, all donations to The Fund for Sarah Lawrence made by May 31 will be matched, up to $500,000. Double your impact on the College and for our students—make your gift online today.
Remote Learning Showcase
Much has been added to our remote learning site since I last shared it with you. I encourage you to visit slc.edu/together to see some shining examples of the tremendous work our students and faculty have created.
For ongoing updates related to COVID-19 and answers to frequently asked questions, please visit slc.edu/covid.
---