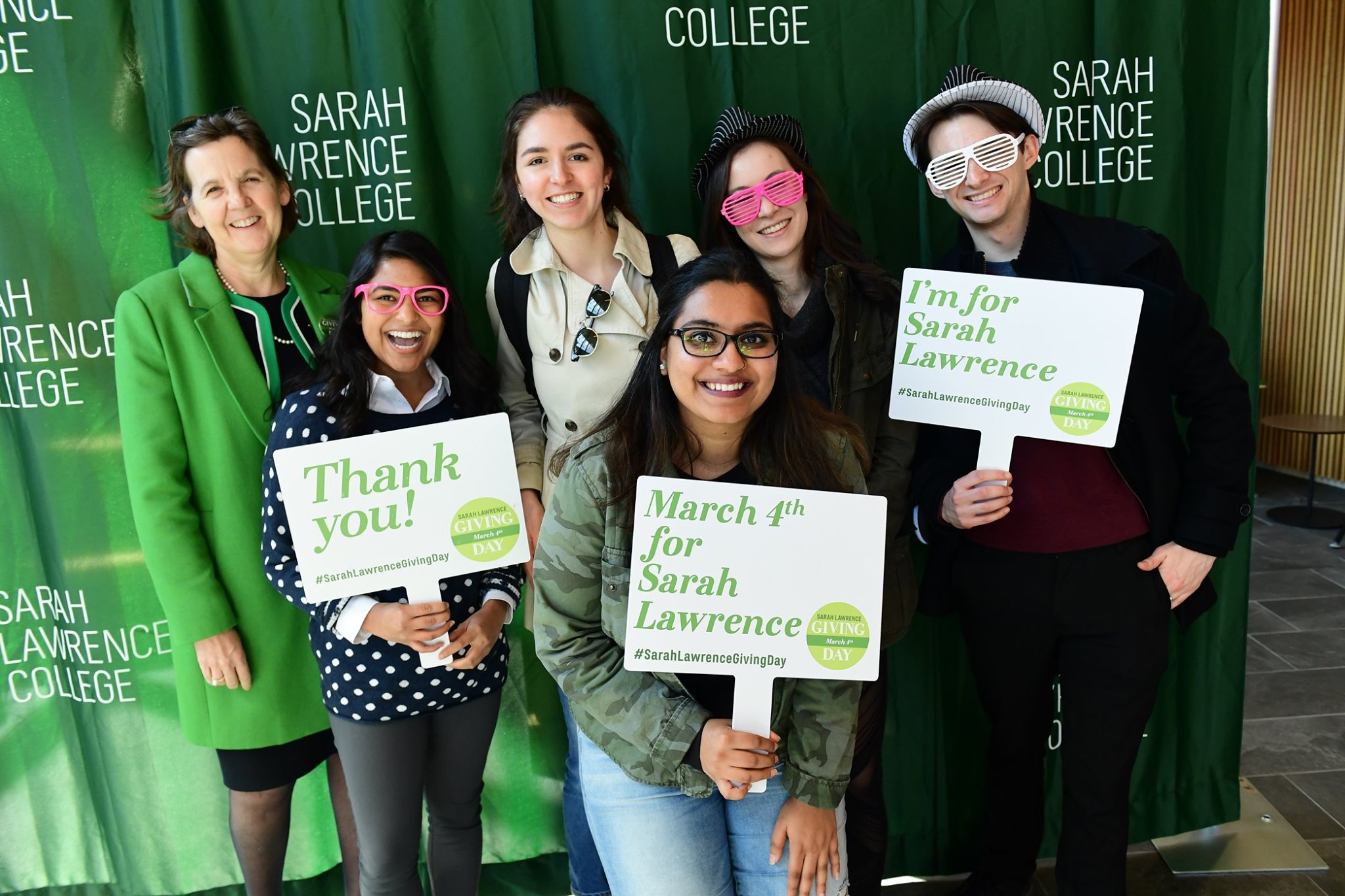 Midnight karaoke, friendly competition, generous matching gifts, and a community that loves Sarah Lawrence College were the key ingredients in SLC's record-breaking Giving Day on March 4, 2020. The annual fundraising event, which supports faculty teaching and scholarship, advances the student experience, and helps the College build on its strengths and exceptional history and update and reimagine its beautiful but aging campus, blew past every metric for success.
In total, more than $950,000 was raised by 1,186 donors, including matching gifts earned every time a participation milestone was reached. Students, alumni, faculty, staff, and families--those who know Sarah Lawrence best--propelled the day's success, sharing messages about the life-changing role the College has played in their life or in that of a loved one.  
"What a fantastic Giving Day!" said alumnus Leigh Heyman '98, who is the national chair for The Fund for Sarah Lawrence and the day's top volunteer fundraiser. "Participation in Giving Day is so meaningful, and so...FUN!...on so many levels. Not only is it an exciting event where we get to connect with old and new friends alike, but we're doing it while having a massive impact on the lives of current and future SLC students. It's a shared experience where, together, we all get to move the needle supporting the transformative experience of a Sarah Lawrence education."
The evening before the formal 24-hour period began, the Senior Class Gift Committee, led by Rafael Schoeberlein '20, kicked things off on campus with late-night karaoke in the Barbara Walters Campus Center. 
"Sarah Lawrence has been truly wonderful to me," Raphael said recently when discussing his desire to get involved with fundraising for the school. "I can't imagine myself happier anywhere else, and so I welcomed the opportunity to give back and play a role leading the senior class gift."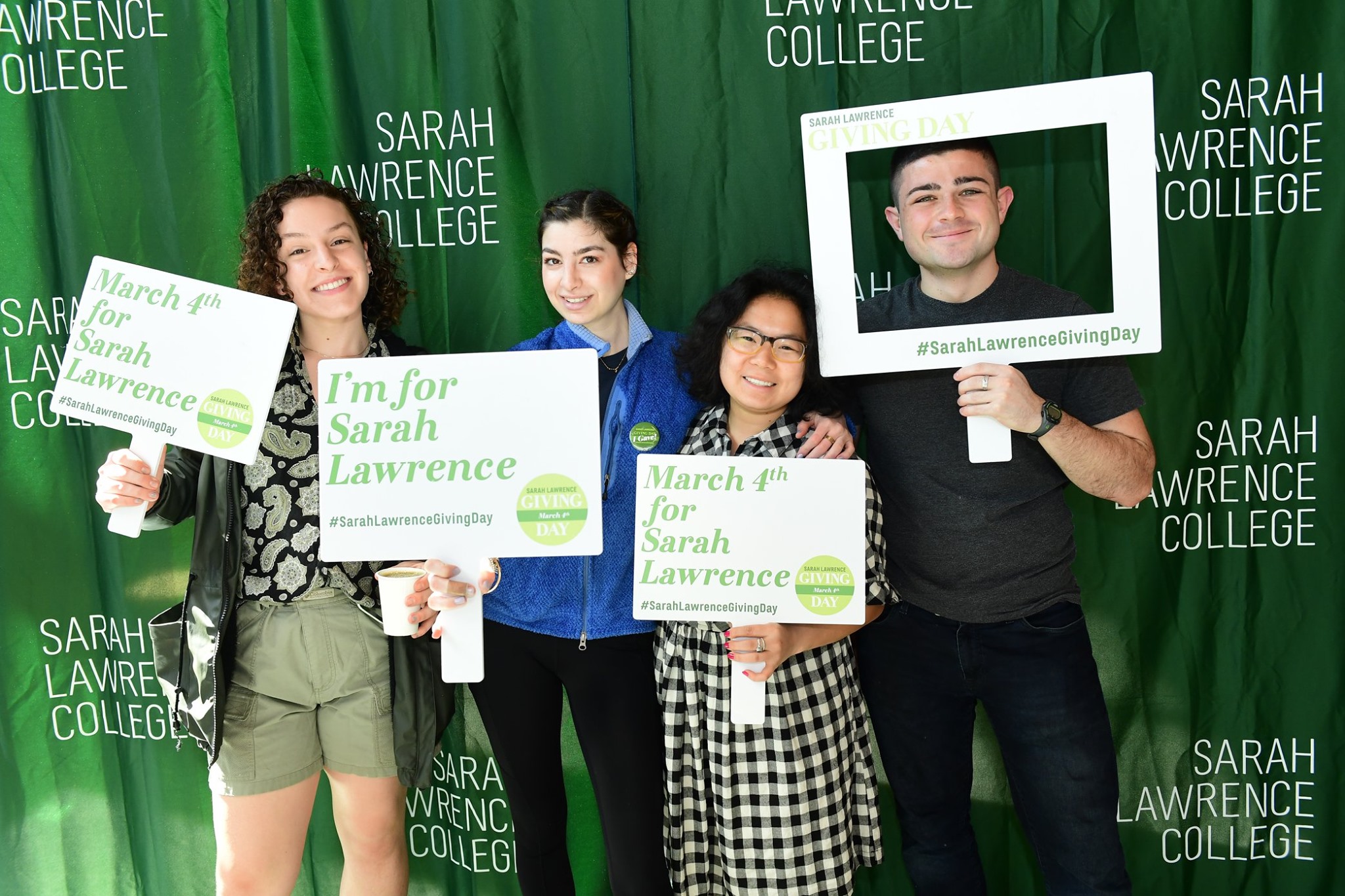 Friendly Competition
While Sarah Lawrence is not known for its undefeated football team, it would be emphatically misguided to say the community isn't competitive. Philanthropic enthusiasm from class year cohorts was on full display on the Giving Day leaderboard. Every class, from 1953 to current seniors, participated, with current students leading the way in number of donations. The class of 2020 boosted their senior gift and added 123 new donors, while the classes of 2023 and 2022 filled out the top spots, with 54 and 41 donors, respectively.
Among alumni classes, the class of 1970 asserted itself with the largest group of donors and the classes of 2010 and 2015 tied for second. And while participation was the key to unlocking matching gifts, the class of 1973's six donors raised more than $100,000 for students, faculty, and Sarah Lawrence's one-of-a-kind education.
Overall, participation increased 25% from 2019. The number of student donors increased threefold, and parent, faculty, and friend of the College participation all individually doubled. While the Sarah Lawrence community in the United States led the way--online donations were received from 46 of the 50 states--the United Kingdom led the international community with Canada following close behind. "Cheers," and "merci!"
Impact
Every dollar raised on Giving Day, and by the College in general, goes to support students, faculty, and the physical campus, from scholarships and research funds to physical projects to update buildings and campus infrastructure. Community support empowers the College to set the standard for inclusive excellence, where every student who should be at Sarah Lawrence, can be.
"We are a place for lifelong learning, and community support on Giving Day says that you value the Sarah Lawrence education," President Judd said, reflecting on the record breaking day. "It says this education is important to the world and you want this education to continue for generations to come."
---