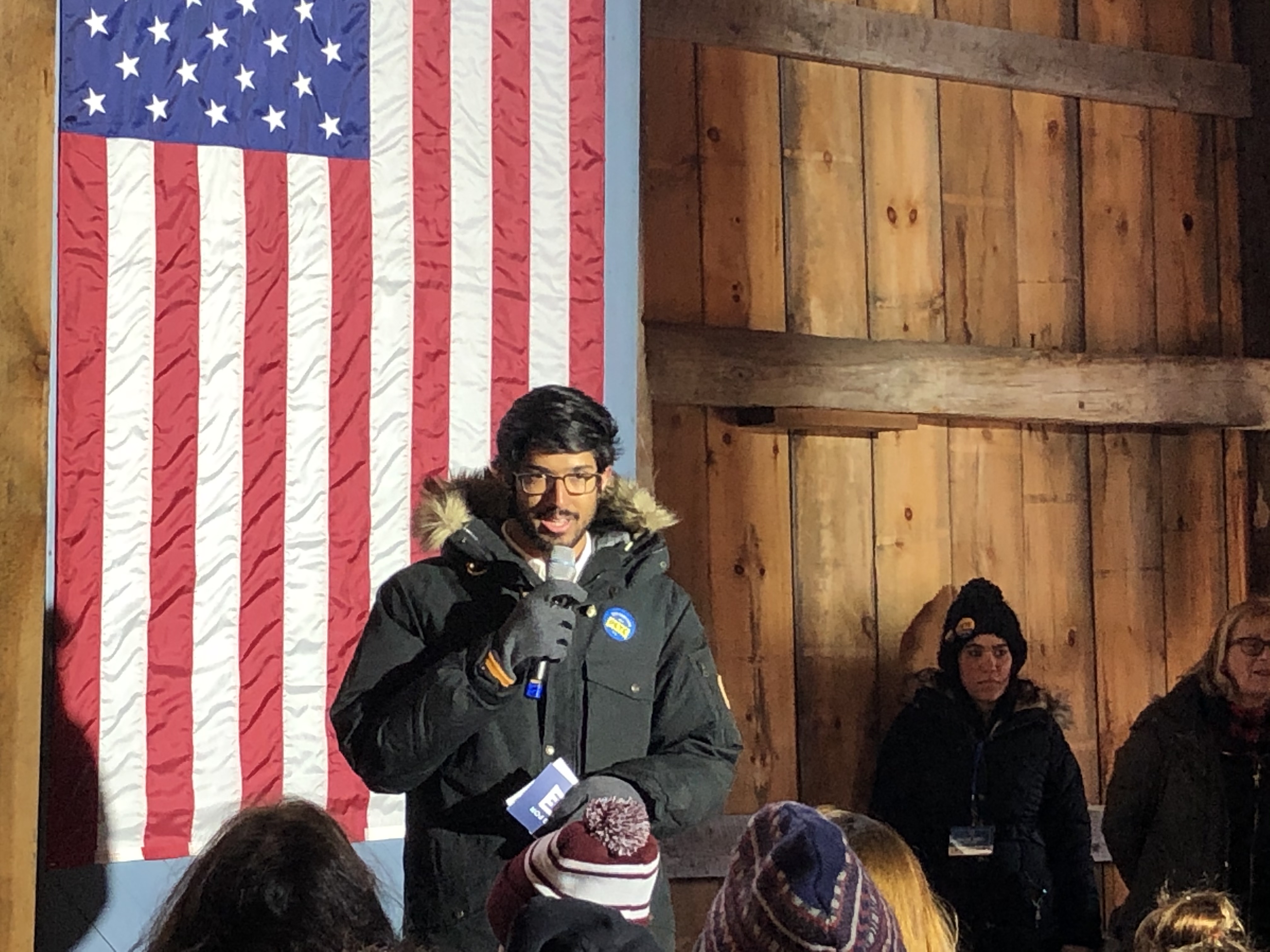 In December 2018, just a month after the historic congressional election in which Democrats took back control of the House of Representatives, Alexandria Ocasio-Cortez—the newly elected representative for New York's 14th congressional district—announced on Twitter that she was seeking interns. 
Among the many thousands who saw the tweet was Amy Fallaw '20, a committed follower and fan of "AOC," as the Congresswoman had become known nationally. Fallaw quickly submitted an application and resumé in the hopes of working for a "dream candidate" who, she said, allowed Fallaw to see herself—a young Latina—represented in politics for the first time.
It took a while, but eight months later Fallaw was contacted by AOC's team: they invited the rising senior to intern in their Jackson Heights office where the staff deals directly with the Congresswoman's constituents from Queens and the Bronx. Fallaw was one of two interns hired for the fall 2019 semester.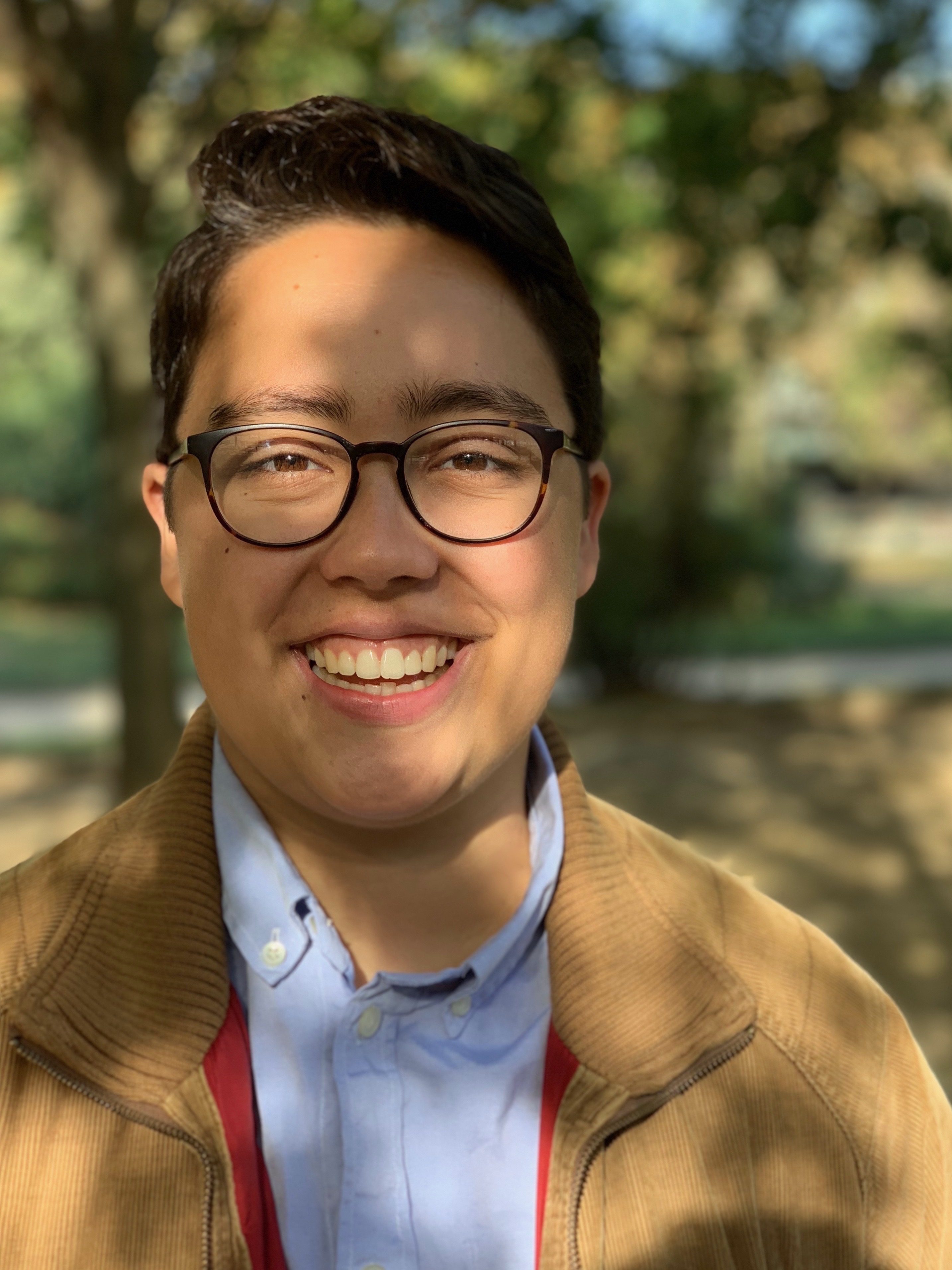 "The fact that AOC got elected just two years after Trump—along with other first time women candidates, like Ilhan Omar and Rashida Tlaib—was a huge inspiration to me and thousands of other people," said Fallaw, who plans to become a paralegal after graduating and then go to law school. "Getting the chance to work for her gave me hope that I can do something important too."
Wanting to do work that makes a difference is a common refrain among Sarah Lawrence students who seek out internships with elected officials. And whether it's that goal, their academic records, their writing skills, or all of the above, SLC students have a great track record of landing these coveted positions. 
Over the last year, in addition to Ocasio-Cortez, SLC students have interned for New York Senator Kirsten Gillibrand as well as Representatives Elliott Engel (16th District, New York) and Dave Loebsack (2nd District, Iowa). Meanwhile, two new SLC students began interning for Gillibrand in January.
With the Democratic presidential primary in full swing, and what may be the most dramatic and fraught presidential election in history fast approaching, it is a unique time to take on political internships. But Sarah Lawrence students are eagerly stepping up. 
FROM INTERN TO PAID CAMPAIGNER
Political internships can be invaluable stepping stones to a career in politics. Lili McFarlane '18 is currently a paid media strategist at Warren for President, where she primarily works on digital ads. But the road to landing a paid campaign gig began in the summer of 2016, before her junior year, when McFarlane landed a "digital organizing" internship with Hillary for America at the Clinton campaign headquarters in Brooklyn. She worked full time over the summer, living at and commuting from the SLC campus, and continued the work right up until election day.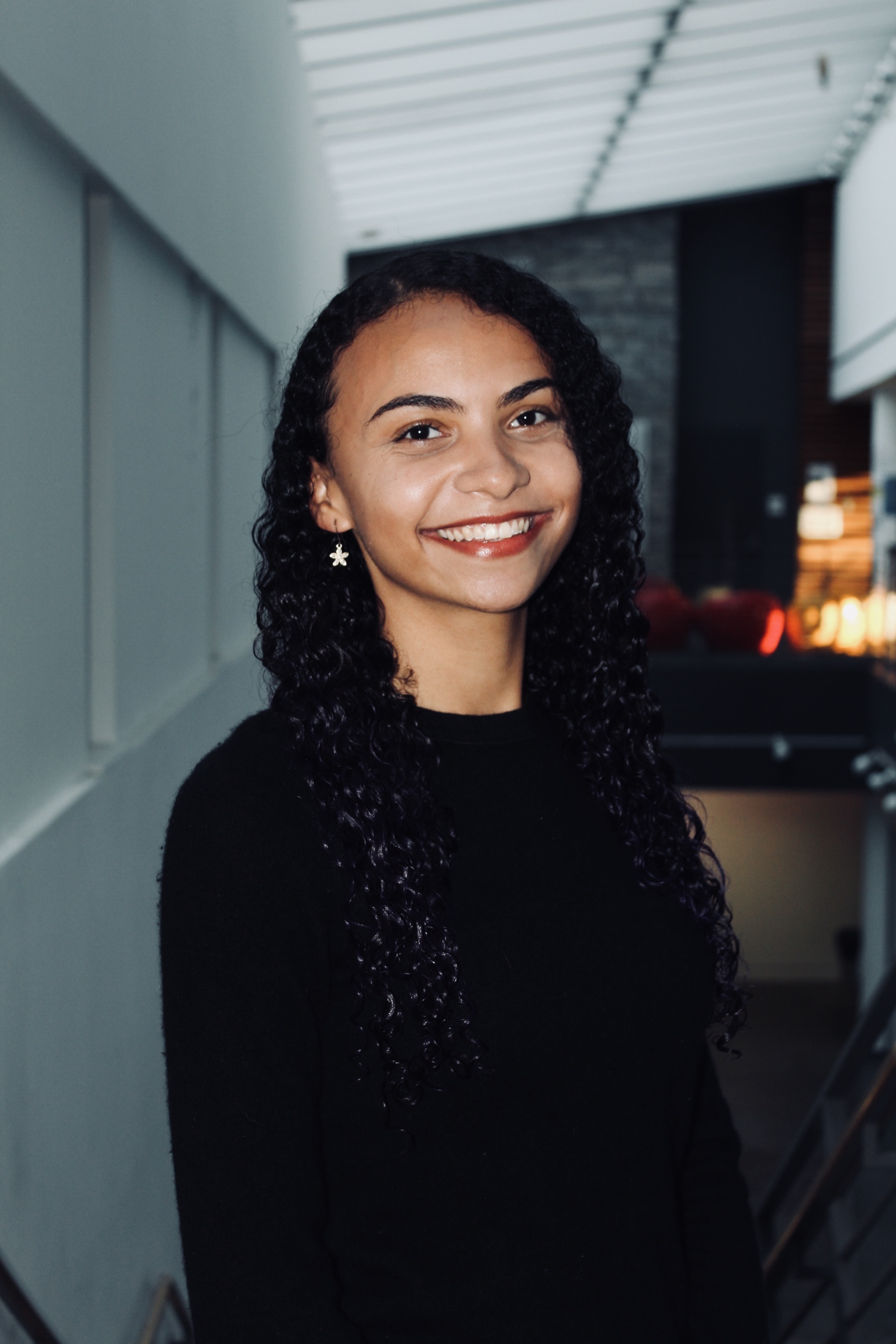 "By taking advantage of the fieldwork program at SLC, I was able to intern for credit during the fall and commit several full days per week to helping train volunteers on the campaign," she said. 
Over the following summer, McFarlane managed a campaign for a Westchester county legislator, writing voter contact scripts, training volunteers, and learning field strategy. She credits the interning experiences, along with her politics classes and faculty, in helping her figure out a career path, and also cites her work as a member of the Student Senate, on which she served for three of her four years. 
"Recruiting students to run and working between different groups of students and members of the school's administration carried right over into skills I needed for organizing, politics, and the workplace in general," she said.
In her first job after college, McFarlane worked for Stand Up America, a digital organizing and political advocacy organization based in New York City, where she wrote copy for email, social media, text broadcasts, and their Facebook ad program. From there she landed her position with Elizabeth Warren's campaign. 
"When I arrived at SLC I knew I wanted to study politics," she said. "Interning and working in politics as a student cemented the idea that this was work that I not only wanted to do, but was capable of." 
A LOGICAL PATH
For students like McFarlane and Fallaw, interning for an elected official was a logical step in a college career that has focused on the study of politics and is fueled by a passion for human rights issues. 
Previously an intern for the Americans United for Separation of Church and State, Fallaw grew up watching MSNBC and listening to NPR with her professor father and is especially interested in immigration law. 
"My mom is a Mexican immigrant. She had a pretty straightforward and uncomplicated path to citizenship through marrying my father, so I never really thought about it, but after 2016 I had to—all the time," said Fallaw, referencing the Trump administration's immigration policies. 
Her interest in immigration issues found a perfect home at AOC's headquarters, where Fallaw regularly assisted in acting as a liaison between federal agencies like the U.S. Citizenship and Immigration Services (USCIS) and constituents who sought the Congresswoman's help in solving problems related to green cards and visas. Fallaw said there were cases where a constituent hadn't heard from USCIS in years and a single email from AOC's office could resolve the problem. 
While that was gratifying, Fallaw said it was challenging to work for a public figure who was constantly being criticized by conservative media and maligned by zealous out-of-district detractors in phone calls to the office—all a drain on time and resources in addition to being "hard to listen to." But the overall experience was positive. "I came away with a much deeper understanding of what an elected official can do, and what they can't," she said. 
Like Fallaw, Lauren Cuevas '20 also received a crash course in immigration issues when she interned for Rep. Elliott Engel last spring. Engel, whose district includes Bronxville and Yonkers, is chairman of the House Foreign Affairs Committee.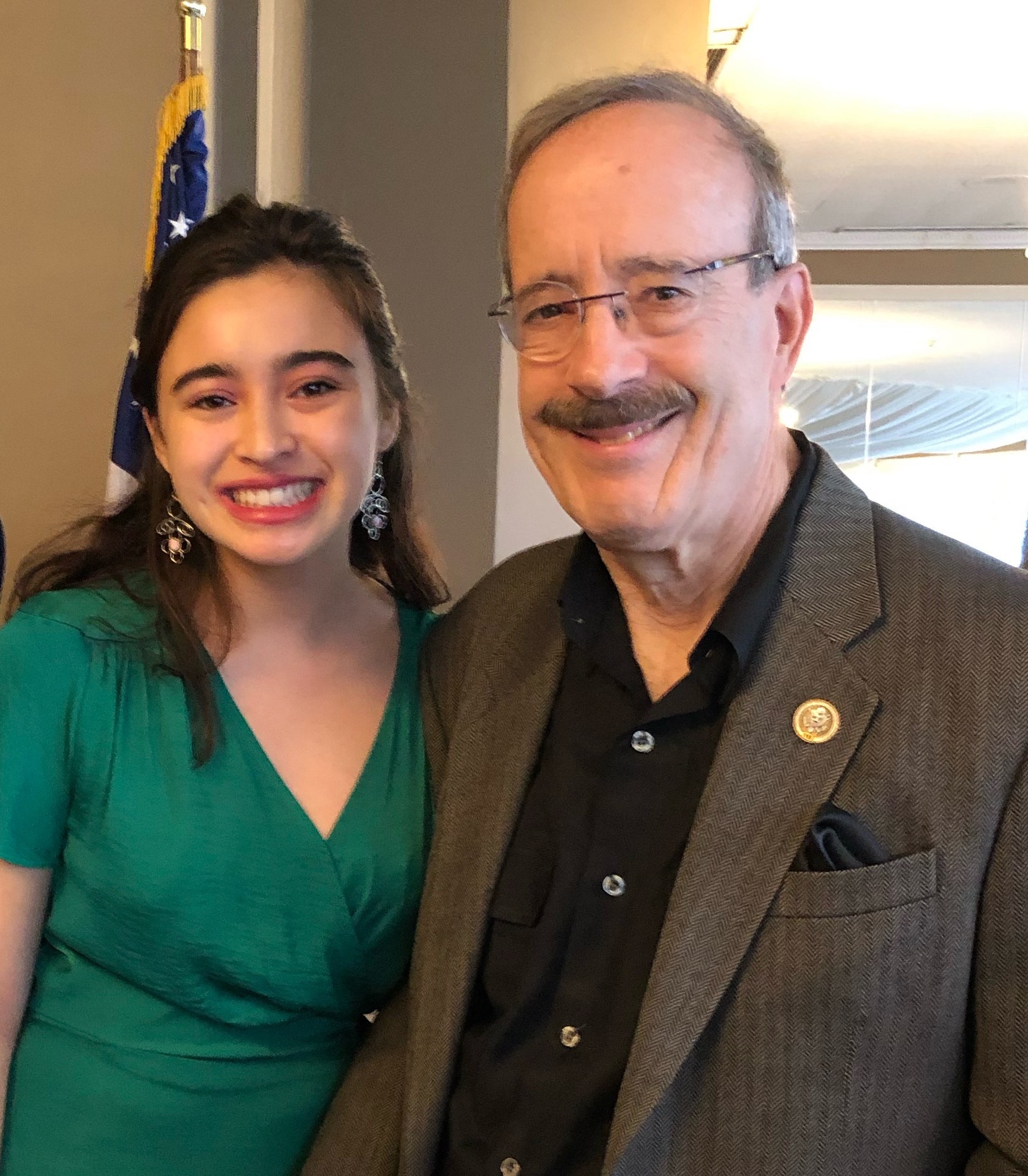 "I wanted to work with someone who was not only combatting the xenophobic and anti-immigrant rhetoric that is emanating from the White House, but who is actually directly trying to make that change," said Cuevas.
Also the daughter of an immigrant, Cuevas said she learned all about immigration forms and how difficult gaining citizen status is. Like most interns, she also fielded phone calls, many of which regarded immigration. "I don't think I've ever been in that intimate an environment, discussing issues that involve me and my family, with people I didn't know who are so blatant and direct with you." 
As a result of connections she made in Engel's office, Cuevas was nominated and then appointed as the women's caucus chair for College Democrats of New York, a role she held concurrent with the internship. "My job was to form events about and for women, including meetings, canvases for candidates—grass roots work," she said. "We talked about how to get involved in communities and about sex education, domestic abuse, emotional abuse. I also worked with Planned Parenthood and My Sister's Place [an organization that seeks to end domestic violence and human trafficking]."
Though she had thought she would become a lawyer, working in human rights or immigration, Cuevas' experience in Engel's office influenced her to explore other options. "I learned so much about myself, my own activism, how I want to manifest that in the work that I do," she said. 
"I don't know that I would want to work in the political sphere as it looks now. I think my work is more on the ground, with the communities, with the people."
Anna-Theresa Unger '20 has also been on a track that led directly to her internship. With a concentration in international studies, Unger has developed a passionate interest in human rights issues. To gain a deeper understanding of how politics work
from the inside, she spent last summer in Washington, DC interning for Dave Loebsack, the representative of her hometown district in Iowa, and found the work environment illuminating.
"As a congressional intern, you gain foundational insights that are crucial towards understanding the political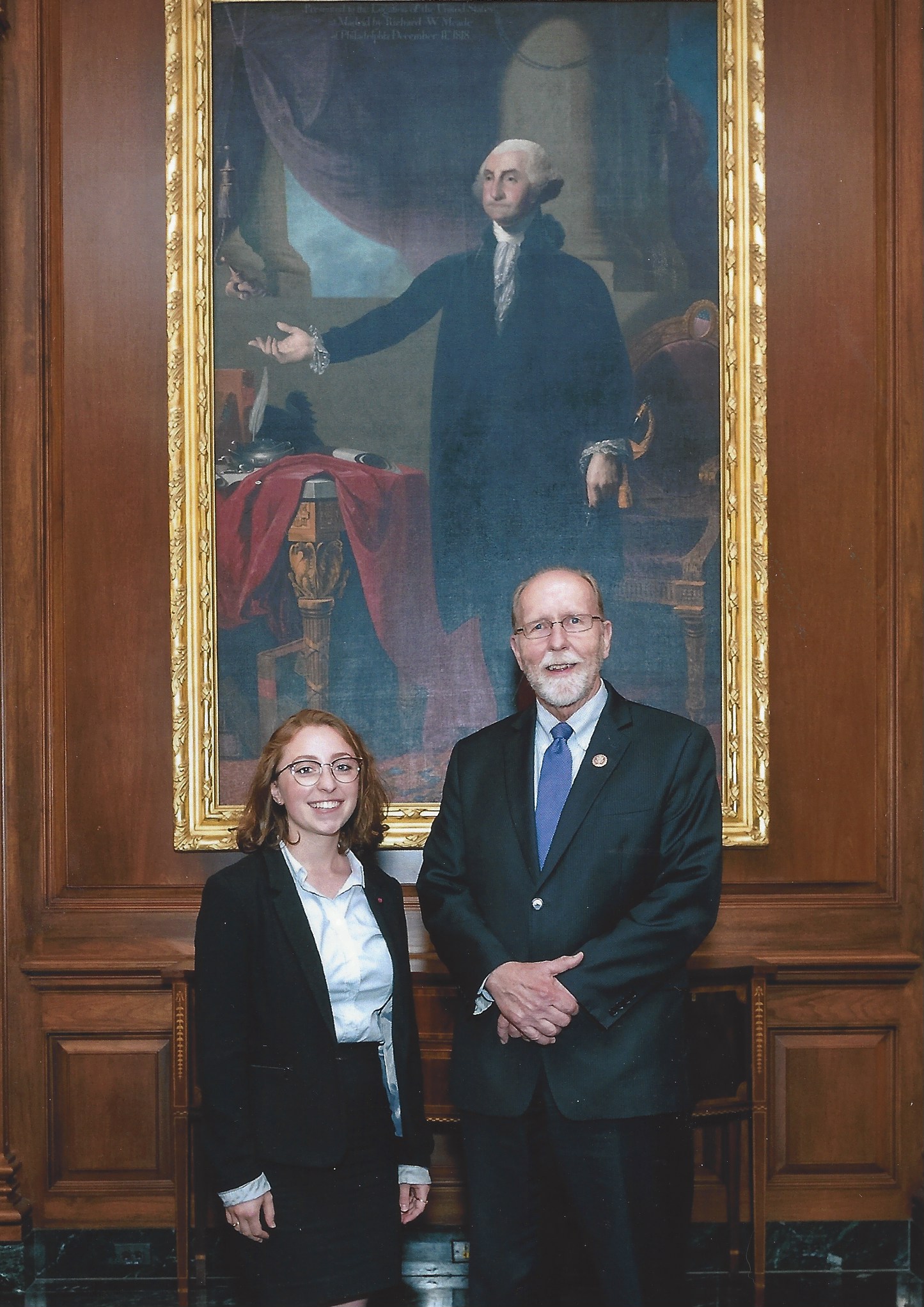 process," said Unger. "I'm extremely thankful to have had the opportunity to intern for Congressman Loebsack. My experience not only furthered my understanding of the U.S. political system, but it also gave me greater insight into which career opportunities are available to me and what forms of advocacy I would like to engage in once I graduate."
Her work also gave her a greater understanding of the balancing acts that politicians must practice to represent and please their constituents. "Each member has to make sure that they are representing as much of their constituency as possible; this can be particularly challenging within swing districts. Significant deliberation occurs during the decision-making process," said Unger.
Unger's workload for Loebsack was mostly administrative, but one of her tasks included leading tours of the Capitol Building, which she enjoyed as it allowed her to interact with constituents. She particularly loved attending the Summer Intern Lecture Series, run by the Committee on House Administration, which featured members of both chambers of Congress alongside other government officials.
Unger is currently a policy and communications intern at the International Refugee Assistance Project and runs the SLC Peace Action chapter. Last year she studied abroad at the London School of Economics (LSE) as a Benjamin A. Gilman International Scholarship recipient, a program administered by the U.S. Department of State. In London, she worked as a campaign manager for the LSE Amnesty International society. She hopes to ultimately take on political work within the field of human rights and international relations. She plans to attend graduate school after completing two years of work experience post-graduation.
While a desire to make the world a better place is something most SLC political interns share, they don't all plan to do so by going into politics. Gayatri Kumar '21, who interned for Kirsten Gillibrand last fall, plans to make documentary films that will shine a light on humanitarian crises. But in the meantime, she wanted to learn more about the relationships between senators and their constituents.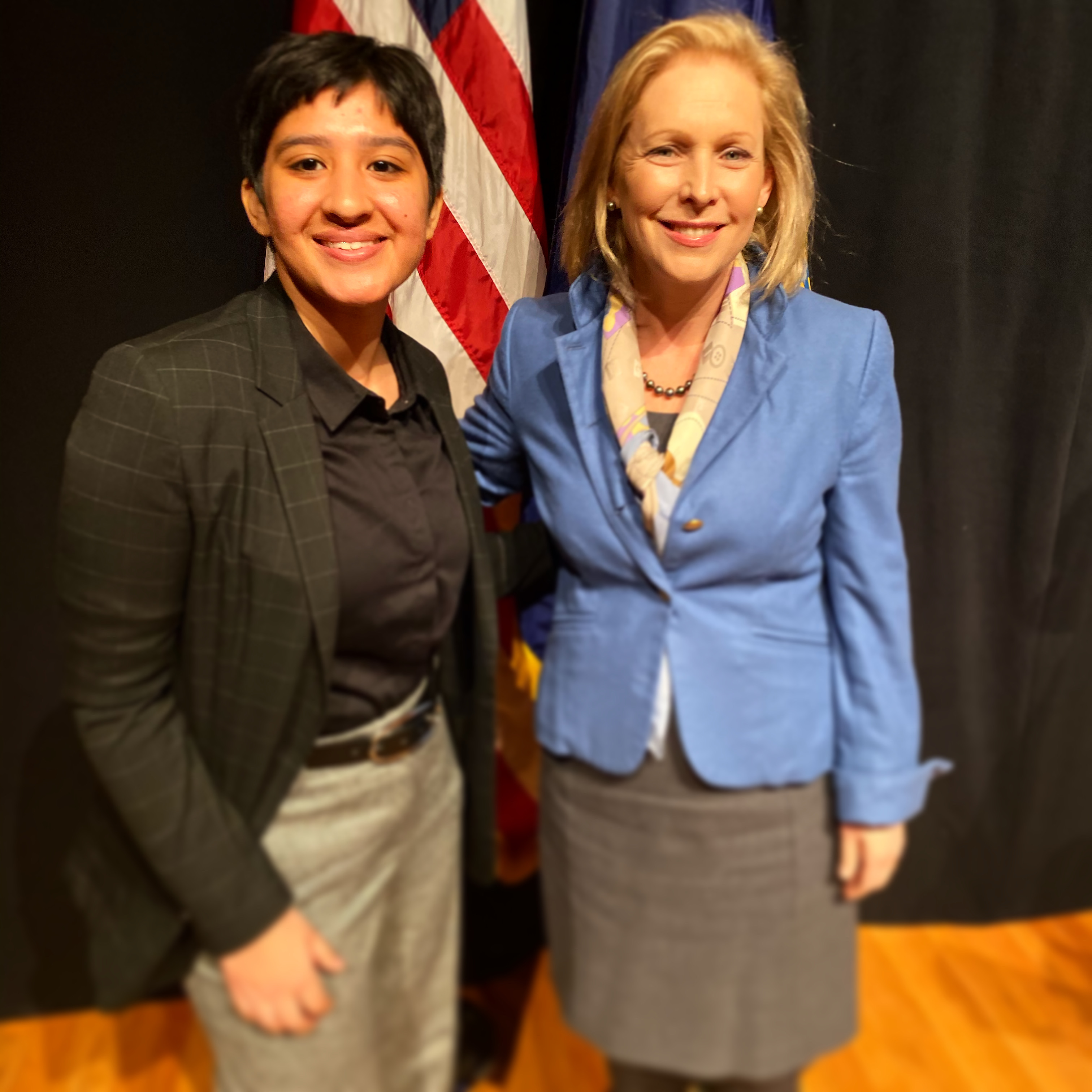 "I wanted to understand how the people in New York think and what their grievances are," said Kumar, whose concentrations are filmmaking and sociology. "And I also wanted to understand the role of the Senator. What does she really do and how effective is this post? What I hoped to do was come back with a comprehensive view of what people are going through and what their complaints are."
In that, Kumar was largely successful. She was assigned to the office for the Hudson Valley Region (the 10 counties that run on either side of the Hudson River from Albany to Westchester County) and her work involved a lot of information processing, writing briefs and summaries about specific issues and legislation, and researching the connections and differences between elected officials. As a result she learned a lot about the bills and letters before the House and Senate and about the issues that are of greatest interest to Hudson Valley residents.
"Speaking to constituents on the phone, hearing their grievances, and going to these events and talking to them—it was emotional a lot of time—you do get a very good understanding of what's going on," said Kumar, adding that it's quite different from reading or learning about issues in a classroom. "It stays with you," she said.  
The internship has given Kumar a greater appreciation for the importance of interpersonal skills. "You have to know how to talk to people and you have to know what people are about," she said. "Most people are more interested in talking about themselves than listening to others. You have to be diplomatic—put away your ego. Politics is the place where all of that comes into play."
Kumar is considering the possibility of attending law school after graduation from Sarah Lawrence, but is confident that filmmaking will always be a big part of her life. Ultimately, though, she sees community service as her destiny. "I know I've been born to help the community. I'm a servant to the people. That's been my aim, that'll be my aim tomorrow. I'm not sure if I will be a politician, but I know for sure I will be dealing with people in politics. They are the ones that sometimes open the door for you or stand in the way."
---