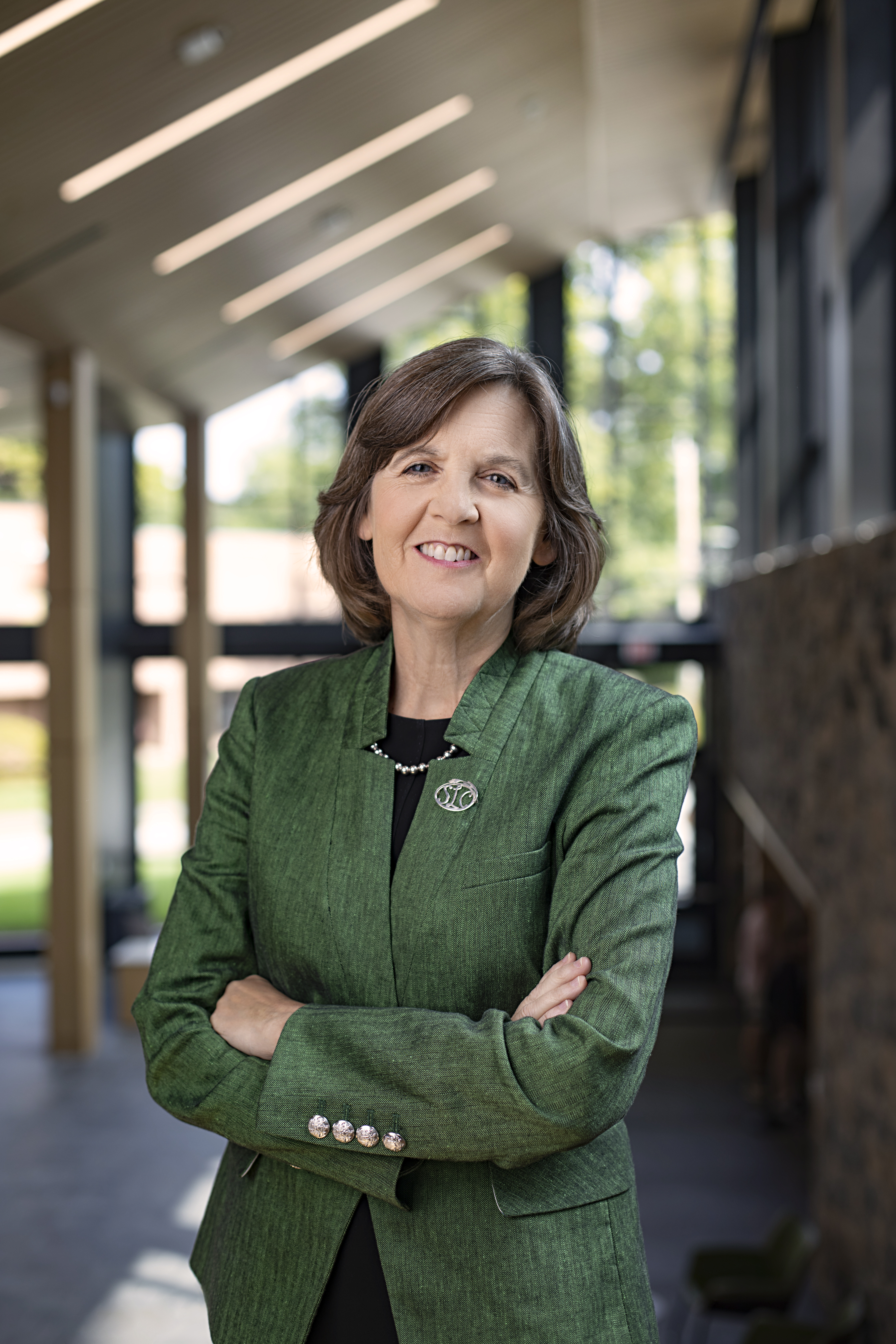 Happy new year, and welcome back to campus! I hope the Sarah Lawrence community enjoyed a restorative winter break. As students returned to campus this past Monday, many began the week by joining members of our community in service opportunities marking Martin Luther King, Jr. Day, coordinated by our
Office of Community Partnerships
. On Tuesday, the new semester fully launched: students resumed yearlong courses and are meeting with their dons and getting set for spring semester classes.
As the new semester gets underway, I wanted to take a moment to share with you some reflections about our place in the world, prompted by events at the end of last semester and over the break. One of the final occasions of the fall semester is
winter commencement
, when we celebrate students who completed their graduate and undergraduate programs mid-year. During that ceremony, our new director of alumni relations, Christina Camardella, enjoined the assembled graduates that they were now "members of a global community doing extraordinary things." She added:
There are nearly 20,000 Sarah Lawrence alumni living and working throughout the world
—
in every state of the nation and nearly 80 countries.
I have found myself pondering that statistic in the intervening weeks. Though our physical campus is anchored in Westchester County, it is good to be reminded that Sarah Lawrence reaches far beyond our campus boundaries and to affirm that we value the perspective our global engagement offers. Perhaps especially at a time when our nation grapples with understanding its role in the world. Indeed,
our mission statement
 proudly asserts:
At Sarah Lawrence College our mission is to graduate world citizens…
Current students represent more than 50 countries and come from almost every state in America. When fires ignite in Australia and California, and natural disasters strike Puerto Rico, to take but a few recent examples, the effects of these situations reverberate back to our campus. In these scenarios, the College works closely with affected students and their families to ensure their safety and accommodate their needs in tumultuous times.
Sarah Lawrence also recognizes that the role of immigration and how/which people move around the world is a fraught political topic. The College has given deep thought to the value of global collaboration, building study of these issues into our curriculum and programming. We also simultaneously consider the mechanisms in which proposed changes in visa and immigration procedures could adversely affect those collaborations as well as our students and alumni, taking a
stand in court
when
necessary
.
Even as the world's population has grown, we know that we are more connected today than at any time in history. SLC's educational model fosters that connection and opens opportunities for our students to engage and explore cultures and global histories from every corner of earth—often spending a short course, semester, or year studying abroad. These experiences deepen our vocabulary and understanding of the world and are tenets of our motto: Wisdom with understanding.
To take but one example, I recently had a chance to connect with alumnus
Danny Russel '75
, who served for 33 years in the State Department, culminating as President Obama's Assistant Secretary of State for East Asia. Now the Vice President of International Security and Diplomacy at the Asia Society, Danny observed: "
Sarah Lawrence made a huge difference in my life and equipped me with skills that directly contributed to my success in diplomacy
." (He went on to add another strong endorsement of the College: he's part of a multi-generational SLC family. He is the father of two graduates and his mother obtained her MA here, as well.)
This is what Sarah Lawrence is about: making a difference in the lives of students who make a difference in the world.
Key aspects of our global commitment are our
study abroad programs
and our 
alumni community
around the world. In the coming months, I'm very much looking forward to visiting a number of SLC's international programs and spending time with some of our alumni based overseas. Next week, I'll meet with students and faculty at
Oxford University
and the
British American Drama Academy
in London, as well as our program in
Paris
, and spend time with alumni and friends of the College in Europe. In March, I will have a chance to connect with the Sarah Lawrence community in China, meeting with our newest alumni group in Shanghai and delivering a lecture in Beijing focused on the importance of studying the arts and liberal arts. I look forward to sharing back with you about those visits.
I take tremendous pride in the fact that the Sarah Lawrence community uses our exceptional creativity, critical thinking, and problem-solving abilities—skills refined by deep reading, extensive writing, interdisciplinary study, and yes, countless conference projects—to make an impact in a global economy where there is often no blueprint for affecting change and advancing society. Our world needs what you bring!
Yours,
Cristle Collins Judd
President
Instagram: 
@slcprez
---