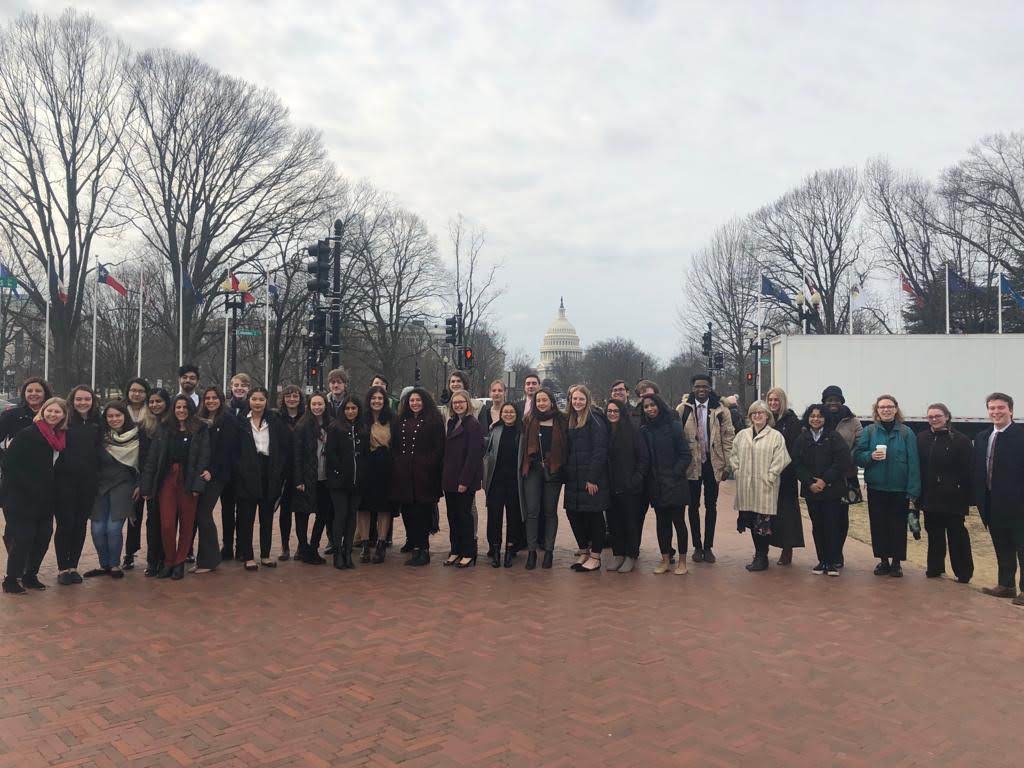 On September 12, 2019, the United States Senate unanimously passed the bipartisan Uyghur Human Rights Policy Act of 2019, which "condemns gross human rights violations of ethnic Turkic Muslims in Xinjiang" and calls for an end to "arbitrary detention, torture, and harassment of these communities inside and outside China."
The act will appoint a special State Department coordinator in China's Xinjiang Uyghur Autonomous Region (XUAR) and, if ratified by the U.S. House of Representatives, will require regular reports on the region's internment camps, surveillance network, and security threats posed by an ongoing crackdown on the Uyghur people.
This important move forward in safeguarding the lives and civil rights of the oppressed Uyghur (pronounced WEE-gur) people was a priority for a group of Sarah Lawrence students who, last spring, were enrolled in Janet Reilly's course, "Scholars at Risk: The Politics and Practice of Human-Rights Advocacy."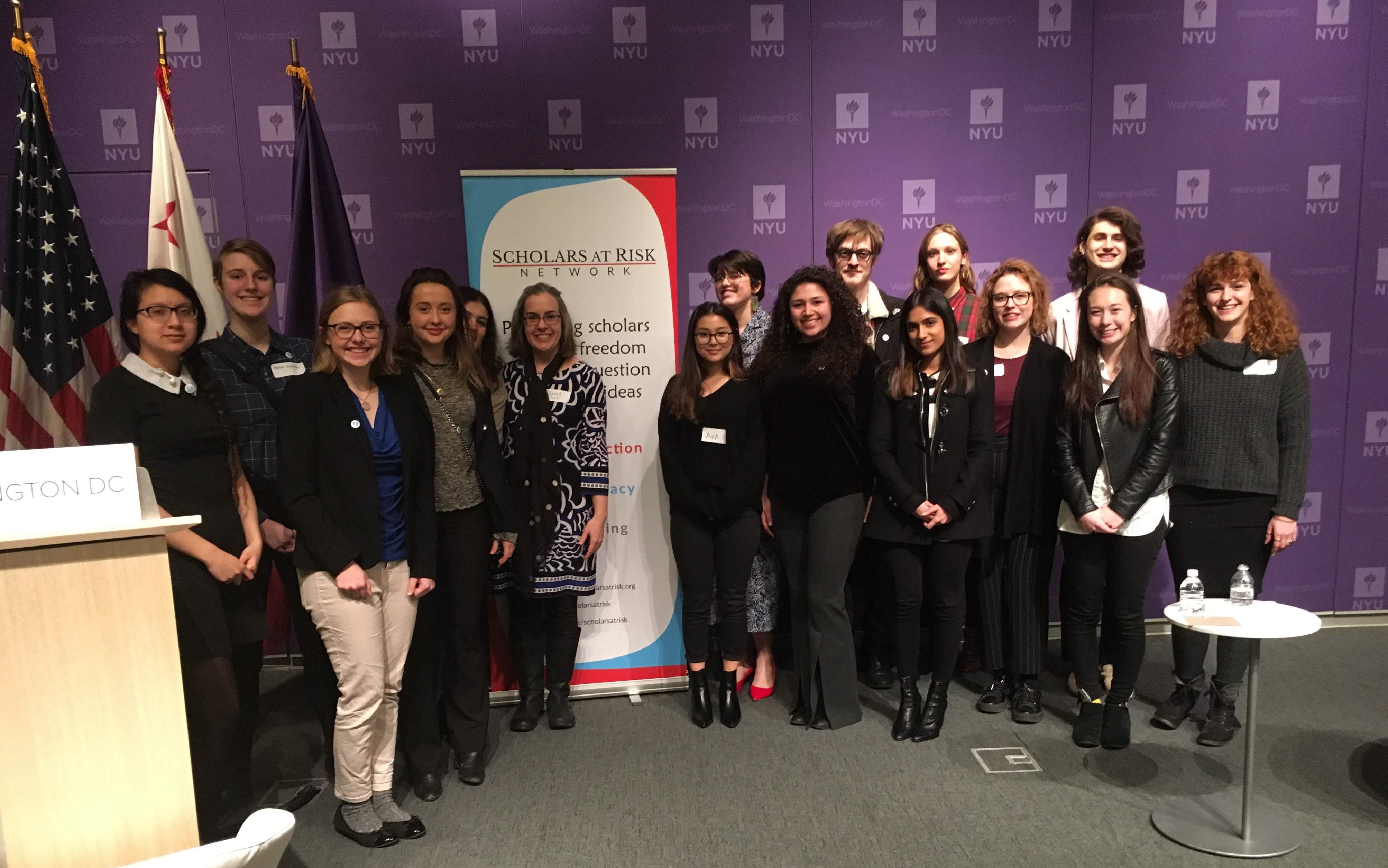 To put into practice the advocacy skills they'd developed over the prior six weeks, the class's 15 students traveled to Washington, DC in March to participate in the third annual Student Advocacy Days. The program is offered by Scholars At Risk (SAR), an international non-government organization (NGO) comprising a network of more than 500 higher education institutions and thousands of individuals in 39 countries. 
The goal of the SLC students was to lobby federal lawmakers for help securing the release of three Uyghur scholars detained in Chinese internment camps in the XUAR, which United States government officials sometimes refer to as concentration camps. The students set specific advocacy goals, chief of which was to convince Congressional members to ratify the Uyghur Human Rights Policy Act.
The Sarah Lawrence students joined those from several other American and Canadian colleges and universities who were participating in Student Advocacy Seminars, like the one taught by Reilly. This was the second year SLC partnered with SAR and sent students to Washington; in 2018, students focused on the case of a Venezuelan scholar, who was eventually released.  
Hands On Advocacy
The Washington event featured a day of hands-on workshops highlighting human rights best practices, followed by a day of advocacy on Capitol Hill. In addition to the workshops, students and faculty engaged with speakers and panelists, including government officials, NGO leaders from the World Uyghur Congress, PEN America, the Defending Freedoms Project, and the Tahrir Institute for Middle East Policy.
"This event is designed to provide students with skills they'll need in their future careers," said Clare Robinson, SAR's Advocacy Director, in a press release. "They practice public speaking, develop leadership and cross-campus teamwork skills, and learn how to be an effective advocate. And they make a difference while doing so."
With 15 students, Sarah Lawrence sent the largest group to Washington, thanks to support from the Consortium on Forced Migration, Displacement & Education, which provided travel funds. 
The scholars for whom the SLC students were advocating, are among 1.2 million Uyghur prisoners, primarily Sunni Muslims from East Turkestan. While their religion is often cited as the primary reason for the Uyghur's persecution, complex historical, social, political, geographical, and economic factors have also contributed to their detention, all of which the students learned about. China first annexed the region in 1949.
Representing close to 10 percent of the entire Uyghur population in China, the prisoners in East Turkestan are in "re-education camps," forced to give up their language, religion, and identity. According to Reilly's students, as written in one of their reports, "the actions of the Chinese government and its oppressive state policies amount to cultural genocide and ethnic cleansing."
When Reilly's class commenced in late January, the students decided which human rights case would be their focus. "I wanted them to have ownership of the case, and also to have active experience in researching it," said Reilly.
Divide and Conquer
The students split into four groups, each of which focused on specific tasks in the areas of lobbying, social media, case preparation, and research. According to Reilly, the students did impressive work, including setting up 19 meetings with congressional offices (far more than any other college); writing extensive reports, case histories, and fact sheets; and raising awareness for the cause through creative and ongoing social media campaigns and an on-campus film screening and speaker event. In the six weeks leading up to their DC visit, the students were able to heavily prepare, said Reilly.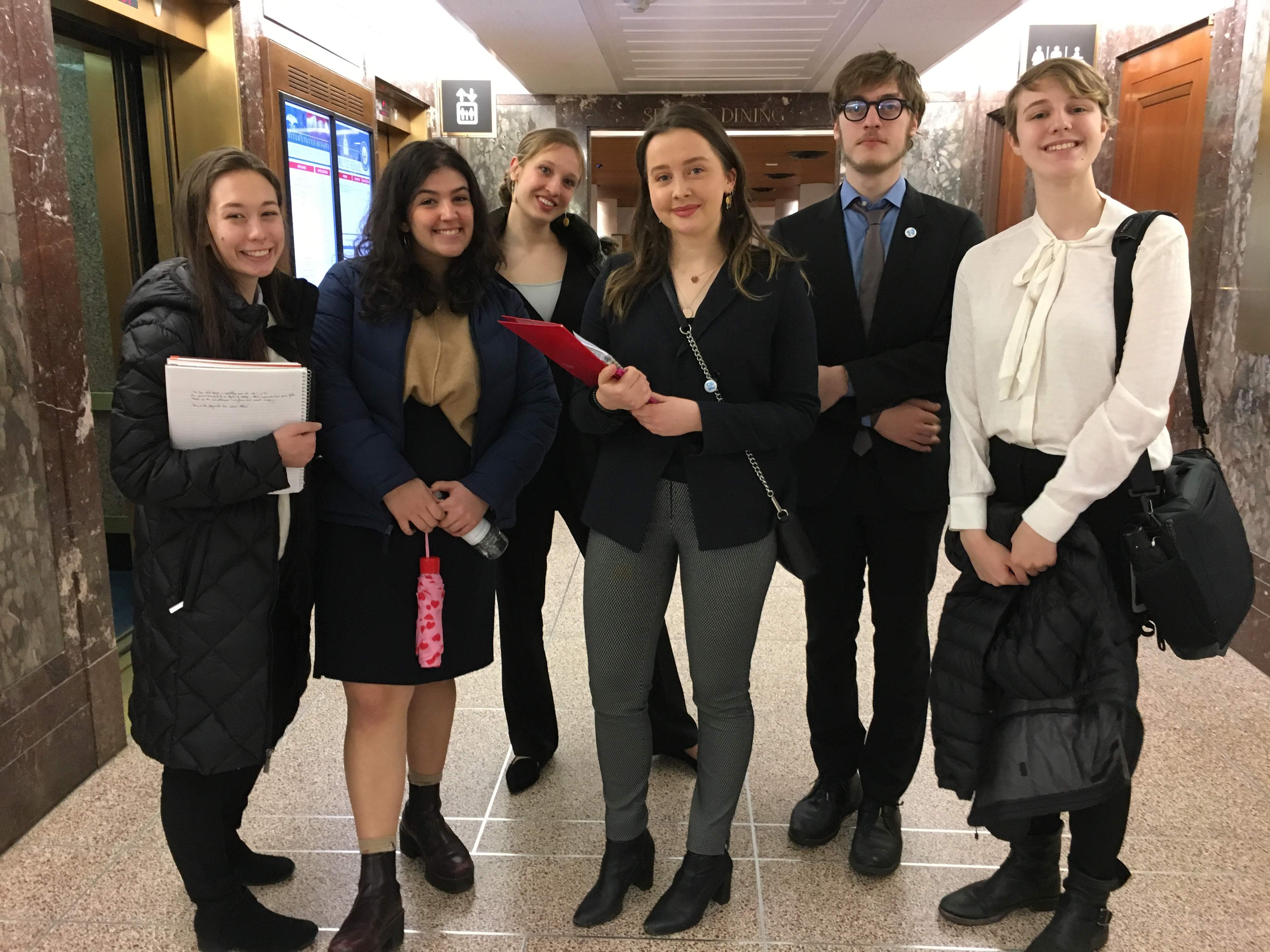 "They were amazing in DC," she said. "In 15-minute meetings, they hit all the points they wanted to make about the broader human rights situation, about the scholars, about SAR. And they came with specific 'asks', from asking elected officials to re-post social media posts, to asking them to sponsor the bills before the House and Senate, and to sign onto letters that the students had drafted to the Ambassador of China and (Secretary of State) Mike Pompeo."
"We used every means possible to get to the congresspeople," said Lily Ginsburg '19, who is now planning to attend law school. "We looked for any connection we could use."
"We learned that connections are critically important," added Alexandra Shapiro '19, "and persistence is key." 
Genesis Rico '19, who also hopes to become a lawyer, said the training provided by both Reilly's course and by SARs employees in Washington was invaluable. "I knew how to prepare to go into these meetings," she said.  
Back on campus, the students arranged for a screening of the film The 10 Conditions of Love, a documentary by Jeff Daniels about Rebiya Kadeer, an exiled Uyghur living in the United States as a leading activist for Uyghur rights. The screening also featured speaker Zubayra Shamseden, Chinese Outreach Coordinator for the Uyghur Human Rights Project. Shamseden also met with the students in Washington, resulting in a seven-page report by students Chiara Trace Bernardi '20 and Lucia LoBue '22.
"This class offers a rare opportunity for students to integrate practice and theory, and to get real world experience working with an NGO," said Reilly. "That's something they can take into various career fields, no matter what they choose."
Ginsburg, who received a Raymond Seidelman Award for Political Advocacy from SLC, said the experience in Washington provided valuable insight into advocacy work.
"It was great to get an institutional picture of how NGOs work, and how the government partners with them," she said. "It gave me an idea of how I will be most effective as a lawyer or a human rights campaigner."
Robinson, of SAR, said the Student Advocacy Days bring the students' research and advocacy efforts to life. "When you have a room full of young people sharing a common goal, to advocate on behalf of imprisoned scholars, the amount of passion is incredibly powerful," she said. "It's the students who inspire and motivate each other and elevate the conversation about this global problem of attacks on academic freedom."
With the fall 2019 semester, Reilly's SAR course is again in session. The current students have chosen to continue advocating for Uyghur scholars and are partnering with students in SAR advocacy seminars at Bard College's Annandale and Berlin, Germany campuses. The students are virtually attending each other's guest speaker classes and are exploring ways to collaborate on Uyghur cases. The SLC students will again be lobbying federal representatives at the Student Advocacy Days in Washington. This year, the event coincides with the SAR Global Congress (March 25-28, 2020), held every two years. Should the Uyghur Human Rights Policy Act pass the House before then, the students will still attend to press lawmakers to take other actions.
For more information on the Uyghur humanitarian crisis, visit the Uyghur Human Rights Project.
---