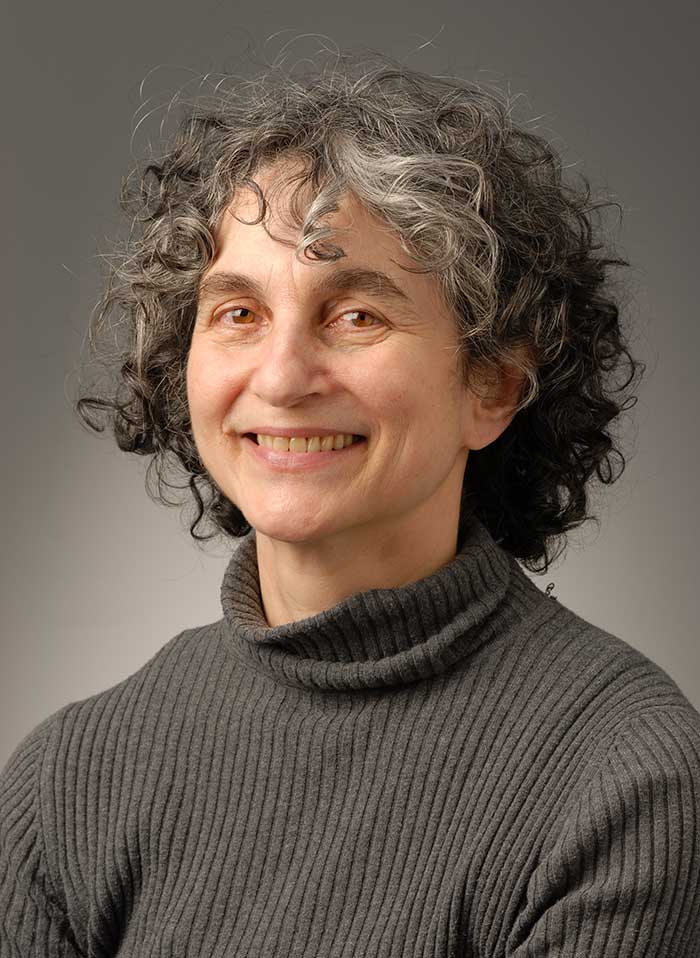 In 1999, Sara Ruder took the helm of Sarah Lawrence's Dance Program and asked a very important question: What are effective ways for dancing to be material for learning? Twenty years later, Rudner's exploratory approach to movement and education, her innate curiosity, and her passion for collaboration have left a lasting mark on the College.
Prior to arriving at Sarah Lawrence, Rudner had an extraordinary career as a dancer and choreographer. In 1965, she became a founding member of Twyla Tharp's dance company, collaborating and performing with Tharp for 20 years as a principal dancer. From 1976 to 1982, she directed the Sara Rudner Performance Ensemble. She also choreographed for theatre and opera productions around the world, at venues such as the Salzburg Festival and the Paris Opera. Amongst her many awards, Rudner was named a Guggenheim Fellow in 1981.
Peggy Gould (dance), who danced with Rudner since 1987 and also joined the College's dance faculty in 1999, remembers the sense of excitement around Rudner's early years at Sarah Lawrence. "Sara came to the College with all this incredible experience and said, 'What can dance be here'?" Gould recalls.
Rudner built on the program's daily practice of dance, including composition and improvisation as fundamental practices. "That shift has produced a huge range of students for whom dancing is part of their consciousness, knowledge base, and problem-solving skills," Gould says.
With an incredibly sophisticated pragmatism, Rudner exemplifies "what it means to have artistry thoroughly based in practice," Gould notes.
Emily Devine, who taught dance at the College from 1988 to 2014, recalls how Rudner's natural spirit of cooperation impacted the department.
"One of the most important and radical changes that Sara made was that everything in the program became collaborative," Devine reflects. "We were all of a sudden being asked to relate to one another professionally and personally, to think in a much broader way about what dance is and how we go about our processes of teaching, performing, creating, and communicating about dance. I can't really say enough about the richness of the collaborative process that Sara made possible."
For Rudner's colleagues, her playfulness and genuine inquisitiveness made working with her enriching, illuminating, and fun. Gould says, "She likes to play on a scale that is very rare. One of her many gifts, in addition to being a genius mover, includes finding the whimsy in a very masterful set of skills."
As the three main dance faculty members, Rudner, Devine, and the late Rose Ann Thom, who taught dance at the College from 1975 to 2015, formed a close-knit trio, which Rudner dubbed "the three weird sisters," in a Dance Magazine tribute to Thom following her death last year.
An interesting blend of forces working in concert to shape and run the dance program, Rudner, Devine, and Thom were attuned to the richness that a liberal arts college lent to an arts practice. "We were thrilled to be able to work with that structure," Rudner says.
Devine recalls Rudner's penchant for reinvention and experimentation and how she'd often bounce into the office and say to Devine and Thom, "What do you think of this?"
"Sara was very open to people's notions. She would get excited about something and go off and running and Rose Ann and I would have to rein her in," Devine says with affection. "She is always willing to listen and tweak and make changes."
For Rudner, her colleagues were a wonderful source of collegial support and inspiration. "We experimented, and that was very lively and very invigorating for us," she says. "Those were amazing years working together."
Rudner has deeply appreciated her students and their boundless creativity: "I'm going to miss their crazy inventiveness, when they come up with something and I say, 'Really? OK, let's go with that.'"
Teaching at the College—which included a great deal of exploration, thanks to the College's support—enriched Rudner's art practice as a dancer and choreographer. In thinking about reaching her students, Rudner says she gained valuable insight about what was important to her about the art form.
Over the years, in addition to short dances, she has produced marathon dances, such as "Dancing-on-View (Preview/Hindsight)," which was performed in 2007 at the Baryshnikov Arts Center. The piece, which was created during Rudner's first sabbatical, featured many Sarah Lawrence collaborators, including some of Rudner's former students, Megan Boyd, Erin Crawley-Woods, Liz Filbrun, Anneke Hansen, Laurel Jenkins, Rachel Lehrer, and Lori Yulli, along with Maria Earle. Fellow faculty members Merceditas Manago-Alexander and Gould also performed, along with guest faculty member Vicky Shick. Composer William Catanzaro (dance) and Jerome Morris (dance) provided live music, while Aaron Copp (dance) designed the lighting. More recently, Rudner put together a mini-version of "Dancing-on-View" with 24 Sarah Lawrence students, which was performed last month on campus. Catanzaro, Morris, and Gould also collaborated on the Sarah Lawrence iteration. Beverly Emmons '65 (dance) was the lighting designer.
In retirement, she plans to spend some time with her son and daughter-in-law in Berkeley, California, where she will also reconnect with some old dance friends from the early 60s. She will also continue to show up in the studio and move.
Her time at Sarah Lawrence, she says, is one of the three outstanding parts of her life, in addition to working with Tharp and having her son: "I just cherish [Sarah Lawrence] so. It has been a real dream."
Written by Suzanne Guillette MFA '05
---