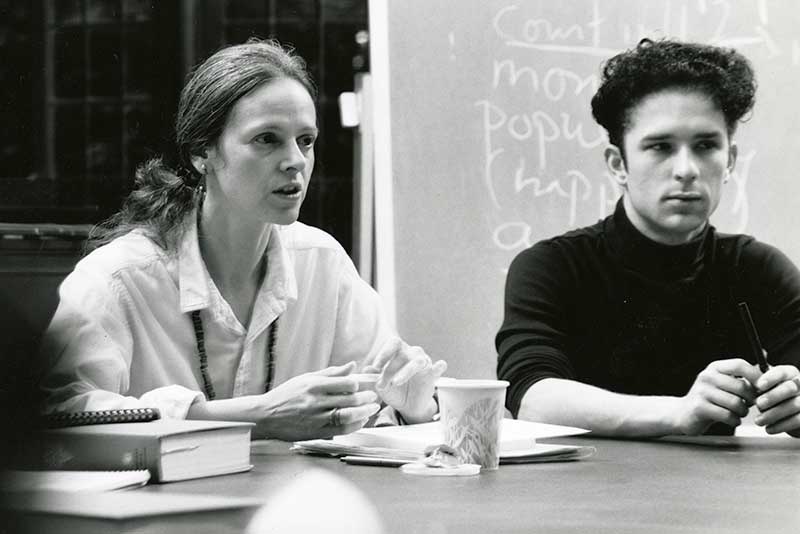 When Ann Lauinger (literature) was hired in 1973, she came to Sarah Lawrence fresh out of graduate school with a special interest in medieval and Renaissance literature. The College's first full-time female literature faculty member, Lauinger sought guidance from her colleagues, asking, "What should I teach?" The response that she received would turn out to be an incredible gift: "Whatever you want to teach."
Ultimately, Lauinger found the advice to be "an open door to do what I wanted to do."
During her rich tenure at Sarah Lawrence, her academic offerings have included a course on Shakespeare that became one of the keystones of the literature curriculum; a course on the literary imagining of love from antiquity through the Middle Ages to the Renaissance; and a course on Romantic poetry and its influence to the present day. Lauinger also created a course called "The History of a Language," which explores basic concepts of linguistics throughout history, as well as an introduction to socio-linguistics.
On "The History of a Language," which is one of Lauinger's most striking contributions to the literature curriculum, she says, "I developed the course because it's one I wanted to take."
In addition to teaching poetry, Lauinger began to write poetry and has published two poetry books, Persuasions of Fall (The University of Utah Press, 2004) and Against Butterflies (Little Red Tree Publishing, 2013). She also taught a graduate-level course on the craft of poetry.
Reflecting on her teaching career, Lauinger says, "To have all this autonomy is one of the glories of teaching at Sarah Lawrence—to develop teaching through an authentic self and to develop an authentic self through teaching."
As Lauinger found satisfaction in self-directed intellectual pursuits, she has always wished the same for her students. Sarah Lawrence affords faculty members unique engagement with students, which Lauinger found especially meaningful. "It's always wonderful to meet students who are engaged and excited and work closely with them," she says. "You can see a mind unfold—it's a privilege to be part of that process."
Outside the classroom, Lauinger is an invaluable member of the College community. In addition to her intellectual heft, she has a reputation for being caring, warm, and witty. More than one colleague cited her refreshing straightforwardness and lack of pretension. Nicolaus Mills (literature) says, "She possesses a Geiger counter for rooting out the phony, whether in literature or day-to-day life."
During a search for a medieval literature faculty member, Mills remembers being struck by how insightful—and accurate—Lauinger's instincts were. "Ann's observations showed how much she cared about the College and how deeply intuitive she is," he says.
Lauinger has served on various committees throughout the years. Charlotte Doyle (psychology), who served with Lauinger on the Curriculum Committee, says, "She is exceptionally thoughtful in dealing with issues and is able to express disagreement with grace, in a way that no one gets defensive. She is both a patient, sensitive listener and a strong voice for educational integrity."
Judith Serafini-Sauli, who retired last year, echoes her colleagues' sentiments. "She is so clear and so smart that it belies deep complex thought and sensitivity," says Serafini-Sauli. "She's a brilliant poet and a brilliant literary mind. She's really quite special."
In retirement, Lauinger plans on spending more time on her writing, including poetry, as well as gardening. Other possibilities include translation projects, learning German, and volunteering in her community.
When asked what she will miss about the College, she says, "Everything, really. It is a wonderful place, and it has made me feel at home."
Written by Suzanne Guillette MFA '05
---