March 29, 2018
On Sunday, March 25, Linda Brown, the central figure in Brown v. Board of Education, passed away at the age of 75. In the early fifties, Brown's father filed suit against the Topeka, Kansas School District after his daughter was barred from attending the all-white elementary school closest to their home. The case led to the US Supreme Court's landmark 1954 ruling to desegregate schools.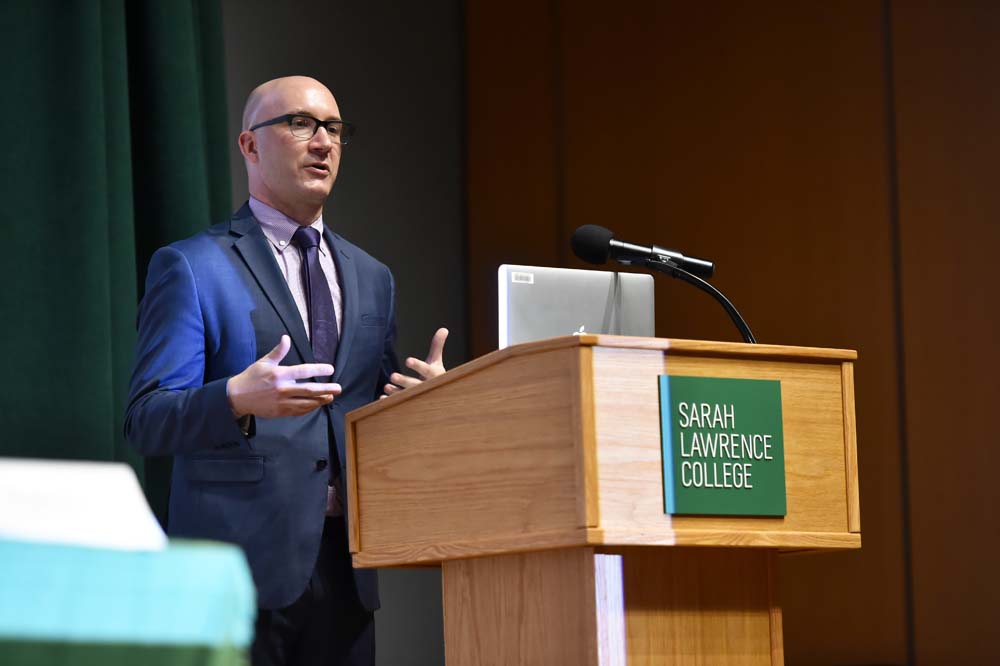 Speaking days after Brown's passing, civil rights lawyer Joseph Wardenski took the opportunity to reflect: "A lot of people think school segregation and Brown are artifacts of the past—things that were a moment in history. In my personal experience, these cases and issues are still very much alive."
Wardenski's comments set the tone for his talk at this panel discussion that also included Harry Brighouse, professor of philosophy and director of the Center for Ethics and Education at the University of Wisconsin-Madison; Sydney Chaffee '05, 2017 National Teacher of the Year; and Charles Dorn, professor of education and associate dean at Bowdoin College.
The esteemed panelists addressed issues of democracy, education, and access from different vantages. Brighouse explored how education can contribute to improving the current cultural toxicity and increasing intolerance of opposing viewpoints, particularly in the realm of politics. He underscored the role of educators in selective higher education institutions to "ensure that students can understand the ideas of other people, including people who profoundly disagree with them."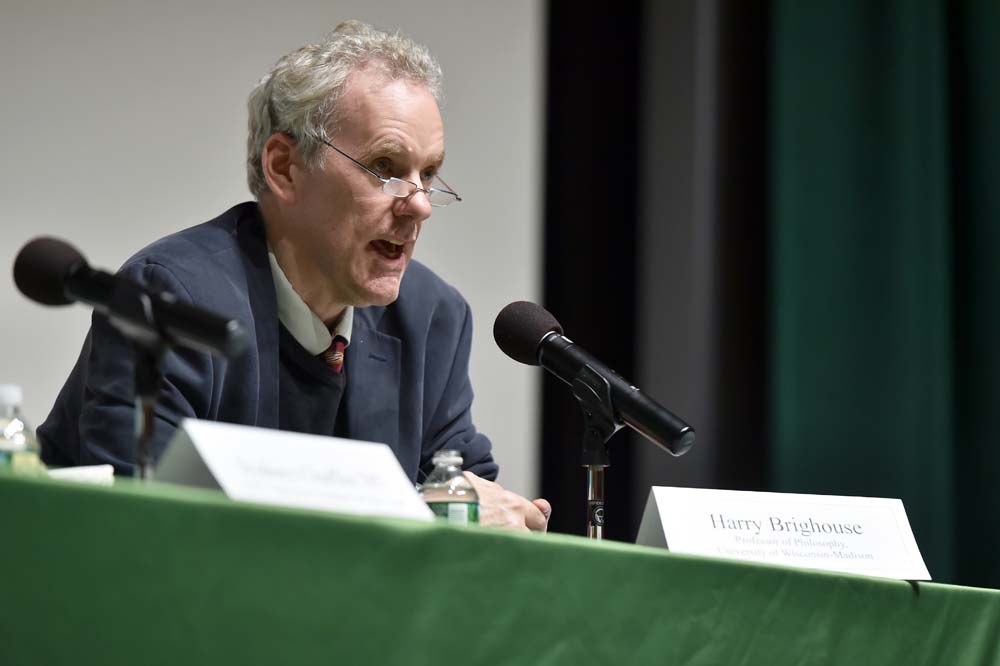 To Brighouse, an educational "safe space" is one where students can "raise and consider ideas without being personally attacked or disrespected"—a place where teachers instill in students the habits and skills necessary for "good truth-seeking."
Chaffee, who is currently on sabbatical from teaching ninth grade Humanities at Codman Academy in Dorchester, Massachusetts, talked about the importance of having hope at this challenging cultural moment, when real threats exist to some students' lives, including the lives of refugee students, transgender students, immigrant students, and black students.
In thinking about how to navigate this "nightmarish time" as a teacher, Chaffee reflected, "How do I exist in that place where I can recognize all of the ways in which things are not right, but also [recognize] all of the ways in which the work I get to do every day…will be the work that helps to correct this nightmare?" For Chafee, education is a fundamental transformative tool to do the work of social justice, empowering students to effect change in the world. She said, "We want kids to leave class feeling like their brains are on fire because I know how transformative that can be."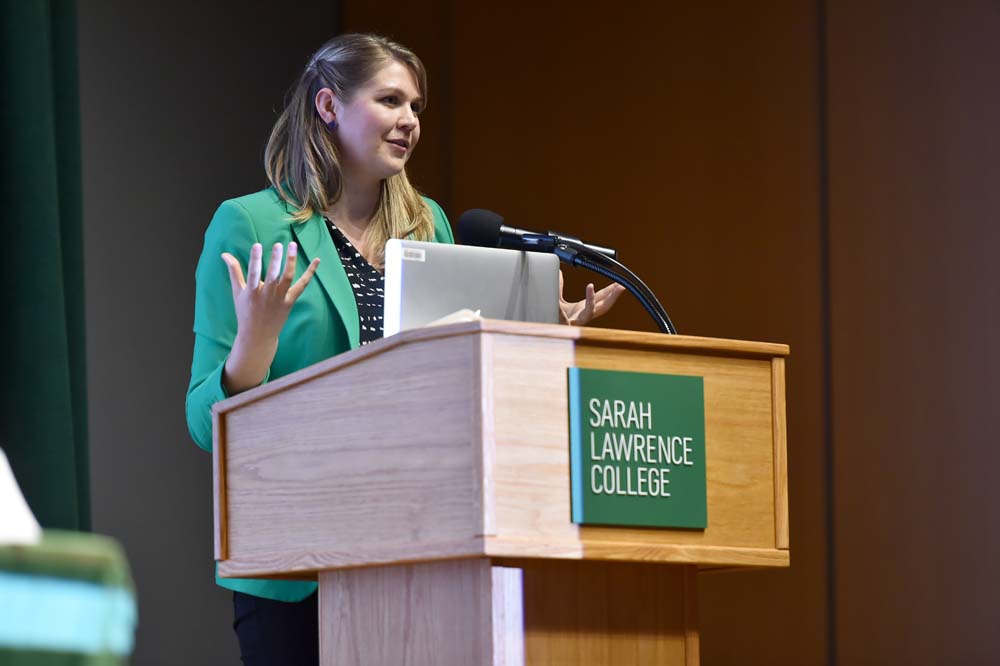 Responding to buzz about various current crises facing higher education, Dorn offered a historical perspective on how colleges and universities have evolved in response to various crises over time. In particular, Dorn highlighted how the issue of access has consistently been a central impetus for the development and transformation of higher education institutions.
In the past, change occurred, according to Dorn, "when Americans became disillusioned with colleges available to them or from which they were flagrantly excluded, due to race, gender, religion, and cost, among other factors; they established entirely new kinds of institutions," such as historically black colleges and universities (HBCUs), agricultural schools, and teacher education schools. Dorn pointed out that the transformative periods in higher education have always been characterized by conflict and experimentation, suggesting that current crises could result in vital growth, particularly in the area of equitable access.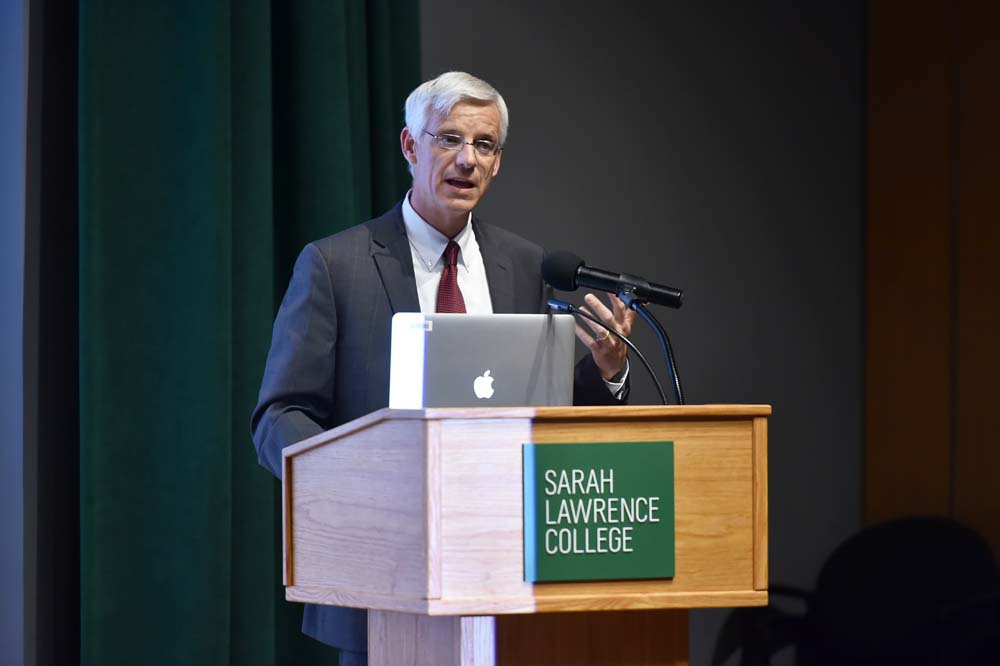 Wardenski, an attorney at civil rights law firm Relman, Dane & Colfax who worked as a Department of Justice lawyer during the Obama era, discussed the court system as a democratic institution to defend students and others whose civil rights are being violated. Wardenski spoke about representing Ash Whitaker, a transgender student, in a suit filed against the Kenosha Unified School District in Wisconsin for violating Title IX, which bans sex discrimination in schools, and Whitaker's 14th Amendment right to equal protection. Whitaker and his mother decided to sue after a string of troubling incidents, including Whitaker being banned from using the boys' restroom, teachers monitoring his bathroom use, and school administrators initially refusing to let him run for prom king. "His humanity was being undermined because the school couldn't respect that he was a boy," Wardenski explained. Last year, the Seventh Circuit Court of Appeals ruled in Whitaker's favor.
As a civil rights lawyer, Wardenski said he is motivated by "the idea that having equality in schools and protecting students' rights is a necessary and critical component of our democracy. Our public schools at their finest are an essential component of democracy in that they prepare students for civic participation, to live in civic society."
Sixty-four years after Brown v. Board of Education, he said, there is work that remains to be done.