Heimbold Visual Arts Center Barbara Walters Gallery
Open to the public
/ Tuesday
1:30pm-3:00pm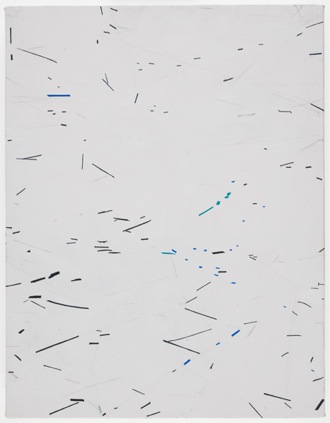 Eve Aschheim is an abstract painter and draftsperson who seeks to create dynamic structures that exist between categories of thought. Her interests include implied motion, states in the midst of change, and a fictive reality that exists between multiple visual constructions. Along with her resistance to making a nameable image, she also attempts to make a memorable visual experience that cannot be corralled by memory. Aschheim's recent work with photograms allow her to experiment with "drawing in the darkroom" using objects, elements drawn or painted on translucent mylar, and tools including prepared flashlights.
Recent solo exhibitions of her work include "T" Space, Rhinebeck, NY (2017), Lori Bookstein Fine Art, NYC (2016), and Galerie Inga Kondeyne, Berlin (2015). Museum exhibitions include the Weatherspoon Art Museum, Greensboro, NC, the Bannister Gallery, Rhode Island College, the New York Studio School, and Skidmore College, Saratoga Springs, NY. Aschheim has received grants from organizations including the John Simon Guggenheim Memorial Foundation, the Joan Mitchell Foundation, the National Endowment for the Arts, the New York Foundation for the Arts, the Pollock-Krasner Foundation, and the American Academy of Arts and Letters. Selected public collections include the Fogg Museum, Cambridge, MA; Hamburger Bahnhof, Berlin; Kunstmuseum Bonn, Germany; Kupferstichkabinet, Nationalgalerie, Berlin; Museum of Modern Art, New York; National Gallery of Art, Washington, DC; New-York Historical Society, New York; Morgan Library and Museum, New York; and Yale University Art Gallery, New Haven, CT.
Aschheim (b. 1958, New York, NY) received her BA from the University of California, Berkeley and her MFA from the University of California, Davis. She is currently Lecturer in the Visual Arts Program, Lewis Center for the Creative and Performing Arts, Princeton University. In 2015 she co-taught a class with Professor Susan Stewart, "Drawing and the Line in Literature and the Visual Arts", which gave rise to Aschheim's "Horizon line paintings", exhibited for the first time at "T" Space and Sarah Lawrence College. Aschheim made her first large mylar drawings for the "T" Space exhibition, also exhibited at Sarah Lawrence College. Aschheim lives and works in New York City, with her husband, the writer John Yau, and their daughter.
Born of mixed Asian and American parentage, Richard Whitten grew up in Manhattan, NY. Richard Whitten earned a B.A. in Economics from Yale University and an M.F.A. in Painting from the University of California at Davis where he studied with both Wayne Thiebaud and Robert Arneson. He has had numerous exhibitions on both coasts. Notable are major solo exhibitions at the Frye Art Museum in Seattle, Washington, the Newport Art Museum in Newport, Rhode Island, and the University of Maine Museum of Art. He is represented by ArtMora Gallery, NY and Seoul, Korea; Clark Gallery, Lincoln, MA; the William Scott Gallery, Provincetown, MA; and the Dedee Shattuck Gallery in Westport, MA. He is presently a Professor of Painting and Art Department Chairperson at Rhode Island College.