Heimbold Visual Arts Center Barbara Walters Gallery
Open to the public
/ Tuesday
1:00pm-2:30pm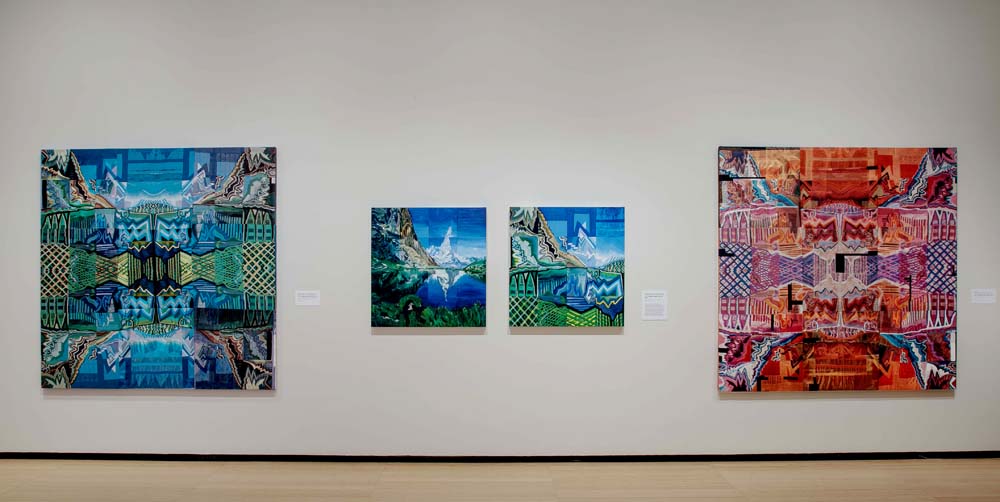 Kanishka Raja's practice explores the intersection of representation, craft, technology, and the gaps that occur in the transmission of information. In composite fields that tap into oppositions of the technological versus the handmade, original versus reproduction, and neutral versus contested, Raja's paintings and their woven, scanned, printed, embroidered, and reproduced counterparts interlock in complex visual fields that consider the translation and transposition of visual data and are charged with colliding realms of the foreign and the familiar.
Raja's work has been included in solo and group exhibitions at the Asia Society Museum, NY, the ICA Boston, Dorsky Museum of Art, SUNY New Paltz, ICA Philadelphia, and the Rose Art Museum, among others. Selected solo gallery exhibitions include Greenberg van Doren, Jack Tilton Gallery, and Envoy, in New York and Galerie Mirchandani + Steinrücke, Mumbai. In 2016, Raja completed work on a major Percent for Art commission from the Department of Cultural Affairs, New York City for a permanent public artwork.
He is the recipient of a 2011 Painters and Sculptors Grant from the Joan Mitchell Foundation and winner of the 2004 ICA Artists' Prize awarded by the Institute of Contemporary Art, Boston. He has been awarded a Lower Manhattan Cultural Council (LMCC) Workspace Residency, been a Fellow at the Civitella Ranieri Center in Umbertide, Italy, and a recipient of an NEA-funded residency at the International Studio & Curatorial Program (ISCP), New York.
His work was featured in the recent monograph, Passages: Indian Art Today (Gerard Goodrow & Julia Ritterskamp, daab Media, Cologne, 2014) and will be included in the upcoming volume, 20th Century Indian Art (Rakhee Balaram, Partha Mitter & Parul Mukherji, editors, Skira, Milan, 2016). He received his BA from Hampshire College, an MFA from the Meadows School of the Arts, Southern Methodist University, and attended the Skowhegan School of Painting and Sculpture. He was born in Calcutta and lives and works in New York and Kolkata.