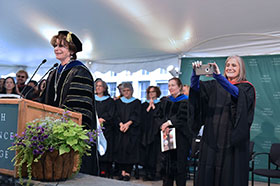 On behalf of the Trustees, faculty, and staff of Sarah Lawrence College, I am delighted to welcome you to the first Graduate Commencement Ceremony.
I am honored to be the first president of Sarah Lawrence College to preside over a commencement ceremony for our graduate students. This graduation acknowledges the important role our graduate programs play in continuing Sarah Lawrence's legacy of creating new fields of study that change the way the world views critical social issues. A common thread unites our seemingly disparate programs. We prepare graduates who integrate theory, advocacy, and creativity into the approaches they bring to their professional work. The unique pedagogy and learning that distinguishes Sarah Lawrence among liberal arts colleges nationally is transformed on the graduate level into the skills and knowledge that are immediately applicable to changing the lives of people around the world. Whether it's through dance, theater, health advocacy, women's history, child development, teaching, dance movement therapy, writing, or genetic counseling, Sarah Lawrence graduate students make the world a better place.
You, graduate students, made this commencement possible. You wanted to have your family and friends present when you received the most important symbol of your professional status and your achievement as completing the requirements of a master's degree in your field, the hooding ceremony. The hooding ceremony was removed from the commencement many years ago when it unduly lengthened graduation. You asked to have the hooding and awarding of diplomas brought back together again. You have accomplished this for yourselves, and for future graduating classes.
Today, together, we have begun a new tradition at Sarah Lawrence, one that I know will be cherished. I am excited to be part of that new tradition in 2015.