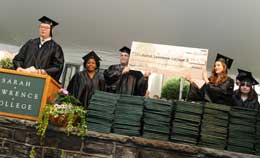 The 2011 Senior Gift Committee is: Anthony Assande, Althea Clemons, Lydia DeLauro, Katherine Graham, Brianna Leone, Michael Mietlicki, and Hayleigh Thompson
It's Commencement and I'm presenting a gift.
I'm not talking about the Senior Class Gift, I'm talking about the gift we all leave here with today.
When I handed in all my work, and was finished with classes, I knew the last thing I had to do was continue to collect contributions for our Senior Class gift and write these remarks and it was scary to feel like I was done here as a student. So I continued going out and talking to my classmates and I found out that our class has a shared understanding.
An understanding that we aren't just part of Sarah Lawrence when we're presenting our conference work or when we're leading a seminar. We understand that wherever we go in the world, we will bring the same support, excitement, and intellectual stimulation that we have found here in Bronxville, because we are now and always will be Sarah Lawrence students. That's our real gift.
It's because of this gift that we all share, that the Senior Gift Committee has had another wonderfully successful year. We've had great turn out at our events, such as milkshake night at the Black Squirrel, our class nights at local restaurants, and our annual tradition of a mimosa brunch at Bates. Today we present a monetary contribution from our class to our school, so that current and future members of the Sarah Lawrence community will have the same opportunities we have had. Contributions to this Senior Class Gift go to The Fund for Sarah Lawrence, which supports SLC's most immediate needs.
And we have stepped up to that need like never before. I am proud to report that this year; over 200 senior families have supported the work that goes on here. This is in addition to the (record-breaking) 45% percent of the senior class who have made contributions to our class gift. To all who have given; fellow students, parents and family, faculty, staff, and friends, on behalf of Sarah Lawrence, thank you.
And, President Lawrence, on behalf of the Senior Gift Committee and the class of twenty-eleven, we accept the gift that we leave with and bring to the world, and in return present this gift of $75,569.25. Let's continue to do our school proud. Thank you.