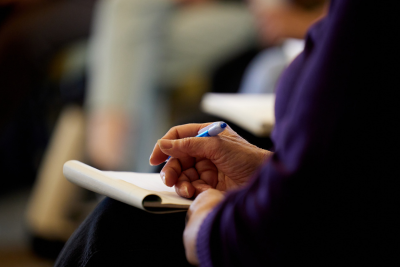 A series of public events sponsored by CDI each year brings the College community together with colleagues, experts, community partners, students at other institutions of higher education, and the public at large for lively presentations and discussions on a range of topics germane to children and childhood.
Lectures
Each year, CDI invites esteemed educators, pediatricians, social workers, psychologists, and other professionals to speak during its annual Thomas H. Wright and Cynthia Longfellow '73 lectures. 
Past speakers have included Benjamin Spock, author of Baby and Child Care, Barbara T. Bowman '50, founder of the Erikson Institute, and Sydney Chaffee '05, National Teacher of the Year award recipient. 
Panels & Symposiums
Through its panels & symposiums, CDI facilitates conversation between a diverse array of parents and professionals in the child development sphere.
The Nordic Symposium, a multi-year event offered in collaboration with the American-Scandinavian Foundation, created an international dialogue that has continued well beyond its last session. Previous panels have focused on a variety of topics and featured the voices of preschool directors, university professors, social workers, and therapists.