Sarah Lawrence College Center for the Urban River at Beczak (CURB)
35 Alexander Street
Yonkers, NY 10701
Join CURB's director of education Elisa Caref and Sarah Lawrence College staff for a one-day professional development workshop on sustainability. Learn about local pollution sources and cleanup efforts, get tips for classroom projects to teach your students about sustainable practices through science, and get first-hand experience in life cycle and compost activities. This workshop will be hands-on and partially outdoors, so be prepared to get a little dirty and dress for the weather. Open to teachers of all grades. Light breakfast and lunch will be provided.
Sarah Lawrence College is an Approved CTLE Sponsor and offers 5 CTLE hours for this program.
Scholarships are available for New York City Public School Teachers through a grant from the Seth Sprague Education and Charitable Foundation. For more information, call the Child Development Institute at 914.395.2630 or e-mail cdi@sarahlawrence.edu.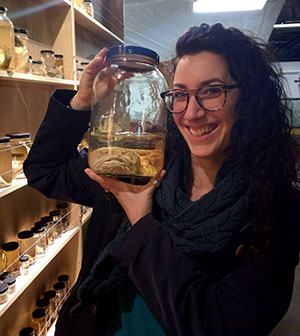 Elisa Caref earned a BA in History from DePaul University and an MA in Environmental Conservation Education from New York University. She is a Brooklyn native who joined CURB in September 2017 as director of education. An avid non-formal educator for over a decade, she was previously the educator and then director of education at The River Project, teaching New York City students and teachers about Hudson River ecology, biology, and chemistry. Additionally, she was an adjunct Ecology professor at Yeshiva University, as well as a gardening instructor at Brooklyn Botanic Gardens. She also really loves fish.​
Workshops:
Everyday sustainability
Open discussion with staff leaders and teachers to explore how to bring sustainable practices into your everyday life without driving yourself or your loved ones crazy or becoming filled with guilt.
Our Local Environment
Dive into our local environment using a state-of-the-art watershed model of the Hudson River Estuary and a floor map puzzle. Learn about the assets and resources of our backyard and some ways to study the local environment with your students.
Local Pollution Sources and Project-Based Learning in the Classroom
Staff will introduce local pollution issues and use water as a case study to investigate with your students. Learn techniques to take samples in your local waterways and use available data to track changes over time.
Introduction to Compost: Theory and Practice
Investigate different methods for composting with your students, whether in the classroom, schoolyard, or at your local farmers market.