Wednesday, August 12, 2020
4:00pm - 5:30pm EST, virtual event
Eli Caref will showcase some of her favorite Environmental Education resources that you and your students can use remotely, whether on the computer or as a phone/tablet app. Some are old favorites and some are new gems that have popped up in the wake of the pandemic. This will be a live session with screen sharing so she can take you through some of the technology, apps, websites, and videos. There will be time for you to explore some of these resources yourself and with other participants.
This session will be appropriate for teachers of all ages from anywhere in the US.
Sarah Lawrence College is an Approved CTLE Sponsor and offers 1.5 CTLE hours for this program.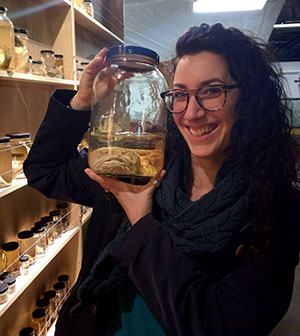 Elisa Caref, 
BA in History, DePaul University, MA in Environmental Conservation Education, New York University. Elisa is a Brooklyn native who joined CURB in September 2017 as Director of Education. An avid non-formal educator for over a decade, she was previously the educator and then Director of Education at The River Project, teaching New York City students and teachers about Hudson River ecology, biology, and chemistry. She has also been an adjunct Ecology professor at Yeshiva University, as well as a gardening instructor at Brooklyn Botanic Gardens. She is especially excited about building new lesson plans and continuing to change perceptions about how clean the river actually is. She also really loves fish.