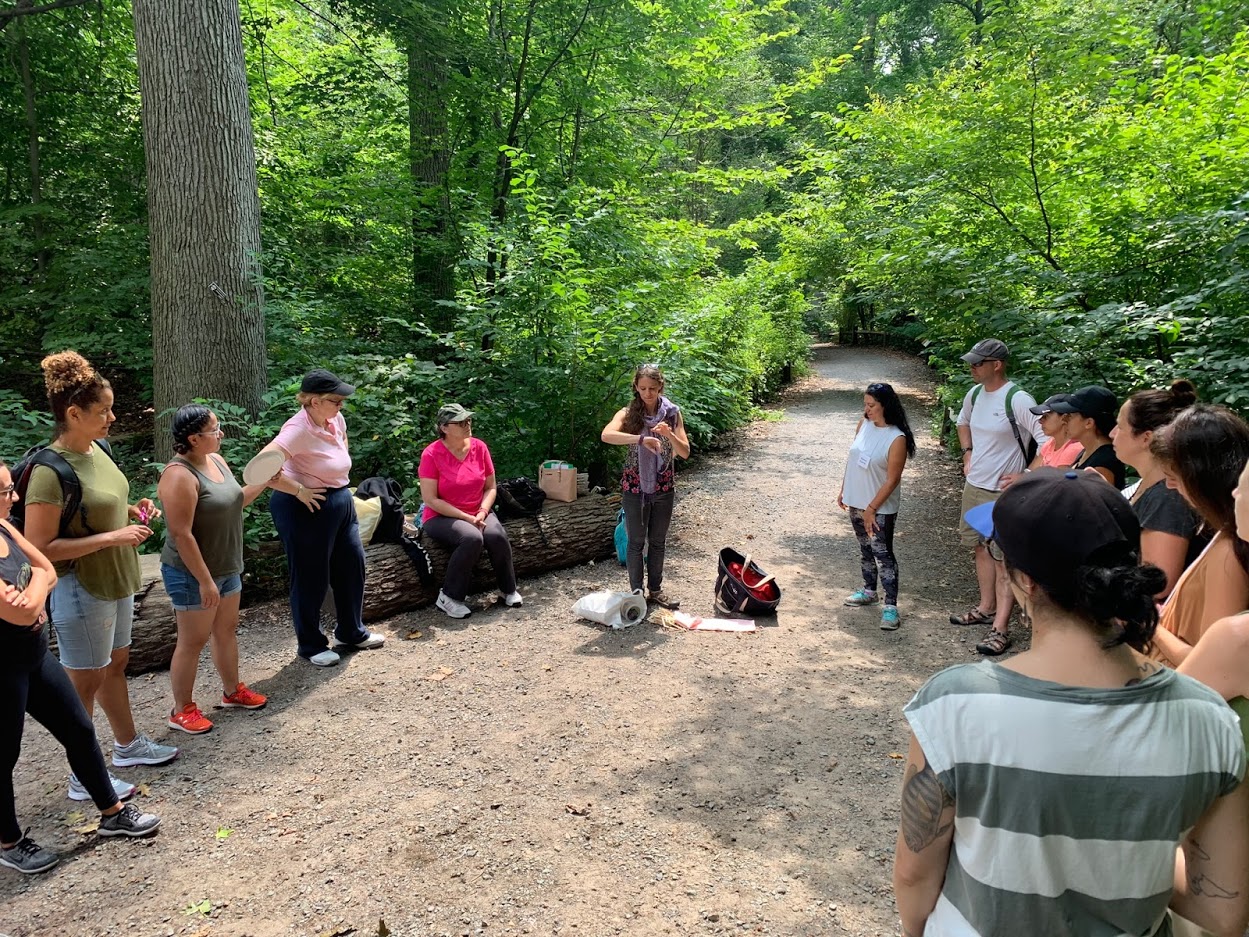 Center for the Urban River at Beczak (CURB)
35 Alexander St, Yonkers, NY 10701
August 1-5, 2022
8:30am – 4:00pm
Teaching the Environment is a 5-day intensive, small-group-based, experiential, place-based professional development program for teachers in early childhood through high school settings, both formal and informal, who are interested in further developing the environmental studies and environmental science components of their work with children and teens. Set on the banks of the Hudson River in downtown Yonkers at the Sarah Lawrence College Center for the Urban River at Beczak, this collaborative program has an interdisciplinary curriculum including hands-on workshops and field trips to Hudson River community-based organizations. Under the theme of Discovering Urban Landscapes and Watersheds, the program will feature experiential workshops ranging from the arts to physical and social sciences.
The program will include:
Small working groups meeting throughout the week to discuss readings and share their reflections and practices
Dialogue with experts in the field including Sarah Lawrence College faculty, Center for the Urban River at Beczak staff, NYS Department of Environmental Conservation staff, Yonkers Science Barge staff and guest presenters
A series of experiential workshops that are both stimulating and fun
Environmentally-focused field trips in the urban community surrounding CURB
Interdisciplinary curriculum centered around urban environments
A chance to reflect, experience, and collaborate in beautiful, relaxed environments
Compilation of environmental education teaching resources
An opportunity to become part of an informal network of fellow educators
Participants of this program will be required to follow Sarah Lawrence College Health and Wellness Policies and Procedures. All visitors to campus, including CURB, must be fully vaccinated (if eligible) OR provide proof of negative COVID test taken within 48 hours of arrival on campus. Both PCR and rapid tests, including home test kits, are acceptable. At present unvaccinated visitors are required to wear a mask; masking is optional for those fully vaccinated.
Sarah Lawrence College is an Approved CTLE Sponsor and offers 35 CTLE hours for this program.
Optional graduate credit is available, please e-mail cdi@sarahlawrence.edu for more information.
SLC graduate students and alumni receive a $50 discount for this program. Contact us at cdi@sarahlawrence.edu.
Thanks to generous support from M&T Bank and the Seth Sprague Education and Charitable Foundation, scholarships are available. Please contact us at cdi@sarahlawrence.edu for more information. Program support provided by the NYS DEC Hudson River Estuary Program.
Faculty
Additional faculty to be announced
Chris Bowser is the Science Education Specialist for the New York State Department of Environmental Conservation's (NYSDEC) Hudson River Estuary Program and National Estuarine Research Reserve, in partnership with the Water Resource Institute of Cornell University. Chris's current work with the NYSDEC focuses on environmental education and citizen science in the Hudson River Valley. He helps coordinate an annual estuary-wide monitoring day involving 2500 students at 60 shoreline sites, and leads teacher training workshops on incorporating Hudson River topics into existing curriculum. He also designs education programs for the Norrie Point Environmental Center, and implements a citizen-science project to monitor juvenile American eel migrations in several Hudson River tributaries. He earned a master's degree in environmental science and policy from Clark University, and a bachelor's degree in biology from Rutgers University.
Christina Edsall  BA in Environmental Science, University of California, Berkeley, MA in Environmental Conservation Education, New York University. Christina is the newest member of CURB, joining the team in April, 2022 as Director of Education. She has been working in environmental, E-STEM, and stewardship education for almost a decade. She began her career teaching with environmental organizations in the Pacific Northwest. After participating in 2 years of Peace Corps service in Panamá, she stayed in Latin America and collaborated with communities in areas of waste management, forestation, public health and eco-tourism. Before joining CURB, she previously worked in teacher professional development at the New York Botanical Garden. Since moving to New York in 2018, she has a newfound passion for youth connection to nature and environmental injustice issues. 
Kim Ferguson BA, Knox College. MA, PhD, Cornell University. Psychology (2007-present) & the Art of Teaching (2010-present) faculty is a developmental and cultural psychologist with special interests in sustainable, community based participatory action research, cultural-ecological approaches to infant and child development, children at risk (children in poverty, HIV/AIDS orphans, children in institutionalized care), health and cognitive development, development in African contexts, and the impact of the physical environment on child development. Author of articles and book chapters on African and American infants' language learning, categorization and face processing, the built environment and physical and mental health, and relationships between the quality of southern African orphan care contexts and child development and health.
Rebecca Houser: has been the Education and Outreach Specialist with the NYS Department Environmental Conservation's Hudson River Estuary Program since 2002, working with schools and communities to enhance understanding of the Hudson River. She holds a B.S. from SUNY Environmental Science and Forestry, a Master of Arts in Education from Adams State University and is STEM certified through Teachers College, Columbia University. She takes pride in her work to connect students to the Hudson through place-based learning.
Kathalene Lamboy: BS in Marine Environmental Science, SUNY Maritime College. Katie Lamboy is a Bronx native with a passion for her local environment and community. As a youth living within an incredibly urban neighborhood, it seemed impossible to be able to follow her dreams of becoming a scientist and conducting meaningful research. This long imagined dream became reality when she enrolled in the Marine Environmental Science degree program and graduated with high honors from a little college present within her home borough of the Bronx, SUNY Maritime. Obtaining a degree with a minor in Marine Biology, Katie sought out to learn and was accepted as Education Intern for the Bronx River Alliance in 2011. After a 3 year position as exhibit guide for the Bronx Children's Museum, Katie has returned to the Bronx River Alliance as head of the education and on-water recreation program from 2014-2019. Her efforts in making urban river learning fun and engaging have been recognized and she has been awarded as an Everyday Hero by Urban Health Plan in 2016 as well as the Keeping It "Reel" environmental education award by Bronx Council on Environmental Quality (BCEQ) in 2018.
Ryan Palmer, Director, Sarah Lawrence College Center for the Urban River at Beczak (CURB). Ryan joined the Yonkers community in August 2013 when he was appointed the first Director of CURB. A Hudson Valley native, Ryan previously was Director of Clearwater's Green Cities Initiative. His specialties include Hudson River and urban watershed issues, including green infrastructure, mitigation projects, and water quality monitoring, community organizing, and environmental justice issues. Ryan has training in land use law, stream monitoring, biodiversity assessment, watershed management, and planning, and over 10 years' experience in the environmental non-profit field. BS Environmental Science, University of Rhode Island, 2002.