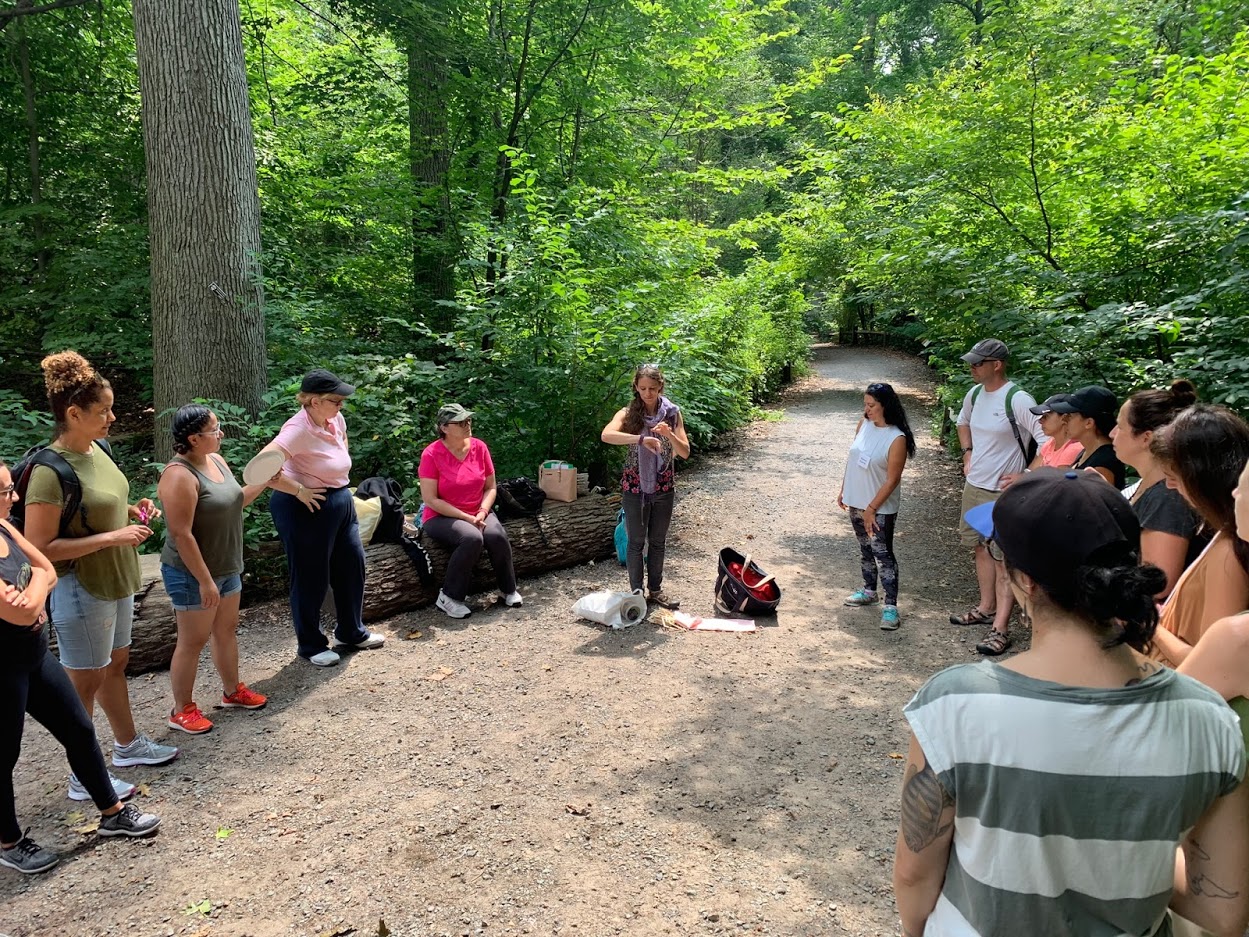 Teaching the Environment is a 5-day intensive, small-group-based, experiential, place-based professional development program for teachers in early childhood through high school settings, both formal and informal, who are interested in further developing the environmental studies and environmental science components of their work with children. Set on the banks of the Hudson River in downtown Yonkers at the Sarah Lawrence College Center for the Urban River at Beczak, this collaborative program has an interdisciplinary curriculum including hands-on workshops and field trips to Hudson River community-based organizations. Under the theme of Discovering Urban Landscapes, the program will feature experiential workshops ranging from the arts to physical and social sciences.
The program will include:
Small working groups meeting throughout the week to discuss readings and share their reflections and practices
Dialogue with experts in the field including Sarah Lawrence College faculty, Center for the Urban River at Beczak staff, and guest presenters
A series of experiential workshops that are both stimulating and fun
Field trips to environmental-focused and Hudson River organizations
Interdisciplinary curriculum centered around urban environments
A chance to reflect, experience, and collaborate in beautiful relaxed environments
Compilation of environmental education teaching resources
An opportunity to become part of an informal network of fellow educators
Sarah Lawrence College is an Approved CTLE Sponsor and offers 35 CTLE hours for this program.
Optional graduate credit is available, please e-mail cdi@sarahlawrence.edu for more information.
Thanks to generous support from M&T Bank and the Seth Sprague Education and Charitable Foundation, scholarships are available. Please contact us at cdi@sarahlawrence.edu for more information.
Examples of workshops from previous years include:
The Nature of Nurture: Teaching the Environment and Child Development & Learning—Kim Ferguson
Environmental educators naturally understand the value of environmental education for children and adolescents: they see the children that they work with playing in more complex ways outdoors than they do indoors, they listen to children as they learn more about their natural world, and begin to change the ways that they think about the environment and their place in it. But, with the growing focus on standards-based learning and assessment, environmental education is often cut from school programming, and children are given less and less time to play outside. How can we push back against this trend? In this workshop, we will discuss the mounting evidence supporting the positive impacts of engagement in the natural environment generally, and environmental education programming specifically, on children's development and well-being. We will also discuss the evidence for significant transformations in children's scientific knowledge, as well as changes in their environmental attitudes and behaviors when they engage in effective environmental education programs. Finally, we will discuss the evidence based on interviews with and observations of children themselves: when asked, children and adolescents across the globe prefer natural areas and engage in more complex levels of play in such settings.
Exploring the Biodiversity of the Hudson River—Elisa Caref
Teachers will discover the biodiversity of life lurking along the shorelines of Yonkers by participating in the "Catch of the Day" seining program at CURB. This program involves dragging a seine net through the water to collect and categorize organisms while wearing chest waders to keep dry. Teachers will experience the most popular hands-on field trip at CURB, while also obtaining resources for connecting the biodiversity of the Hudson to their classrooms.
Hudson River Watershed and Water Quality—Elisa Caref, Ryan Palmer & Chris Bowser
Teachers will participate in hands-on demonstrations to understand the dynamics and functions of the Hudson River watershed. Teachers will analyze the water quality of the Hudson and Saw Mill Rivers to compare physical and chemical parameters of each. The data will then be compared to real-time data from other Hudson River water monitoring locations.
The Nature of Nurture: Effective Field Trips—Kim Ferguson
Environmental educators naturally understand the value of environmental field trips for children and adolescents: they know that children learn best through active engagement in the world around them, and particularly the natural world. However, in recent years, time and funding for such pursuits have been greatly reduced. Many educators find that they want to get the most out of any field trip, packing in as much as possible. In this workshop, we will discuss how to make the most out of an environmental field trip for children of any age, drawing on valuable resources just a short train journey from Yonkers—the New York Botanical Garden in the Bronx. Please bring a sketchbook, pencil, pencil colors and/or watercolors paints, and a digital device (a phone camera is just fine) with which to record your observations and reflections.
Bird Walking With Children and Adults—Fred Baumgarten
Description to be announced
When Learning Comes Naturally—Child Development Institute
When Learning Comes Naturally showcases the efforts of four schools and a community institution as they introduce children to the natural world and encourage them—through play, classroom activities, exploration, and their own creative work—to make a lasting connection to the environment. When Learning Comes Naturally offers content and images that open the door to rich explorations and discussions of children and nature.
Visit to Buena Vista Community Gardens—Lucy Moreno-Casanova
In this session, participants will visit one of Greyston's community gardens and learn about its history, programs, and ways in which Greyston Community Garden Project engages students and the community. Similar to activities children and residents experience at the gardens, participants will also have an opportunity to engage in a hands-on activity
The Yonkers Science Barge
Participants will venture by foot to the Science Barge, a floating prototype sustainable urban farm. The Science Barge is an educational site that hosts nearly 5,000 student visitors annually, giving them an opportunity to see urban agriculture, composting techniques, solar and wind power, and rainwater catchment in action. Having tangible examples of these "off the grid," sustainable living techniques is invaluable for students, and the Science Barge "on-board activities" emphasize the learning experiences in subjects such as Botany, Alternative Energy, Carbon Footprints, The Nitrogen Cycle, and the Tragedy of the Commons. In addition to touring the facility, educators will be able to view some of the Science Barge activity materials and curriculum.
Teaching the Environment Alumnae Panel—Alejandro Marx, Haviland Miller & Tasnim Azad
Description to be announced
Additional faculty to be announced
Tasnim Azad is a kindergarten teacher at the Ella Baker School, a public pre-K to 8th grade school in Manhattan. Previously, she has taught preschool in a number of private schools in the New York area. In and out of the classroom, she is passionate about social justice issues, writing, reading, and photography. She is an alumna of Sarah Lawrence College's undergraduate and Art of Teaching graduate programs.
Fred Baumgarten is the Director of Foundation Relations and Sponsored Research at Mount Holyoke College. A lifelong birder, he spent 20 years on the staff of the National Audubon Society, where he organized the Important Bird Areas (IBA) conservation project and wrote and edited for several publications.
Chris Bowser is the Science Education Specialist for the New York State Department of Environmental Conservation's (NYSDEC) Hudson River Estuary Program and National Estuarine Research Reserve, in partnership with the Water Resource Institute of Cornell University. Chris's current work with the NYSDEC focuses on environmental education and citizen science in the Hudson River Valley. He helps coordinate an annual estuary-wide monitoring day involving 2500 students at 60 shoreline sites, and leads teacher training workshops on incorporating Hudson River topics into existing curriculum. He also designs education programs for the Norrie Point Environmental Center, and implements a citizen-science project to monitor juvenile American eel migrations in several Hudson River tributaries. He earned a master's degree in environmental science and policy from Clark University, and a bachelor's degree in biology from Rutgers University.
Elisa Caref BA in History, DePaul University, MA in Environmental Conservation Education, New York University. Elisa is a Brooklyn native who joined CURB in September 2017 as Director of Education. An avid non-formal educator for over a decade, she was previously the educator and then Director of Education at The River Project, teaching New York City students and teachers about Hudson River ecology, biology, and chemistry. She has also been an adjunct Ecology professor at Yeshiva University, as well as a gardening instructor at Brooklyn Botanic Gardens. She is especially excited about building new lesson plans and continuing to change perceptions about how clean the river actually is. She also really loves fish.
Kim Ferguson BA, Knox College. MA, PhD, Cornell University. Psychology (2007-present) & the Art of Teaching (2010-present) faculty is a developmental and cultural psychologist with special interests in sustainable, community based participatory action research, cultural-ecological approaches to infant and child development, children at risk (children in poverty, HIV/AIDS orphans, children in institutionalized care), health and cognitive development, development in African contexts, and the impact of the physical environment on child development. Author of articles and book chapters on African and American infants' language learning, categorization and face processing, the built environment and physical and mental health, and relationships between the quality of southern African orphan care contexts and child development and health.
Lucy Moreno-Casanova, a recipient of the Bernie Glassman PathMaking Award, is the Coordinator of the Greyston Community Garden Project. For many years, Moreno-Casanova has expanded the Community Gardens Program to include seven growing sites, a robust educational enrichment offering at the Yonkers Public Schools, an environmental club for local youth, and numerous events and activities which have reached over 2,000 people.
Ryan Palmer, Director, Sarah Lawrence College Center for the Urban River at Beczak (CURB). Ryan joined the Yonkers community in August 2013 when he was appointed the first Director of CURB. A Hudson Valley native, Ryan previously was Director of Clearwater's Green Cities Initiative. His specialties include Hudson River and urban watershed issues, including green infrastructure, mitigation projects, and water quality monitoring, community organizing, and environmental justice issues. Ryan has training in land use law, stream monitoring, biodiversity assessment, watershed management, and planning, and over 10 years' experience the environmental non-profit field. BS Environmental Science, University of Rhode Island, 2002.