Introduction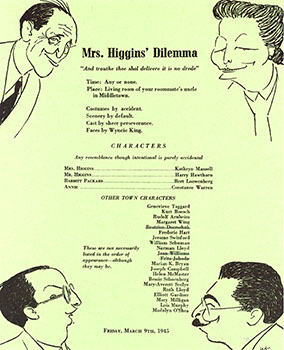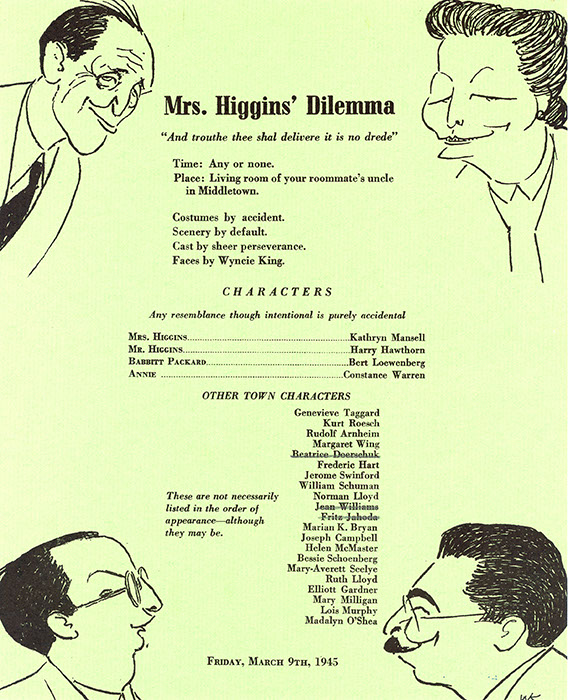 Announcement for the 1945 Faculty Show, "Mrs. Higgins' Dilemma" with caricatures of faculty by Wyncie King. Clockwise from top left: Maxwell Geismar, Genevieve Taggard, Bert James Loewenberg, and Norman Lloyd.
Hortense Flexner King (1885-1973), playwright, poet, and author, taught literature and writing at Sarah Lawrence College from 1942 to 1950. After leaving Bryn Mawr College to live in Scarsdale, New York, King contacted President Constance Warren regarding a possible appointment at Sarah Lawrence College. "Miss Hortie," as President Harold Taylor referred to her, shared her husband's talents with the College to everyone's delight. In April 1943, Wyncie King (1884-1961), an illustrator and cartoonist for the The Saturday Evening Post and other publications, offered the College his talent in support of student scholarships, just as he had done years before at Bryn Mawr College.
His first caricatures were used for publicity for the April 1943 Faculty Show and were later sold at the student auction to raise money for the scholarship fund. His caricatures of Constance Warren, Joseph Campbell, Leo Gershoy, Harry Hawthorn, Kurt Roesch, William Schuman, Jerome Swinford, Frederic Hart, and Marian Knighton Bryan raised $415 for scholarships. The caricatures were purchased at the auction by various students who later donated them to be hung in different buildings on campus. Constance Warren, in a letter to Wyncie King wrote, "You have not only contributed financially to our scholarship fund, but you have also contributed enormously to our enjoyment." Students, faculty and staff alike were delighted by the caricatures of notable members of the community.
After the success of the first caricatures, Wyncie King offered his talents again in March 1945 for the Faculty Show and student auction. For this Faculty Show, King drew Norman Lloyd, Genevieve Taggard, Bert James Loewenberg, Maxwell Geismar and Rudolf Arnheim.
Despite his declining health, Wyncie King again donated his fantastic caricatures for the 1948 Scholarship Fair. This time he drew Leo Smit, Horace Gregory, Stephen Spender, and Norman Dello Joio. Noting the success of the caricatures, President Harold Taylor wrote to Mr. King: "Your caricatures were better than ever and we all owe you a great debt of gratitude for giving us your art so generously, especially this time when your health has been preventing you from doing all the things you want to do. I want to thank you on behalf of the whole College for your kind and unselfish devotion to our common cause."
Wyncie King (1884-1961)
Wyncie King was one of the foremost illustrators and cartoonists from the "Golden Age" of caricature artists throughout the 1910s and 1920s. In his multiple decade career, King's works appeared in some of America's premier newspapers and magazines, such as the Saturday Evening Post, Life, and The New York Times. In addition, his art was exhibited at the Art Institute of Chicago, the Pennsylvania Academy of Fine Arts, the Louisville Art Association, and the Archives of American Art in Detroit.
King, born in 1884 in Covington, Georgia, spent his childhood days in Paris, Tennessee. At age 19, King worked as a weighmaster for the Louisville and Nashville Railroad. In 1905, King brought his sketches of co-workers to The Nashville Banner and Nashville Daily News and was hired as a cartoonist. King left Nashville in 1910 to take a job as an editorial cartoonist and caricaturist for The Louisville Courier-Journal. In 1911, he became the featured cartoonist for The Louisville Herald, where he would work for the next ten years. While at the Herald, he met his future wife, Hortense Flexner, a fellow reporter, author, and poet. She earned degrees from Bryn Mawr College, where she later taught, and the University of Michigan.
During King's time in Louisville, Kentucky, he completed sketches for the Filson Historical Society, garnering national attention for his work, which led to a job at the Philadelphia Public Ledger in 1921. His caricatures of popular local citizens would appear on the editorial pages for the next year. While in Philadelphia, King became immersed in the local art community. A series of his works reviewed by critics was hailed in the Saturday Evening Post as "The finest work in caricature ever done in this country."
In 1925, King became a regular contributor to the Post, joining another famed illustrator, Norman Rockwell. The Post printed in 1935 that readers enjoyed King's "curious eyes, which are like a camera endowed with imagination and an irrepressible sense of humor." By the 1940's, King's eyesight started to fail, but he still managed to illustrate a few of his wife's children's books, including Chipper (1941), Wishing Window (1942), and Puzzle Pond (1948).
King was also known to keep in contact with distant friends by sending sketches of cartoons and caricatures on the envelopes instead of writing letters. Over the years many of his friends had collected the envelopes, which would later appear in Wyncie King: A Collection of Drawings, Sketches, and Caricatures (1967).
In later years, when his health was failing, he and Hortense Flexner King retired to Chapel Hill, North Carolina and maintained a summer house on Sutton Island in Maine. King later succumbed to a heart attack in 1961, while traveling in Athens, Greece.
Gallery of Wyncie King Caricatures