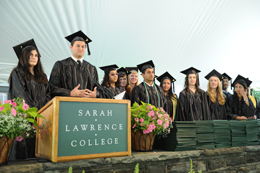 John: Hello my name is John Webley and this is my co-chair Tamarah Balazs. Joining us on stage will be the rest of our fabulous committee, although they may be obscured by the giant check.
Throughout the year the Senior Gift Committee asks seniors to make donations to the Fund for Sarah Lawrence. The question we were asked most often is why should I give? The reasons are simple, without your support Sarah Lawrence cannot sustain its high quality education, keep its lights on, or pay professors' salaries.
Ultimately everyone has their own reason for giving. As a student who is neither on scholarship nor financial aid it would be easy to believe that my tuition money is enough, that I don't need to give back. But without all of the students here, both those with or without scholarships or financial aid, SLC would not be the same place. I chose to give so that students from every background could have the opportunity to study at Sarah Lawrence. Tamarah why did you give?
Tamarah: John, I gave because of the amazing faculty here. Sarah Lawrence is a one of a kind place because of our student faculty ratio and conference system. It was my professors here that made me who I am today. Sadly I cannot take another class with my Don, but thanks to the FSL future students can continue to study with her.
But faculty is only half of our 1:1 ratio! The other half is the students. That is why the committee planned fundraising events throughout the year to celebrate our time together at SLC. To our fellow classmates, we hope you enjoyed our events such as A Very Fancy Party, our end of the year picnic, and our Mimosa Brunch.
I want to take a moment to thank all the students who donated and helped us reach our record-breaking participation of 58%. And thank you to all the students and families who helped raise the amount on that giant check: $103,719.44.
Please understand that our gift represents our immeasurable appreciation to and for Sarah Lawrence College.