Introduction from President Karen R. Lawrence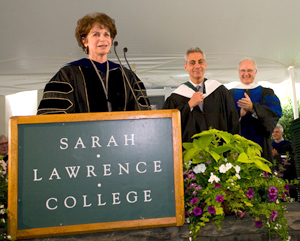 Our keynote speaker today is someone whom The New York Times calls "arguably the second most powerful man in the country and already one of the highest-profile chiefs of staff in recent memory." This is the Rahm Emanuel known to the American public: political activist, adviser to President Bill Clinton, investment banker, Illinois congressman, and a Congressional leader, before President Obama made him his first major appointment as White House Chief of Staff. But I'd also like to share with you a biography of him, à la Sarah Lawrence College.
Rahm chose to come for a liberal arts and sciences education at Sarah Lawrence over an offer to attend a prestigious performing arts academy. You have probably heard much about his interest in dance, but while he did perform at SLC in at least one show, most of his courses were in the social sciences, philosophy, and literature. In retrospect, these courses probably prepared him well for a career in politics, among them "Civil Liberties, Speech, and the Press," "Economic Concepts and Ideas," "Dewey, Heidegger & Wittgenstein," and, last but not least, courses in "Animal Behavior" and "Early Childhood."
Rahm made an impression on the faculty who taught him—some of whom continue to inspire Sarah Lawrence students today, like Jeff Adams and Charlotte Doyle. Jeff Adams, a History faculty member and one of Rahm's dons, recalled getting into philosophical discussions with his advisee and trying to explain the appeal of Ronald Reagan. Adams told The New Yorker, "I can remember his voice: 'Mr. Adams, you can't possibly believe that!'"
Rahm's college friend at Sarah Lawrence and best man at his wedding described Rahm's commitment to the public in the following way: The wedding facility on South Lake Shore in Chicago, he recalled, "was charmingly rundown in the way of heavily used public facilities—and that's what mattered to Rahm very, very deeply, i.e., that it was a public facility. While part of the facility was being used to celebrate the most joyous event of his private life, the rest of it was being used for the normal weekend life of Chicago's South Side. This has stuck with me ever since as emblematic of Rahm: however far he's gone in his own life, he's never left behind his commitment to the most basic, essential, and widely shared institutions of public life. He learned a lot of that from his mother, but a big hunk of it, too, from his alma mater."
Rahm Emanuel has been an exemplar of what Sarah Lawrence graduates can accomplish. He is clearly an inspiration for students aspiring to leadership, including Neil Makhija, our senior class co-president. Showing admirable Sarah Lawrence moxie, Neil talked his way into the Democratic National Convention, based on his election work in Ohio. While at the DNC, he then talked his way into a special event with Rahm, stressing his Sarah Lawrence connection. Apparently, Neil broke into a conversation Rahm was having with Al Franken and told him he was graduating this year and asked if Rahm would consider speaking at commencement. Rahm thought about it for a few minutes and said "If they invite me, I'll do it." We were delighted to invite him and are fortunate that despite the great changes in his life between then and now, he has kept his commitment to his alma mater.
Before he speaks, however, I am delighted to invite Rahm Emanuel to the podium to receive an honorary degree from Sarah Lawrence College, which, as many of you know, we only rarely confer. I'd like to ask Board Chair John Hill to assist me.
On behalf of the Trustees and the entire Sarah Lawrence community, I am pleased to confer on Rahm Emanuel the degree of Doctor of Humane Letters, honoris causa. With this degree, your alma mater proudly recognizes your distinguished public service and exceptional leadership and we consider your body of work to be more than significant enough for the awarding of this degree.
---
Rahm Emanuel '81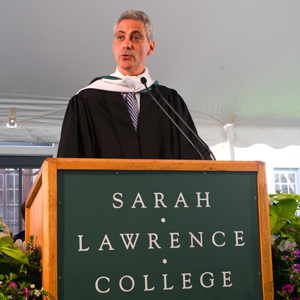 Thank you very much. You've made one Jewish mother very happy in Chicago. She spent many a sleepless night wondering what would happen to her middle son—before, during, and after my time here. If my parents could have been here to listen to that introduction, my mother would be proud—and my father would be amazed.
President Lawrence, Chairman Hill and the Board of Trustees, members of the faculty, proud parents, family, friends, and, above all, the graduating class of 2009:
Congratulations!
I want to thank Sarah Lawrence, my alma mater, for bestowing this honorary degree. This is actually the second such degree I've received this year. Just last week, I was awarded an honorary degree for my contribution to the field of linguistics, particularly my work in four letter words.
It fills me with so many memories to be back here on this campus.
I remember the walks down the hill to Bates…and how the hill always seemed steeper on the walk back up.
I remember how small the campus seemed…until it came time to make that late-night walk from the Pub to the New Dorms. It's amazing how difficult and long a journey that could become.
I remember a lot I cannot share…in the company of your parents.
But most of all I remember the sense of anticipation—maybe with just a hint of nervousness—that I felt when I was in your position.
You've all come so far. You've taken on difficult assignments and passed tough exams. You've poured over course packets late into the night—and into the early morning. You worked hard—and you've also played hard. You've stumbled and gotten back up—occasionally as a consequence of the playing hard. And you also did your fair share of growing up.
As for your families, this is their day too. Because they've been on this journey with you: they've listened to you, placed their hopes in you—and wished you'd call more. And on behalf of all the parents here, allow me to say to these fine graduates:
Text messages do not suffice.
Just because you are holding a phone in your hand does not make it a replacement for a phone call home.
In all seriousness, having been in your shoes, I am excited for you.
This is an incredibly challenging moment for our country. As Chief of Staff, I am humbled—a quality that does not come naturally—by the incredible array of problems that President Obama confronts on a daily basis. Hard choices about our policies for automakers and financial markets, health care and energy, dangerous regions in the world and lost jobs here at home.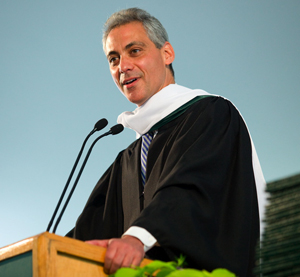 Our President has a pretty tough job. And the reality is—and this is the truth—he needs your help. I can think of no other time in our history in which an educated and engaged citizenry was needed more than it is right now.
Yes, it's true that you are leaving this campus at a time when our nation is facing tough problems and jobs are harder to come by than perhaps many of you had hoped.
But I am also excited for you. Because it is at moments like these when we need a new generation to offer new ideas and new energy to meet the challenges we face as a country. Because it is at moments like these when we prove what we are really worth. And I am excited for you because I know that you are ready.
Well, you look like you'll be ready after a good night's sleep.
And part of why you are ready is because you came here, to Sarah Lawrence, to earn a liberal arts education. And that is going to serve you so well. There are plenty of people out there who spent four years learning one subject or one trade. And there is a lot of merit to that.
But you spent four years learning how to approach any subject. You spent your time exploring a breadth of ideas and topics that will prepare you in ways you cannot even begin to appreciate yet.
For instance, I spent some time studying child psychology when I was at Sarah Lawrence. I had no idea how useful that would be—until I came to Washington and started working with members of Congress.
And so, on this beautiful day, before these eager, wide-eyed graduates, I wanted to share a few stories—and the lessons they've taught me when I've faced tough times, when I've stumbled, and when there has been the extremely rare occasion that I have made a mistake.
I want to start with a lesson that I learned the hard way.
When I was in high school, I was a pretty reckless guy. Let's just say I wasn't the staid and somber figure that stands before you.
I was working as a meat cutter, and I sliced my finger deeply. And being seventeen years old, despite what was a pretty bad cut, I decided to go swimming in Lake Michigan.
This turned out to be a mistake.
But in my defense, it was prom night.
I ended up in the hospital with five blood infections, two bone infections, gangrene and a 105-degree fever. For the first 96 hours, I battled between life and death. I was in the hospital for two months. Five of my roommates in intensive care died while I was there.
It was a terrible time for me, and worse for my parents, but to be honest, I'm glad I went through it. Because a funny thing happened: nearly losing my life made me want to live my life.
And so the first lesson I'd impart is this: don't be reckless with what you've been given. Take what you do, and how you live your life, seriously. It is that seriousness of purpose that I learned in that hospital bed—and I'm grateful for that lesson every day of my life. I knew from that day on that I wanted to make something of myself and make a difference in this world.
The second lesson I want to share with you is about learning from your failures.
I've been fortunate to have found success in my life. And I know most of you will be successful as well. But that success will depend upon what you do when you fail. Because you'll fail along the way, too.
1992 was a good year for me. I joined Bill Clinton's long-shot presidential race as his finance director.
He was talking about hope, he wasn't from Washington, and no one thought he could win.
Sound familiar?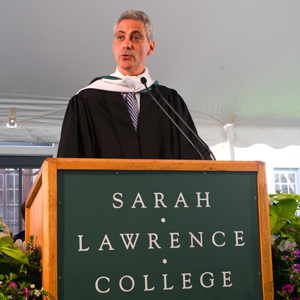 I was named Assistant to the President for Political Affairs in the new administration. I was on top of the world—and in a pretty good job for someone just several years out of college.
But the truth, it may have—and I am not saying it did, but it may have—gone to my head just a little bit. I probably shot my mouth off a few too many times, and I probably picked a few too many fights. And before I knew it, my dream job was hanging by a thread.
I was demoted. And it felt terrible. Here I was, thinking that I had screwed up the biggest opportunity of my life. But I didn't give up. I didn't quit. I dug in and I dug deep.
Literally, I refused to leave. I just kept showing up for work.
But I did try to act with a little less bravado—and a lot more humility. I did my best to prove that I could work well with others.
And by the way, that's a work in progress. That's the second lesson: learn humility and wisdom when you stumble—because it will help you when you succeed. Being forced to come back from that failure is why I'm standing here today. You will have failures in your life. But it is what you do during those valleys that will determine the height of your peaks.
The final lesson I want to leave you with today is the importance of serving a cause bigger than yourself. Anyone would acknowledge that America has had a tough couple of years. But, in the long run, America will be known, not for what we've done over these last years, but for what we're about to do to come back.
But that will only be true if all of us do our part. I myself know that all too well. Just a few months ago, I was a Member of Congress—and I loved it. I was working on behalf of people I grew up with, fighting for causes I believed in, and I had big plans for myself in the House of Representatives. My family, meanwhile, was happy we were living in Chicago.
And then the President-elect called, with what he felt was a pretty bright idea.
My kids are too young to understand why I am uprooting their lives to answer that call. But I try to explain to them: sometimes you have to give up something you cherish, to be a part of achieving something even bigger. There is a greater good beyond the walls of your own ambition.
And I think your generation understands this better than mine did, and better than most have. In spite of what you've seen—or perhaps because of it—you know that apathy is simply not an option for you, and you're choosing citizenship over cynicism:
Last year, 35,000 young people applied for only 4,000 slots in Teach for America.
The Peace Corps had three applications for every one position.
And AmeriCorps has had a 400 percent increase in applications in just the past four months.
A few weeks ago, President Obama signed into law a historic, bipartisan national service bill that will make it possible for young people to serve across America. It will create opportunities for hundreds of thousands of committed citizens to give back and make a difference by helpingveterans, working in schools and hospitals, cleaning up the environment—and do their part to build a clean energy economy.
Whatever you do in life, I hope you will also serve however you can. You will be a better citizen for it. You will be a happier person for it. And this country will be stronger because of it.
Class of 2009—I know those lessons may sound pretty straightforward. But, trust me, they were gained through a lot of pain, and anguish, and soul-searching. And I hope you can learn from my mistakes, as you start this new chapter in your life.
Because if you have that seriousness of purpose, if you find wisdom in your failures, if you give yourself to a cause greater than yourself- then I know you will do great things.
I know from personal experience: the opportunities you've had on this campus are rare and extraordinary. Yes, that means it's hard to leave—but also that you're perfectly prepared to do so—to go out into this world and make a tremendous impact.
I remember when I graduated. I drove home, did two loads of laundry, and then I went out and got a job for a non-profit political organization in the heart of Chicago. It wasn't glamorous work. I had no idea where it would lead. But I left this place eager and excited to make my mark.
But my generation had nowhere near the same kind of chance that you all have. Because for all of the challenges of the moment we're in, there is a silver lining to graduating at a time like this. You not only have a great responsibility to serve your country, you have an extraordinary opportunity to change it.
And so I thank you. I congratulate you.
And I wish you good luck and Godspeed.