Introduction by President Karen R. Lawrence
Our keynote speaker today is a notable artist and activist, who also has been a member of the Sarah Lawrence parent community for the past four years: Jessica Lange. So her first "credit" I want to list today is her role as Hannah Shepard's mother.
One of the great actresses of her generation, the two-time Academy Award winner has more than 30 stage and screen credits to her name. She received Academy Award and Golden Globe nominations for performances in Frances and Tootsie, the latter earning her an Oscar for Best Supporting Actress. In 1994, she won the Oscar for Best Actress in Blue Sky. Ms. Lange's current projects include Christopher Rowley's Bonneville, in theaters earlier this year, and Grey Gardens, which is scheduled for release this fall. She also has appeared on Broadway in two Tennessee Williams plays, "A Streetcar Named Desire" and "The Glass Menagerie," and on the London stage in Eugene O'Neill's "Long Day's Journey Into Night."
In addition to her film and theatrical work, Jessica Lange is an activist. Her film Country, which she also produced, dealt with American farm families facing foreclosure, an issue on which she later testified before Congress. In the early years of this decade, she became a goodwill ambassador for UNICEF, accompanying relief missions to African countries. Just recently, she was named a Save the Children ambassador and spokesperson for the humanitarian organization's annual State of the World's Mothers report.
---
Jessica Lange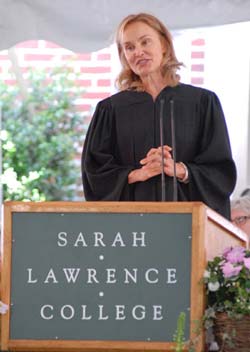 Madame President, Board of Trustees, members of the faculty, students, families, friends, I wish to thank you for the privilege of being here today and addressing you on this wonderful occasion.
We gather on this beautiful morning in May to celebrate with you, the graduates. And to celebrate all your achievements, your successes, perhaps certain failures, your courage, your doubts, and your passion. To celebrate your commencement and to mark the beginning of a new chapter in your young lives.
This is a day to feel proud and to congratulate yourselves on your hard work and intelligence. And then, to simultaneously give thanks for the extraordinary opportunity that has been given to you, to acknowledge the professors you've been privileged to study with, to acknowledge the excellent education you have received in this rarified atmosphere, and then, of course, to give thanks to those who enabled you to be here.
The possibilities and the limitations now spread out before you, whatever field you have decided to go into, whether it be the sciences, the arts, the humanities. You have the opportunity to make a better world, to benefit mankind, to ease the suffering of others, to educate, to heal, to entertain, to illuminate. A new beginning, an arising. How glorious for you!
William Blake wrote, "My fingers emit sparks of fire with expectations of my future labours."
When I mentioned to a friend that I was writing a commencement speech, he asked me what my theme was. Now that really threw me. Nobody told me I needed a theme. I'm not great with themes, so I don't have one, per se. I hope you're not disappointed. I do wish I could be funny or profound; however, that's wishful thinking. What I have are some thoughts I'd like to share with you. So if it feels random, it probably is.
I look out at your faces and guess most of you graduates are about 22 years old. I think of the world I was living in at that age. Very different from yours and yet, ominously similar.
At 22, for me, the Vietnam war was in its seventh year. Nixon was employing round-the-clock bombing. We were destroying the infrastructure, the people, and the countryside of Vietnam to save it from the Communists.
History repeats itself.
Today, for you at 22, the Iraq war is in the sixth year. Thousands of American soldiers killed. Tens of thousands wounded. Hundreds of thousands Iraqis dead. The infrastructure and land destroyed to save it from (and this is a movable feast) first, tyranny, and then, terrorists.
Now, some of you may feel this is not the proper occasion to make mention of this. However, I would be remiss in addressing a group of young adults if I were to deliberately ignore the political realities that they are faced with.
We are all citizens of a troubled world, yet it is your generation that carries the weight of the future on your shoulders. We are living in an America that in the last seven and a half years has waged an unnecessary war, established prison camps, condoned torture, employed corporate armies, eliminated the right of habeas corpus, practiced extraordinary rendition, and believe me, this is only a partial list—I had to keep myself in check.
I don't wish to dwell on the misery caused by this administration, but that legacy is being passed down to you. It is a heavy burden to inherit and will require tremendous dedication and hard work to put it right again. You must determine if we are going to measure ourselves on the basis of military might and economic power or if there is perhaps something deeper—more essential in our national character—that needs to be awakened.
We must commit ourselves, wholeheartedly, to the pursuit of peace, equality and justice. This should be the realm of your dreams, the altruistic motivation you go forward with as you are moving towards a world unknown.
I believe you've come of age in a complex and confusing time. The commercial forces surrounding you, the absence of meaningful culture, the constant assault by media, fashion, and entertainment. We have become a society that is placated by gadgets, soothed by consumerism and the empty rewards of upward mobility, the celebration of mediocrity and false celebrity, the obscurations of modern life. We need a sea change.
So, I encourage you not to buy into it. Defy conventions and what is expected of you. Create your own definition of success. Don't let it be judged or guided by someone else's measurement, by someone else's expectations or limitations.
You are our hope. So cherish this time in your life. Remember who you are. Because, right now, you have it all: The power of your imagination, the velocity of your dreams, the language of innocence, and the passion of a beginner. Don't lose it. Don't let it evaporate or get stripped away or worn away. And, as time passes, if you find you've come far away from yourself, allow the breeze of humility to remind you of who you were—who you really are.
Henry James said, "To live is such an art..."
If, from my vantage point now, I could tell my 22-year-old self what I now believe is the most important thing in life (and one I didn't embrace fully at the time because I was young and willful and reckless), it would be—to be present. I would encourage you, with all my heart, just to be present. Be present and open to the moment that is unfolding before you. Because, ultimately, your life is made up of moments. So don't miss them by being lost in the past or anticipating the future. Don't be absent from your own life.
You will find that life is not governed by will or intention. It is ultimately the collection of these sense memories stored in our nerves, built up in our cells. Simple things:
A certain slant of light coming through a window on a winter's afternoon
The sound of spring peepers at twilight
The taste of a strawberry still warm from the sun
Your child's laughter
Your mother's voice
These are the things that shape our lives and settle into the fiber of our beings. Don't take them for granted. Slow down for them, they will take root. And someday 20-30-40 years from now, you may be going about your day when by chance the smell of bread baking or the sound of a mockingbird singing will stop you in your tracks and carry you heart and soul back to yourself. Moments of pure happiness, bliss—if you feel comfortable using that word—come upon you unexpectedly. Don't be too preoccupied to experience them.
We need to slow it all down. I wonder sometimes why we can't just sit and do nothing. Why can't we enjoy idleness—the art of doing nothing. Perhaps it's not in our cultural DNA. We are goal oriented, result driven. Success is measured in how much we can get done.
We seem to have no time for stillness. What is this desperate need we have to fill the emptiness with iPods, Blackberries, cell phones, computers, video games, and television? Perhaps we should ask ourselves, how do we really understand pleasure and happiness? The Tibetan Buddhists have a saying, "Tomorrow or the next life—which comes first, we never know."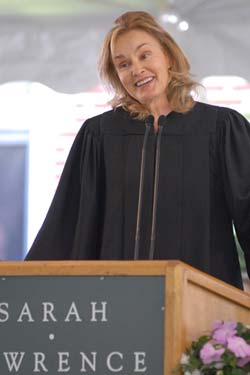 So I encourage you—don't keep anticipating that your life is up ahead of you. Don't always be waiting for the next thing. Don't put all your energies into some idea of the future. And with that in mind, you open the door to endless possibilities. Just allow life to take you on an adventure. Be receptive to the winds of change.
I graduated from high school in a worn-out little mill town in Northern Minnesota. Art was going to be my way out. I went to the University on a scholarship and entered the fine arts program. I imagined I would study—get my B.F.A., go on to get an M.F.A. Devote my life to painting. Then the second quarter of my freshman year the drawing class I wanted was filled. At the last minute I signed up for a photography class. My photography instructor introduced me to his friends, young photographers. They were leaving for Spain to make a documentary about flamenco Gypsies in Andalusia. And they asked me, did I want to come along? Yes, I said.
We lived in Europe for that year. When we returned to the States, we settled in New York. The early SoHo days. They had a friend they introduced me to—a modern dancer from the Merce Cunningham Company—who was starting an experimental theater company. She asked me if I wanted to dance with them. I said yes.
A man who had worked with the great mime master, Etienne Decroux, was in New York and came to give us classes. I fell in love with mime and when I learned Decroux still lived and taught in Paris, I decided to go study with him. With $100 in my pocket, I went to look for this old man. I lived in Paris for the next three years taking classes.
I felt I had finally settled in. I never imagined leaving Paris. At the school, I met some actors from New York. On a return visit to the States I ran into one of them. He asked if I wanted to come along to one of his acting classes to see what it was all about. "Yeah, yeah, why not?" I wasn't doing anything. I discovered an immediate passion for acting. It seemed to bring everything together for me. I decided to stay and study.
Suddenly, my life was in New York, working as a waitress and taking acting classes. I imagined it would be a long and steady process. I'd start auditioning, first for showcase theaters, then Off-Off-Broadway—work my way up until, finally, someday, maybe Broadway.
Then, one day, I was asked if I wanted to audition for a film. I would have to fly to Hollywood to do a screen test. It was like something out of an old movie. I didn't want to do film—my life was supposed to be in the theater. But it was winter in New York, I was broke, and my sister was sailing up the coast from Mexico and would be in California—I wanted to go see her. So I said, "yeah, why not? I've got nothing to lose."
They picked me up from my fifth floor walk-up in the Village, flew me to Los Angeles, and took me to MGM to do a screen test. I did it and they gave me the part. And so began a new and totally unexpected chapter in my life.
So, I guess the point I want to make is this—there was no way I could have ever anticipated or planned the twists and turns my life took in those six short years. Sometimes, you just have to let life take you on its glorious journey. And the best time to do it is now—when you're young and full of curiosity and have no fear. Don't constrain yourself with expectations of success. Success will be a by-product of the life you lead. All success is individual, and sometimes, as in my case, completely accidental.
So today you are setting off on your next adventure. You are beginning, and what makes beginnings so thrilling is the unknown. What is vital is this initial confrontation with the unknown and how you decide to embrace it. The world is waiting for you. Explore it through your own humanity. Be guided by your higher self. Don't be dissuaded or discouraged, but do allow yourself to be sidetracked if that's what you want. Get off the fast track, off the grid—go out and wander.
I hope that you will commit yourselves to the pursuit of peace—to the practice of tolerance and compassion. And be good stewards to our precious Earth. I wish you all the courage to have an adventurer's heart and a life lived in the moment.
Thank you.