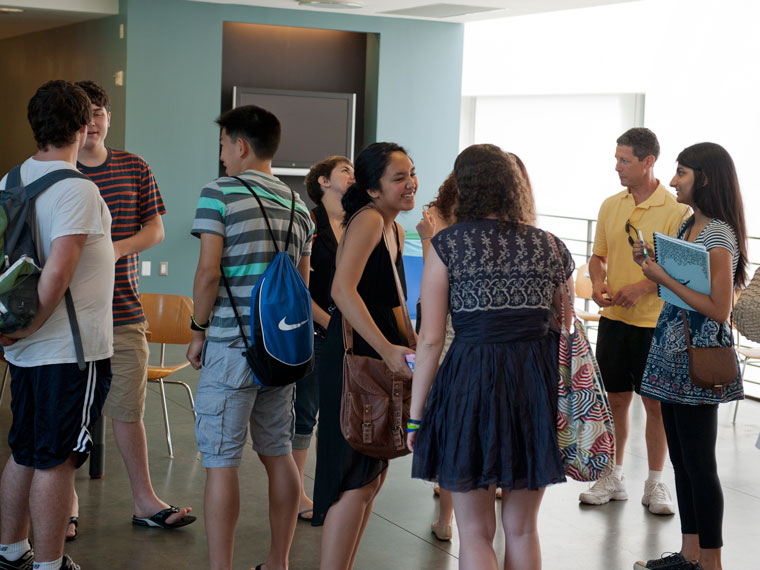 Enrolling in a summer program at Sarah Lawrence is a shared experience with other students who hold similar passions.
Policies and Procedures
ASSAULT—Physical assault in all forms is prohibited and will not be tolerated.
ATTENDANCE—Students must attend all classes unless prior arrangements have been made and Summer Programs staff have been notified.
BIAS HARASSMENT—Hate speech, aggressive behavior, harassment, and other intimidating behavior based on someone's identity is unacceptable and will not be tolerated.
BEHAVIORAL EXPECTATIONS—Students are expected to be respectful to their peers, teachers, and staff. Aggressive, disruptive, bullying, or any behavior that interferes with the learning community will not be tolerated.
CLASSROOM POLICIES—Students must adhere to the rules set by their teachers in the classroom.
CELL PHONES—Students are expected to keep their cell phones charged and on them at all times in case of emergency or urgent matters. Note that cell phone use should be limited while in class.
DRUGS AND ALCOHOL—Possession of, consuming, or bearing witness to the consumption of illegal, non-prescribed, or other drugs is prohibited. Students over the age of 21 may consume alcohol within their residence hall. Students under the age of 21 are prohibited from possessing, consuming, or bearing witness to the consumption of alcohol. Please note that Sarah Lawrence College is a smoke-free campus.
FAILURE TO COMPLY—Students are expected to comply with the directions of Sarah Lawrence Staff regarding any behavioral issue that may emerge during the duration of the program.
TECHNOLOGY USE AND PRIVACY—All students should endeavour to protect the privacy of themselves, other students, staff and faculty. This means avoiding taking screenshots without prior approval from all parties, avoiding saving text based conversations without prior approval from all parties and safeguarding usernames and passwords. Only the registered student in the program should appear and participate in synchronous classes. Students may be asked by their instructors to follow other privacy practices not listed in this policy.
Any student who is suspected of violating any of the outlined policies above will first meet with Dean of Graduate & Professional Programs to discuss the suspected violation. This conduct meeting is an opportunity for the student to share their perspective on the incident.
The Dean will then take into consideration all reports received from both the student and others involved in the incident when deciding the appropriate outcome.
Should the student be a minor, Sarah Lawrence will notify parents/legal guardians of any conduct issues that are apparent violations of local, state or federal laws; if the Dean believes the student is in any immediate risk to themselves or others; or if the conduct issue is severe enough to warrant dismissal from the program.
Potential outcomes of the conduct process include but are not limited to:
Dismissal from the program with no refund
Being put on probation, meaning if there is any future incident, the student will be automatically dismissed.
Legal authorities may be contacted based on the severity of the incident
A reflection process may be assigned to the student, such as writing an essay about the incident and conducting research into the topic more thoroughly to reflect on their behavior.
Restriction of enrolling in any future Summer Program at Sarah Lawrence
Restriction of receiving a positive reference from Summer Programs staff or faculty
We rely on each other to make our programs a positive learning experience. The teachers and staff agree as well to the following to help create a community of consideration. We ask that you review the below in detail and also agree.
Be tactful, respectful and kind with one another. Listen and speak to one another as you would like to be listened and spoken to.
A successful course depends on all its members. Students must attend all classes and activities and be on time. Sleeping in is not an acceptable reason for missing class.
Good communication is essential to a strong, positive community. If you are unable to attend any required event or class; if you've missed a day or will miss one, let your instructors know. If you have any problems, conflicts or concerns, speak with either your teacher or Summer Programs staff.
Honor risk and hard work, not competition.
The Sarah Lawrence Summer Community is far reaching. The hard work of many you may never meet or get to know makes this program possible. Please help respect their efforts by treating them with consideration.
Health and Safety
Individuals with disabilities requiring accommodation or information on accessibility should contact Dean of Graduate & Professional Studies, Kim Ferguson at kferguson@sarahlawrence.edu. We ask that requests be made in sufficient time to arrange any accommodations. For more information, please visit the Office of Disability Services website.
Students should communicate to their instructors and/or summer programs staff if they are physically or mentally unwell at any time during the program. Extensions on assignments may be given to accommodate any unplanned absences due to wellness reasons.  All programs will work with students individually so they may successfully complete the program.