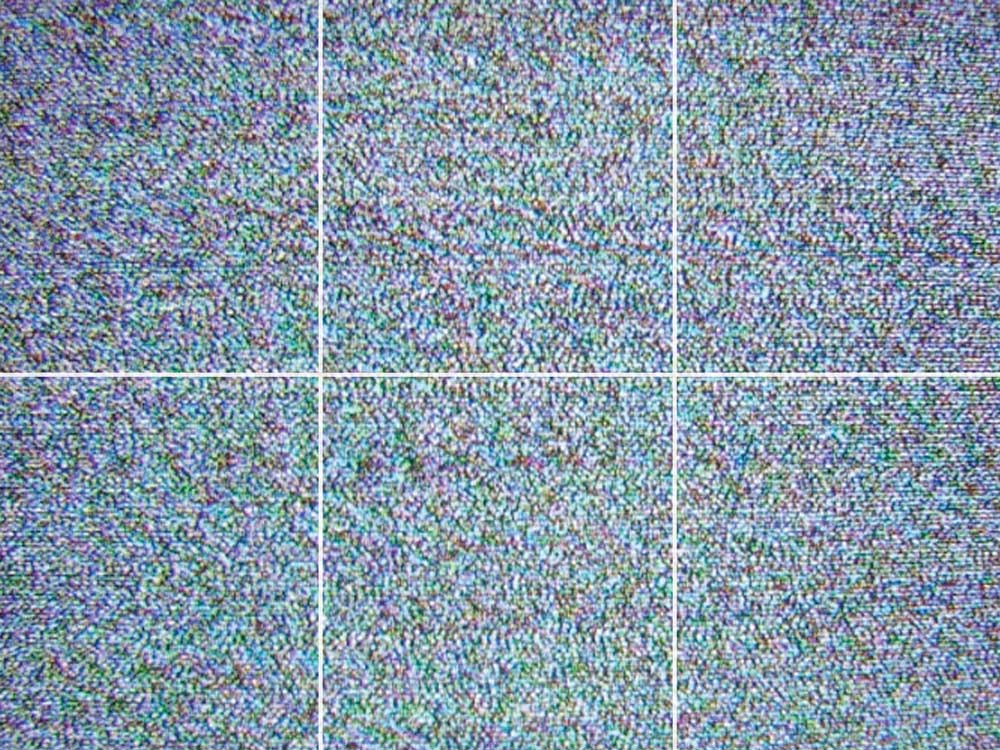 Opening Reception:
Tuesday, October 11, 5-7 p.m
Exhibition Runs:
October 11 – December 11, 2016
The Barbara Walters Gallery at Sarah Lawrence College is pleased to announce a group exhibition, "Flat Screen, Split Screen, Smoke Screen." Curated by Vera Iliatova and Jackie Gendel, this exhibition features works by Derrick Adams, Gary Burnley, Judith Eisler, Dana Frankfort, Jen Mazza, Tom McGrath, and Dona Nelson.
The show brings together a group of seven artists whose work explores the relationship between contemporary painting and screen. Screens are an inevitable influence in contemporary art with both their technological ubiquity—touchscreens, tablets, interfaces, mediated distractions, heuristics of virtual communication—and their metaphorical use as supports—structural surfaces, tableaus, psychological dividers, image generators, projective scrims—and so on. The works assembled in this show consider both the intimacies and the larger projective apparatus of screens as illusory surfaces and narratives.
Derrick Adams' large scale collages and paintings use the between-the-content formal placeholders of television screen tests, color bars, leaders, and other media artifacts as a field through which to explore the transient, always-becoming nature of identity. His work in collage and painting here parallels his work in performance, theater, and still-ubiquitous mass forms of broadcast media like radio and TV. A recipient of a 2009 Louis Comfort Tiffany Award, and 2014 S.J. Weiler Award, Adams received his MFA from Columbia University, BFA from Pratt Institute, and is a Skowhegan and Marie Walsh Sharpe alum. Adams' exhibition and performance highlights include: Greater New York '05, MoMA PS1; Open House: Working In Brooklyn '04, Brooklyn Museum of Art; PERFORMA '05, '13, '15; Radical Presence & The Shadows Took Shape, Studio Museum in Harlem; The Channel, Brooklyn Academy of Music; and is in the permanent collections of The Metropolitan Museum of Art, Studio Museum in Harlem, Virginia Museum of Fine Arts, and the Birmingham Museum of Art.
Gary Burnley creates stereographic devices that allow for two disconnected images to merge in the viewer's eye and result in the visual experience of an unpredictable space, an optical rivalry questioning the certainties of representation, differential perspective, and memory in the parallax space between your eyes. Gary Burnley was born in Saint Louis, Missouri. He received his B.F.A. from Washington University and his M.F.A. from Yale University School of Art. His work has been exhibited in galleries and institutions across the United States and in Europe including Weatherspoon Museum of Fine Arts, Greensboro, NC; Silo Gallery, NYC, Real Art Ways, Hartford, CT; and Anderson Gallery at the Virginia Commonwealth University. He is a recipient of The Federal Design Achievement Award, and fellowships from the National Endowment for the Arts, the New York State Council, and CAPS. Burnley has created public commissions for the MTA and St. Louis Bi-State Development. His works are included in major private, corporate, and museum collections.
Judith Eisler uses film stills as sources to create luminous paintings with glossy surfaces. The imagery presents in paint films, outside of the theatrical context of the original narrative, resonating with enigmatic power of cinematic abandon. Judith Eisler was born in Newark, New Jersey and currently divides her time between Vienna, Austria and Warren, CT. She has been Professor of Painting at University of Applied Arts, Vienna since 2009. Eisler's work has been included in solo and group exhibitions across the United states and abroad, most recently in solo shows at Gavlak in Los Angeles and Palm Beach; and at One Work Gallery in Vienna, Austria. Her work was also recently included in: I Love John Giorno (curated by Ugo Rondinone) at the Palais de Tokyo in Paris, France. Eisler was awarded a John Simon Guggenheim Fellowship in 2002. Her work is represented by Gavlak Gallery, LA.
Dana Frankfort paints in a space of writing as materiality. Word-play devoid of context becomes ineffable, as the image-sign becomes the anti-compositional canvas; her scribed all-over gestures serve as screens through which the self-obliteration of language resists the pictorial. Dana Frankfort was born in Houston, TX. She received an MFA from Yale, attended the Skowhegan School of Painting and Sculpture and was an MFAH Core Studio Art Resident. One-person exhibitions include Sorry We're Closed, Brussels; Bellwether Gallery, New York, NY; Inman Gallery; and Kantor/Feuer Gallery, Los Angeles, CA. Frankfort received a John Simon Guggenheim Memorial Foundation Fellowship in 2006. Her paintings are in the permanent collections of the Museum of Fine Arts, Houston, TX, and The Jewish Museum, New York, NY.
Tom McGrath's paintings question our relationship to nature as they reinvent the tradition of American landscape painting. In McGrath's work, the windshield becomes the quotidian mediator in our experience of nature thus dictating the speed and the distortion of the encounter. Tom McGrath was born in New Milford, CT. He graduated from Cooper Union and received his MFA from Columbia University. McGrath has had solo exhibitions at Sue Scott Gallery, NY, Zach Feuer Gallery, NY, Maruani-Noirhomme, Knokke, Belgium and Lia Rumma, Naples, Italy. In 2014 he completed the ceiling for The Alexis and Jim Pugh Theater at DPAC, Orlando, FL. He has work in the permanent collections of The Metropolitan Museum of Art, Nerman Museum of Contemporary Art; Yale University Art Gallery, among others. McGrath lives and works in Brooklyn.
Jen Mazza's works meditate on the history of painting, collage and photography questioning the meaning of images and their context. Engaged with the history of painting and linguistics, Mazza's works are slowly and meticulously painted surfaces that luxuriate, rather than expropriate, their sources and surfaces. Mazza was born in 1972 in Washington, D.C. She received her B.A. degree in Visual Art and Spanish Literature from Mary Washington College in Fredericksburg, Virginia (1994), and an M.F.A. degree in Visual Art from Mason Gross School of the Arts at Rutgers University (2001). Her work has been a subject of solo exhibitions at the Jersey City Museum, Tobir de Nagy Gallery, NYC, and Stephan Stoyanov Gallery, NYC. Significant awards include residencies at Yaddo (2005) and the Virginia Center for the Creative Arts (2004, 2005, 2006). Mazza teaches at Parsons The New School of Design.
In Dona Nelson's large scale two-sided painting the canvas is simultaneously a divider and a support of two abstract images that can only be viewed separately, one at a time. Yet, each image is experienced with the memory of the other, and in the viewer's eye each side serves as a memory for the actual experience of the painting. Dona Nelson received her B.F.A. from Ohio State University in 1968. She was the subject of a mid-career survey at the Weatherspoon Museum of Fine Art, (Greensboro, North Carolina) in 2000. Her works are included in the public collections of the Weatherspoon Museum of Fine Art, the Metropolitan Museum of Art, the Guggenheim Museum, the M.I.T. Collection, Cambridge, Massachusetts, and the Pennsylvania Academy of Fine Art in Philadelphia, among others. Nelson was awarded a 2011 Foundation for Contemporary Art Individual Grant and her work was included in Whitney Museum of American Art Biennial in 2014.  Nelson is represented by Thomas Erben Gallery, NY.
---